Feature image (c) Mihaela Bodlovic 
Welcome to an episode of the podcast that has a little different flavour this month!
↓Listen to the podcast↓
You can also listen on iTunes, or via your preferred podcast app!
Last year I let two of my worlds collide a little. Very rarely do I talk about my work on this podcast. However when one works with special collections material and finds a bundle of letters about a craft you had never heard of…well, one simply must share that on a wider level! 
The bundle of letters were found in an archive box, in The School of Scottish Studies Archive (SSSA) They were marked "SWRI LETTERS – CLEEKIT GLOVES" and contained 15 letters from members of the Scottish Women's Rural Institute (SWRI) to the editor of Scottish Home and Country Magazine. They are in response to an article, from January 1959, seeking information on this craft. 
We were unsure as to why our archives had come to have these letters; SSSA is predominantly an extensive sound archive, the core of which is ethnological fieldwork collected by staff and students over the past (almost) 70 years. There was no note of their donation to us (at that time), but to my own craft-loving eyes they were a treasure indeed; something I had not heard of and was "hooked" to know more about.
Along with the letters was a copy of the original article which described the craft and had a call to action for more information. It appears that cleekit gloves was a craft predominately practised by male farm workers in 19th century Scotland; made by way of a hand-made flat hook with a tiny head, which created the dense, but elastic fabric. This craft was seen as distinct from knitting or crochet. In the letters the respondents, from all over Scotland, talked of the craft being handed on by male members of the family. So much interested me!
Despite a small resurgence in interest in cleeking, thanks to the response to that article, it is something that has now been relegated to the mists of crafts past. I felt that there was opportunity to bring these letters out and talk about this lost craft. I first did that at In The Loop at Ten (July 2018) where I talked about this in the context of the theme, which was textiles in collections. I soon discovered though that not only was it important to discuss the collection as an archival find, but there was an opportunity to have people engage creatively with the cleekit glove letters and  to create something tangible and meaningful from these recollections and recipes of craft.
For the University of Edinburgh's Festival of Creative Learning this year (February 2019) I organised an event where I could talk about examples of hand-making in the archives of SSSA but could give focus to the cleekit gloves and the respondents who felt it was so important to preserve information about them. I also felt that a practical making session was needed, using the recipes and methods noted down in the letters. For this (and so much more) I am indebted to my friend and cleek-colleague Dr Alison Mayne who led the crafting session. Together we enabled a day of cleeking in the archives and I want to share some of that with you on the podcast. 
Images in this gallery are by Mihaela Bodlovic for the Festival of Creative of Learning, University of Edinburgh. 
As well as my talk, I also intended to bring you a discussion with the group after the craft session, but unfortunately the recording muse was not with me. What I have done is recorded a separate chat with Alison, and with one of the attendees – my friend and ethnology colleague – Caroline Milligan, a few weeks after the event to discuss the practical side of the cleeking and the ways in which participants were able to engage with the cleekit gloves.
We observed that the cleeking session had become a focus group of sorts; participants discussed different ways to hold the materials and discovered different actions which proved a bit of  a revelation. We also reflected on how our participation with cleeking has connected us in a tangible way to the past – to the women (and man) who wrote these letters, putting in writing for the first time presumably what they had only been passed on in practical application. It connected us also to those fathers, grandfathers and great grandfathers who possessed the skills, who had made flat hooks to fit their own hand, and created gloves for their own comfort and that of their families in stitches and actions which may have different slightly with each man – making cleeking a very unique craft and skill indeed. This also made us ask, could this form of craft be something far more ancient and, if so,  where are all the artefacts? 
This slideshow requires JavaScript.
I'm not going to be able to offer a transcription of the whole episode at the moment, in fact I hope to be able to publish it in the future, but I do hope you enjoy listening to the talk about Cleekit Gloves and that it may spark interest, or even something from your own knowledge of hooked crafts – perhaps you didn't know it as "cleeked" or "cleekit" work, but by another name? If so, please do comment below, Alison and I would love to hear about it.
Images from Scottish Home and Country (Jan, Mar, April 1959)
Thanks to everyone who attended this event. You can be sure that I shall continue to look for more evidence of the craft. If you think you would like try cleeking for yourself, why not give Mr Patten's method a go?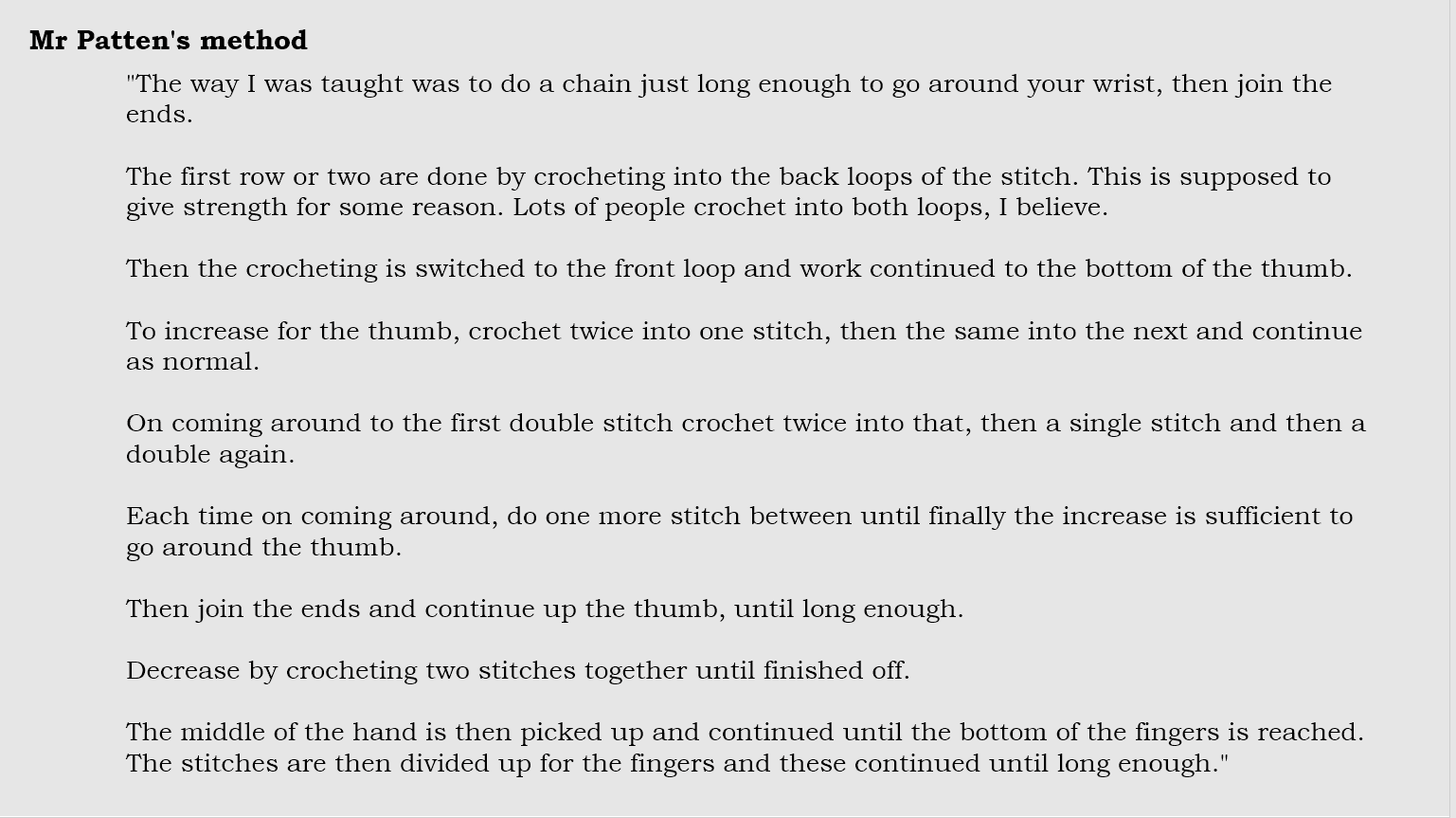 Mr T Patten's method of "cleeking".  © School of Scottish Studies Archives. Please do not reproduce image elsewhere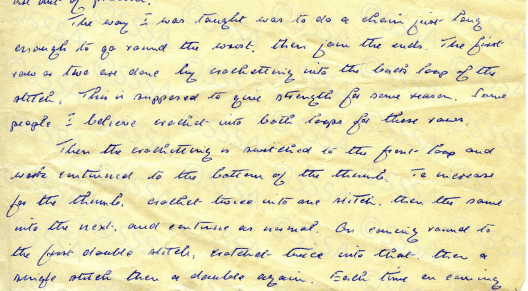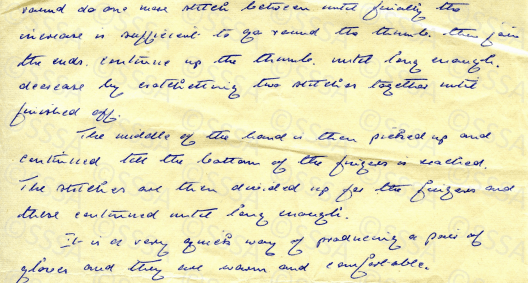 Alison has also published her blog on cleeking over at her website – knitrospective.blogspot.com. Please do go on over and have a read of her thoughts and experiences of this wonderful craft.
Thanks for listening and thanks to all of those who participated at the event; thanks again to Alison; Caroline and to SSSA.  Special thanks to wonderful Mrs Davies, who started the quest for cleek knowledge in the first place!
| Important Information
Images are copyright to those attributed to in the accompanying information. Other images are mine. Please do not re-use or reproduce images from this post . Archive material is © School of Scottish Studies Archives, University of  Edinburgh. I'm very grateful to them for being able to share this material. 
Music this episode is Doctor Turtle – Doctor Talos Opens the Door and  David Mumford – Singin in The Rain These are available via freemusicarchive and shared via CC-BY.