(Photo taken in 2019 – PreCovid!)
Hello and welcome, its's March and it is spring…ish!
Listen to the podcast 
Also available on Spotify, iTunes and wherever you find your podcasts!
| Making!
I finished the Crofter's Smock by Gudrun Johnson! More details will soon be added to the My Makes section of the website. This was a really fantastic make. I thoroughly recommend it!  You can find the pattern on Gudrun's payhip . The yarn is from Bluebell Yarns and is jacob!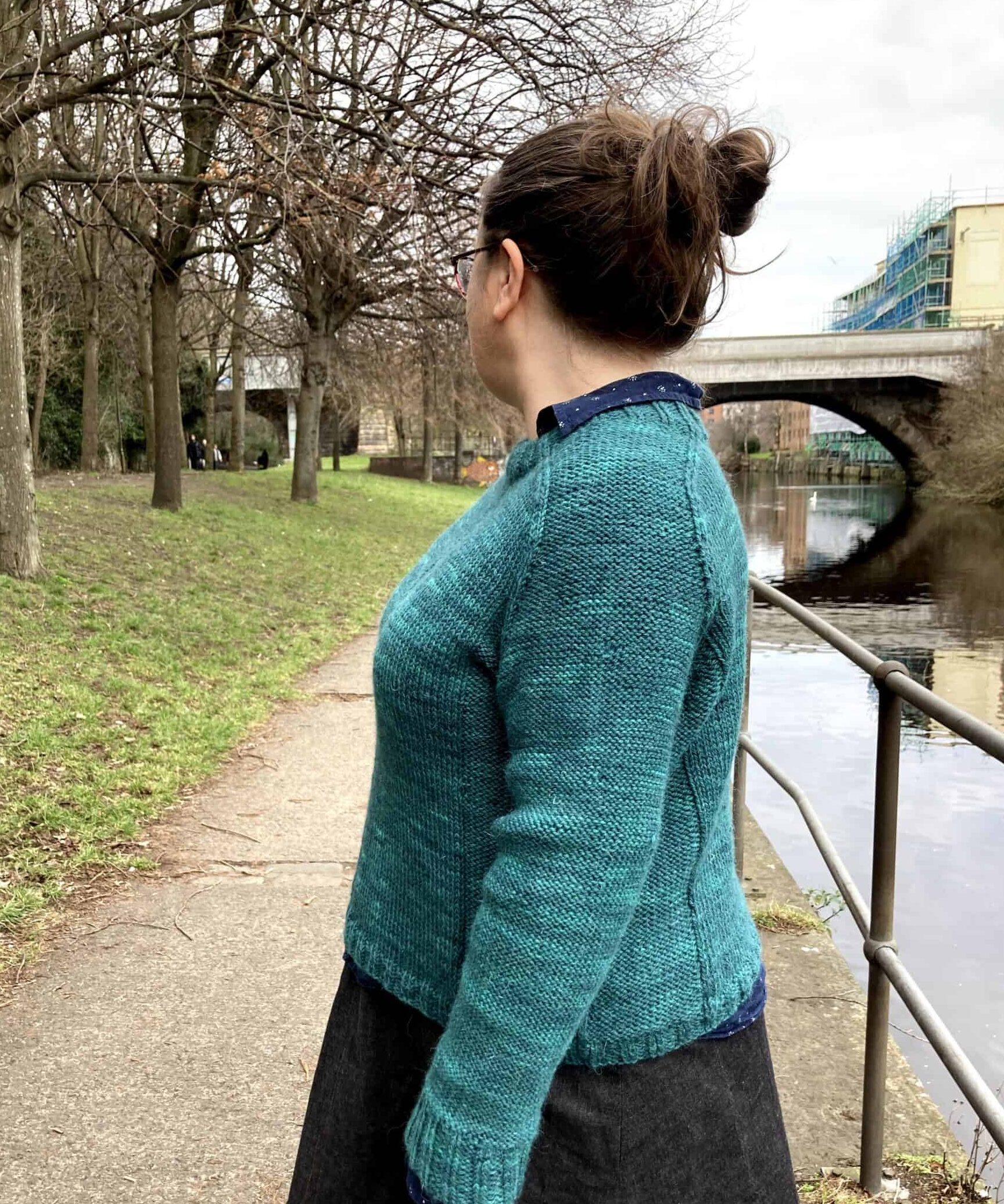 I have also been sewing and I have really been enjoying the slow process of breaking up the tasks of tracing, cutting and sewing over a period of time.  I have recently been introduced to Muna and Broad (https://www.munaandbroad.com) who are Leila and Jess. They are Australian designers who are creating beautiful patterns which start at 40″ chest, and 41.5″ hip going up to 64″ bust/71.5″ hip. They are really interested in creating designs in patterns which are not found for fat bodies and I am crushing hard on their Belmore Jacket!
Has this just become a sewing podcast?
| Email Subscriptions
I recently realised that when we changed the website behind the scenes from KB to WoolWork, something very important did not get transferred across. If you used to subscribe to new posts direct to your inbox, you will no longer be getting notifications. It was a fatal flaw on our part but also it wasn't explained well to us either. To transfer the email addresses of all the people who subscribed to posts from the old website, we would have needed to contact you to let you know that was happening, cos GDPR. So I would have done that, but didn't know. So your data hasn't moved anywhere without you knowing, it has been deleted. If you look at your blog subscriptions it may still say you subscribe to KB but that site no longer exists. It is an ex-parrot. If you would like to recieve these posts to your inbox again you will need to resubscribe and I am sorry to make you do that. You can find the box to subscribe in the right side bar at woolwork.net
| Popcorn & Crocodiles – Adventures in Yarn
You may remember that two years ago I reviewed the new yarn notebook and organiser by Popcorn and Crocodiles. Well, last year P&C's Emily Owen rebooted the original Adventures in Yarn spiral bound notebook into an organiser format. Very kindly this year, she got in touch to ask if I would be interested in having a look for review.
I use my original AIY spiralbound book for my Wool Exploration notes. It is a fantastic, sturdy, hardback book, with loads of space for writing and storing things, but also handy stuff like a needle gauge, a colour wheel, space for inventory of yarn and other things, I did think "how can this be improved upon?" Well, let me say, I ate my words!
Let me describe it for you now, for anyone for whom AIY is new.  There are two designs to choose from; a turquoise, cloth hand-bound version, with a stunning silver design on it, it looks rather like feathers. It is handbound by a small bookbinder company in Nottinghamshire and really feels special. This version beautiful binder is just over 17cm x 22 cm, and the spine is 5cm, so you are going to pack a whole inside this baby.
The second design of the binder features the same design as the original spiral bound book; it is grey with a yellow/ochre design reminiscent of folded legal paper. I have always loved this design, Its measurements are 19cm x 22 and the spine is 3.5cm – both hold a5 sheets. Now lets talk about what is inside!
a title page, for your to add whatever you like. I personally washi-tape a business card in there, so if I am separated from it, some kind person can reunite me with it – that's the hope!
Four coloured sections of paper, each containing five pages of lined, squared, dots and plain paper, plus a coordinating page for attaching your yarn samples. And you actually choose your own colours for the paper section, so you can have four different or more of the same! Awesome addition to this new binder. I can't remember what the gsm of the paper is, but its got to be over 100 – silky beautiful pages.
There is a month per page diary/organiser;
you get sturdy section dividers and in the binder with the OG design the dividers have TABS, which is something I really wanted to see!
There are 6 plastic pockets, BUT if you are trying to cut down on plastic, you can let Emily know and she will substitute these with some extra pages, which is a very thoughtful suggestion. I like the plastic pockets, but only because I will re-use and re-use carefully
Two of my favourite items from the original book are the colour wheel and the needle gauge, because honestly – where do all my needle gauges go?
There is loads of note space for writing and there is also a yarn inventory section; a section for goals and achievements AND sheets of labels which you can cut out and attach to handspun yarn, or to keep with our swatches, wool explorers!
I love the original notebook, but this binder will keep you going for absolutely years, because it is a binder, you can take out pages when you need to replace them and ADD to it too. Emily's shop at PopcornandCrocodiles.co.uk can provide more paper sections, extra organiser sections, and you can also buy washi tapes, pencils, beautiful rubber bands to keep your book closed.  The Adventures in Yarn binder is just a beaut and I am so taken with it. I think I said last time that Adventures in Yarn is a great paper and ink space that you will love filling with your knitting thoughts, perhaps for your design work, your wool adventuring and your good intention. With the binder option now, it really will be an item that will last with you. In fact, emily, maybe you need to start stocking treasury tags and lovely wee acid free archiving envelopes for when you need to take the contents out and replace them! That is only a half joke, by the way, I love thinking about archiving my notes!
The Turquoise, cloth covered, hand-bound A5 binder with all the contents costs £35. The hardback grellow binder with all its great stuff is £21. Packs of refill paper are £2. If there is a special person in your life, this would make a smashing gift, in fact there are also beautiful gift boxes available too and you can find this, and great items in the shop at popcornandcrocodiles.co.uk – I forgot to add that Emily also gives a percentage of all sales to charity, which is awesome!
I saw from Emily's instagram that more colours are in the plan for the hand-bound binder, what fun to choose such lovely shades!
Absolutely wonderful person that she is, Emily has given a copy of the binder to giveaway! You can win the Turquoise, handbound, cloth-covered binder, with all the stuff mentioned above and a pencil and elastic band. Would you like to win one?
Ok, so you know I don't like giveaways where you have to tag lots of people on social media – I feel it is so spammy, But I do think we need to share the love so here's what I'd like you to do. I'd like you to follow Popcorn and Crocodiles on Instagram, if you are on Instagram. https://www.instagram.com/popcornandcrocodiles/
OR  if you're not on instagram, why not share a link to the Popcorn and Crocodiles website on your own platform of social media – we need to boost our great small businesses like this, and it takes so little time to share a link , but it means a whole lot.
Once you have done either of those things (or, y'know maybe even both!), please post a comment here to tell me. I  will leave this open until 31st of March 2021 and then I will pick a winner.  This giveaway is open to you, wherever you live in the world, BUT with the whole postal fiasco right now and the customs charges on post to other parts of the world, you may have to pick up a customs fee at your end. That is your fee to cover if you win, ok? (There is a swear at this bit, as I think custom fees are pretty crap!)
| Goodbye and thanks
Thanks for listening. I wish you spring and any small peeps of spring that are showing, if the weather is still dull where you are (as it is in Edinburgh today!
I am keeping my social media private for now, but if you do follow me on Insta please be patient and I will eventually add you. I am super wary of people who haven't posted a thing and don't have any profile photo or bio info, so if you don't have any of those things, I may not add you. That is just my right. Social media is hard waters to traverse at the moment and I need to keep some of it locked down!
UPDATE – Winner Drawn – 20 April 2021
I realised to my horror that I hadn't drawn the winner for the Popcorn and Crocodiles binder! I used the rather fun Wheel of Names to pick a winner from all those who commented and congratulations Sarah Bowen!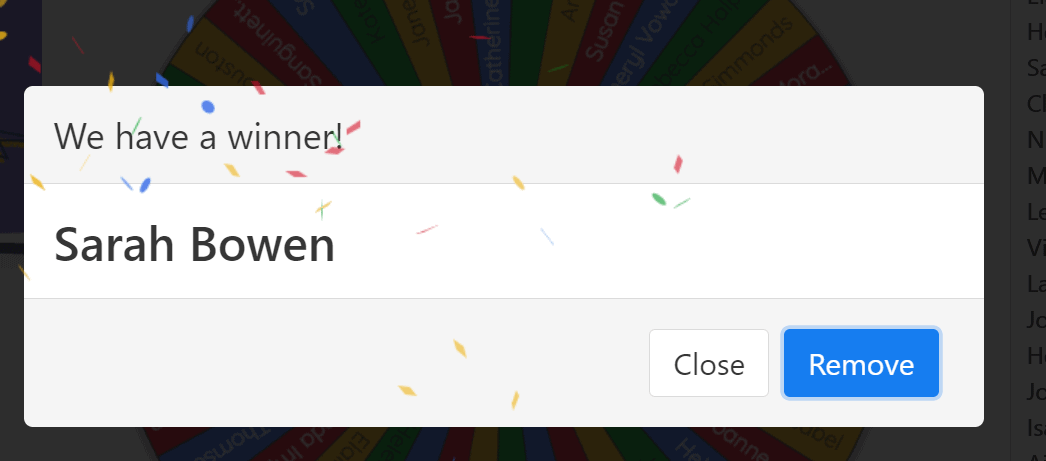 | Important Information:
Music: Doctor Talos Opens The Door by Doctor Turtle and Singin' in The Rain (demo) by David Mumford – Both are on FreeMusicArchive and are both shared under Creative Commons Attribution license. Images are copyright to those attributed in the caption or in the accompanying information, otherwise they are mine. The Popcorn & Crocodiles binders  Adventures in Yarn were given to me for free in exchange for a frank review and for the purpose of giveaway,  I will always offer my honest opinion whether given items or buying items for a review. Terms of the giveaway are as stated above.