Needle: 5mm
Size made: 44.5 "
Price: $8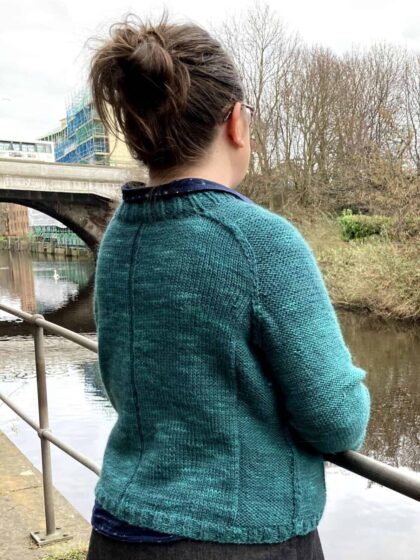 Notes:
This is a very belated My Makes post to tell you about the divine Crofter's Smock Sweater, by Gudrun Johnston!
When I saw Gudrun post on Instagram that she was looking for test knitters, I swithered – did I have yarn in stash (I am trying so hard!); did I have enough? What size should I go for? When I went back to apply – The test was full!!!  Oh, well – tra la la – you win some, you wait for some to be released. Then lovely Gudrun said, 'come on then, slowcoach' – she didn't! But she very kindly let me join in.
I haven't done a test knit for a garment – at least I don't think I have because 1) it takes me ages to finish and 2) I find it hard to stick to a pattern for test knitting when I know what kind of cast on/off I like, or where I might prefer a different decrease…and you have to stick to the pattern to test it, right? Well, what appealed to me most about this design was the aran weight of the wool – speedy! And also I just really wanted to make it and so to hell with foregoing my own preferred quirks. (that is not strictly true – my cast on was slightly different!)  
As you can see this is an everyday beauty of a sweater, with saddle shoulders and folded cuffs and neck (all new to me). There's a lovely mix of texture, with Stocking stitch front and back and reverse SS sides. There is the lovely wee detail of the faux seams too. It might surprise you to know that I did not make pocketses. This was purely because I did not know if I would have enough yarn.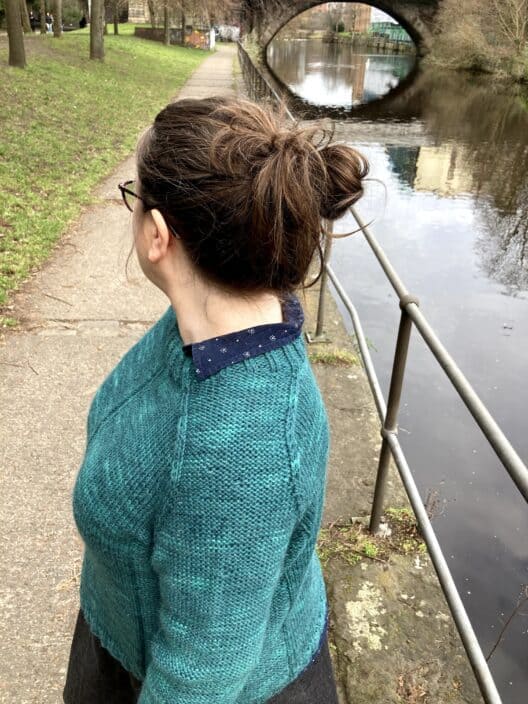 The yarn is a beauty from Bluebell yarns, and it was my first yarn purchase from the first lockdown. I had to go looking for an extra skein (that was my last foray on that site we used to love, but has shafted so many of us!) and I am ever grateful to the lovely TerriC21, who parted with her single skein of Rainforest to make up the yardage. Gudrun does say a woollen spun yarn would work well for this pattern, as heavier yarns will pull on the seams. My yarn is semi-worsted, like the Croft yarn used in the pattern – so it is that balance of both the woollen and worsted process of spinning. I love jacob wool, I find it very versatile, like Shetland wool. It is lovely to see dyers using it as a base – not many do, but I am very grateful to thems wot do!
I absolutely loved making this. It was a fast project – for me – maybe 3 weeks. It was a project that got me through a low point of the second lockdown – so much so that when it was finished, I had a cry. Cos it was finished and couldn't knit on it any more!  (I'm fine).
I love how it has structure to it on the fronts, but the reverse ss sides make it have this soft silhouette. I would ADORE this in a knee length tunic. I thoroughly recommend this pattern. I know that this is the everyday-yet-beautifully-designed sweater of all our dreams and I am pleased to say it is still a wee bit cold enough outside to wear it.
We had fun with this wee photo shoot. This was the first day I went out properly after being ill with the after effects of my vaccine (I'm fine. Get your vaccine, friends – life is too short!) and so I was walking like I was on an air bed – the way you do when you've been dizzy and nauseous for a few days! I also wanted to kill two birds with one stone and get a photo of my Ginger Skirt – but I do not like the two items together and feel I was vibing on a 90's-RE-Teacher-on-a-fieldtrip look (which is a great look, if its your look!!). I will do another post about the Ginger Skirt, another day. 
Thanks for a great pattern, Gudrun. Thanks for dyeing the wool so beautifully, Becca!