Today I discover how one ball of yarn can be so versatile in creating different fabrics! I also have an incredible chance for you to win a very special bespoke hand-dyed yarn.
You can also listen on iTunes, the podcast app, or search your favourite podcatcher, if you prefer!
This month the podcast is sponsored by 


Joy dyes luxury yarn in her studio in Harrogate and is committed to supporting British breeds and fibre in all her bases. In addition to incredible yarns, such as BritSock and the new Wensleydale and Shetland 4ply you will find screen-printed bags and books, hand-crafted stitch markers and exclusive yarn clubs in her online shop. Click on the logo!
N.B. I am using a new computer and working out a few kinks with sound – I apologise if in some areas the sound peaks a little. 
| Show Notes 
I am back after a bit of a fraught week – listen in to understand exactly why you should back up your computers right away. Don't end up with a sad tale, like me!
| Countess Ablaze
Last Saturday was Yarn Shop Day and I was in Manchester and lucky enough to join the fun at Countess Ablaze's open studio with Isla from BritYarn. It was really lovely to have met Joeli on the train on the way to Swinton. She has got a day of workshops coming up in July (really great if you want to learn to knit and/or learn to knit socks!) which has an after party at Countess Ablaze. Check out her website for more info!
The sheer amount of British wool was an utter treat – Isla had a great range from BritYarn, including the new WYS cocktail shades in signature sock and The Countess has an amazing range including over-dyed Hebridean, North Ronaldsay, BFL and Masham and incredible Cheviot, of which I made two purchases!
I heartily recommend a visit to the studio, if you are in the area, it is open Friday and Saturdays from 10-5. There is such a warm, welcoming vibe there and the colours and fibres will make your knitting hands very grabby. 
| #MeMadeMay
#memademay is a hashtag you may see a lot this month. It was started on the blog So Zo What Do You Know? and is a way of challenging yourself to sew, knit, crochet, upcycle, remake or re-fashion items to make, wear and love. You can probably do just about anything to spur yourself on to do those things and personally I am going to try and finish up some WIPs by the end off this month so I can be jolly in June! hahaha!  
What will you make or challenge yourself to do?
| Meaningful Knits  
I started an occasional segment last year taking a look at the stories in our stitches and the meaning woven into our projects.  This episode Mairead writes to tell us about a very meaningful project that involved a holiday to Shetland, a cruise to St Kilda and an incredibly meaningful shawl for a special person. Listen in to hear the story.
| News
Karie Westermann has made the announcement that she is working on a physical book! You can read about This Thing of Paper on her blo, but mark May 23rd in your diaries – if you are so inclined – as Karie is launching a Kickstarter that day to help with the creation of the book. She has been working with sources such as 14th century illuminated manuscripts to inspire 10 designs, which will have accompanying essays. I cannot wait for this! Good luck, Karie. 
Indie Burgh Yarn Crawl is on 11th June this year and if you have been at the event in previous years you will know how fun and sociable the event is. As ever, it is organised by the wonderful Jessica James, from Ginger Twist Studio and you will pay a visit to the three indie yarn shops in town; GTS, Kathy's Knits and Be Inspired Fibres. This year there is going to be a pop up market in addition to the crawl and the market and after-party will be at Ocean Terminal.   update: The Safari Lounge, Cadzow Place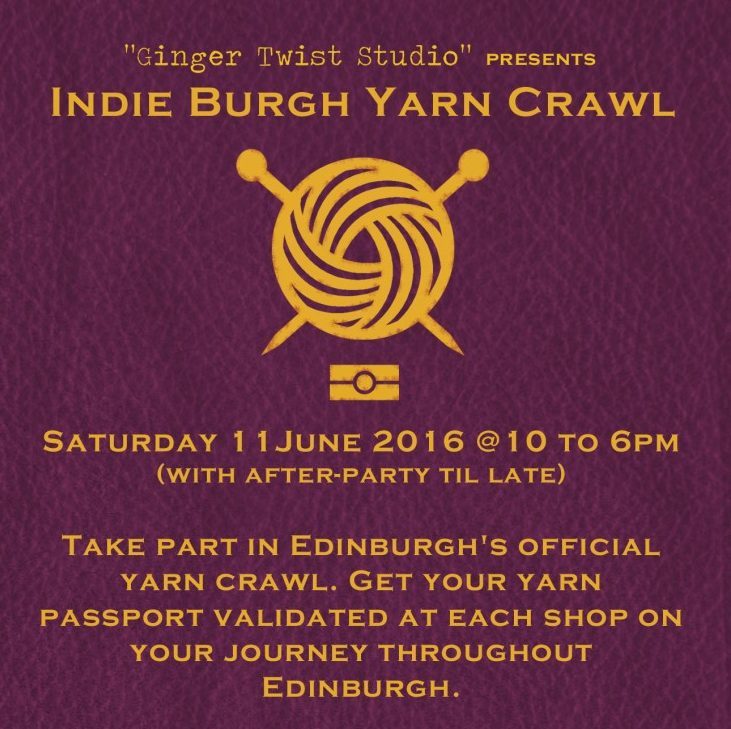 There is lots of info and route options at gingertwiststudio.com and I am really looking forward to the crawl this year. 
| The Knitting Goddess Wensleydale and Shetland 4ply review
Images courtesy of The Knitting Goddess
I have had the pleasure of trying out this lovely yarn, courtesy of Joy. The wool comes in 100g/400m skeins and is 85% Wensleydale & 15% Shetland and costs £18.50. The lustre and shine in the photos is definitely to be believed! 
I am knitting Hermione's Everyday Socks for the #nonylonsockskal and in the textured stitch is creating a really woolly and quite thick fabric. I immediately thought that they will make great boot socks, which you don't often find with 4ply yarn. However this yarn is going to be suited to a lot of garments and accessors.
The yarn has a very high twist, which means it is going to be hardwearing – Wensleydale and Shetland are already exceptional breeds for a great longevity in the knitted item, but that twist but also gives great stitch definition. There is also a very lovely, textured halo of Wensleydale longwool fibres over the fabric. I knew I wouldn't finish my socks in time for the review and so I knit a swatch this week – I honestly was surprised that it seemed like a different yarn. In textured stitch is becomes thicker and when blocked with lace and stocking stitch it is drapey and just blocks incredibly! Two tales of one yarn. (I've not finished the socks yet, so compare/contrast images to come)
If like me you love texture and rustic beauty in your yarn as well as incredibly shiny and saturated colours then this is the yarn for you. This wool does have a slight prickle – there is no getting away from that – this is not a yarn for those who need a very soft yarn – however I wore my swatch next to my skin for a day and eventually forgot it was there! 
As usual, listen in for the full appreciation of the wool, but this is a very pleasing yarn, I love the texture and character and the fact that the items I will make in this yarn are going to have a long life and look great for a very long time. What's more this is a very special yarn, you won't get it anywhere else as it is custom spun for Joy, by The Natural Fibre Co. At the moment the dyed yarns that are available in this base are all that are available at the moment and so don't miss out if you don't want to wait for the next spin!
| The Knitting Goddess Give-away! 
Joy has one, solitary undyed Wensleydale and Shetland skein left and is giving you the very incredible opportunity to win it AND have it dyed in multi-colours of your choosing! Go to the KnitBritish Ravelry Group and in the giveaway thread you can enter, but you need to be creative! You can post a picture, a quote, a song or poem, describe something to us, and tell us which colours leap out at you and inspire you from that source. It can be anything and you can be as creative as you like, there are no right or wrong colours.
As an example I use these words by Robert Burns – Come Autumn, sae pensive in yellow and gray and soothe me with tidings of nature's decay. There are only two physical colours mentioned, but I feel oranges, golds, russets; I can see the last green leaves turn lime and magenta. I can feel the crunch of the leaves/wool too – very pleasing (damn! I can't enter!). So you see what I mean? The sky is the limit, but you only have until 20th May to enter and you must enter in the KnitBritish Ravelry group. This is an incredible bespoke prize and thanks so much to Joy for being so very generous. 
| Hellos and thanks and next time! 
I say hello to the new kids in the Rav group and to those who've taken the time to say hi in the intro thread too. Come back next time when I will have an interview with Joy amongst other things! 
| Information
Music: Carefree by Kevin McLeod and Singin' in The Rain by David Mumford – Both are on FreeMusicArchive and are both shared under Creative Commons Attribution license. Images are copyright to owners as stated, otherwise belong to me.