Pattern:  (No Rav links)
Peerie Leaves Sweater, by Donna Smith
From Shetland Wool Week Annual 2020, not yet available as a single pattern: 
Wool:  
Tuath DK from Uist Wool, a blend of North Atlantic sheep breed wools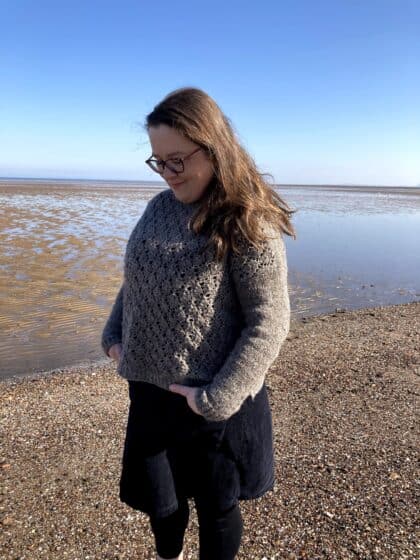 Needle: 4.5mm
Size made: 
3 = finished chest size 46.75 "
Notes:
Well, there are late posts and there are late posts! I finished this sweater on the 3rd of April (today is 5th of November!).
As soon as I got the Shetland Wool Week Annual last year, I knew that I would be making this beautiful sweater from Donna Smith and I knew I had some special yarn in my stash. Back in 2018 I was at the NANSwool Conference in Uist and I bought the special conference yarn! A blend of North Atlantic breed fleeces in a gorgeous grey, bronze natural shade. The yarn is a lovely woollen spun, trapping air and making a lovely warm knit. 
The sweater is knit in the round from bottom up, to the armpits, then the front and back are worked. There is an all over lace front, with a plain back and it was a treat to knit. 
 It is designed to have 6 inches ease, but I think I aimed for around 4″ due to the fact that I thought I might end up playing yarn chicken!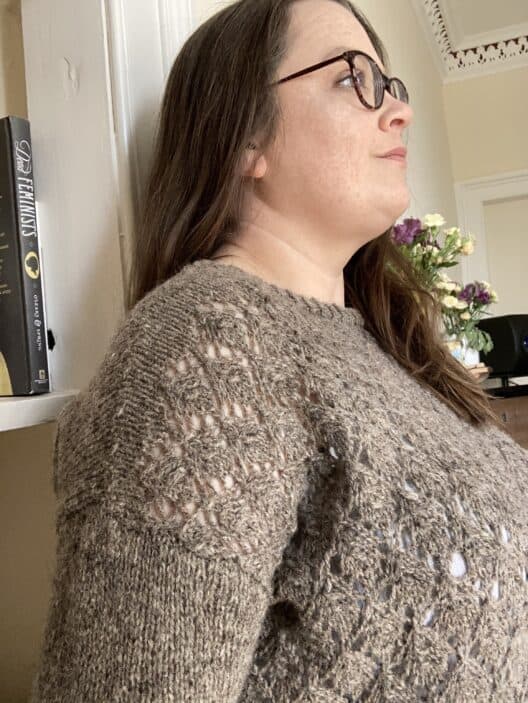 I haven't ever knit a jumper with the sleeves added on this way and I also really like this fit on me.
I did have a "Oh no! moment when I say my sweater blocking and saw that there was a distinct colour difference. I realised that I had popped a stray skein of another UW DK in my stash when we moved last. I didn't even notice – Oh well! it was mostly noticeable when it was damp!
Some of the photos were taken at Musselburgh beach in the spring. It feels so long ago particularly tonight; as I write this I can hear so many fireworks going off around the town. But the season is far more geared towards requiring sweaters and that makes this Peerie Leaves blog post very timely indeed!