Hello pals!
You wouldn't be blamed if you had been thinking that blog posts were a thing of the past around here. My apologies! Every time I sit down to write a post (not a podcast post, but a good old fashioned blog post) I have the best intentions to get more posts out, but real life catches up and takes me away from the computer.
In our lives online we often think of others being at the other end of the internet, attached to a device and ready to comment, post or "talk". We've become attuned to thinking that the internet and social media means "fast" and that as quickly as we can type something, a response should also be generated. I've heard so often of designers in UK getting repeat social media posts, DMs and emails about a perceived issue with a pattern, over a very short period of time- often from people in countries on a different time zone than the UK, demanding a response. I do often think that the internet and social media is a monster of our own design! It makes us a little (or a lot) less polite sometimes, and it can make us forget that when we are awake there are people on the otherside of the world who are asleep!
YET, interacting online has such overwhelming positives too – simply making connections is amazing. However there is also the ability to have meaningful conversations on a really wide platform, like the conversations on inclusion, diversity, equity and of white privilege, discrimination and prejudice. Social media is not always the best place to mediate or moderate, but, nevertheless, it is a medium of communication that can be life-altering, not only to post, but to read and absorb. ("Can't stop the signal, Mal")
No matter how much it looks like we are living our lives online, that is just not always the case. I've been trying to detox from my devices a little. This is mostly because my phone isn't working, but also I feel anxious about having so much of my life in one little rectangular box – not just social media, but email, calendars, messaging and every kind of push notifications! I turned off a lot of notifications for apps and things many years ago. I don't like DMing and I even stopped looking at emails on the weekends. But it creeps in again slowly, doesn't it? I'm trying a little harder at the moment . I've set daily reminders for social media (no more than an hour each day) and I've decided to not have my phone on when at work , apart from breaks.  I want to be able to make my time online- and thus offline – a little more meaningful. Wellbeing is important for everyone, where you can find it.
Would it be any surprise that I get some well being from wool? I've been preparing for an event and have been elbow deep in wool, getting all my swatches prepared for a wee Love Local Wool area.
I'm going to be in Newcastle, at woolNEss festival on Sunday, 4th August. The festival is going to be held at the Life Science Centre, (near the train station for any day trippers!) and it will be a woolly haven which celebrates the benefits that making can have on our mental and physical wellbeing. Wool and wellness are two things I feel rather strongly about and I know many of you do too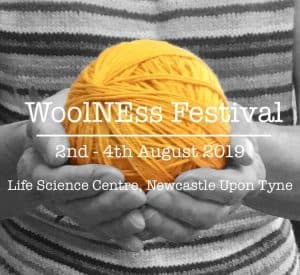 Events kick off with the Welcome Craft Night on Friday 2nd; then there are two days of marketplace with awesome vendors; workshops with cracking tutors and there is a special social event on the Saturday evening too.
On Sunday 4th August, from 11am-3pm, you will find me in the reception area of the Bio-medicine West area of the centre. This is the area where the workshops and pop-up events are going on and the area is the social setting for the weekend.  Lots of places to sit, make, chat and come and squeesh some wool!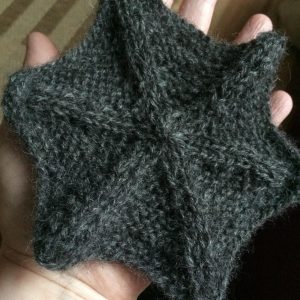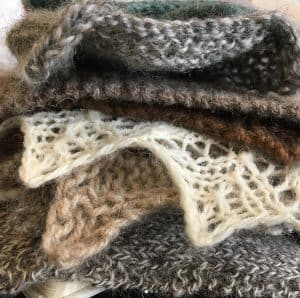 I am bringing a Love Local Wool showcase of British wool and fibre swatches. If you have ever thought British wool was just a generic term for a nondescript yarn or fabric (well, I know that's not you, regular reader!) come along and see how unique different breed wool and yarn can be!
I will be bringing a few examples from Wool Exploration, of our group findings on breed wool. I'll also be bringing a wool tasting session, where you can look at wool from fleece to (small) finished object and see how much the breed wool can change.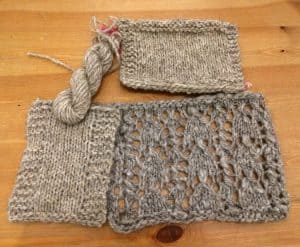 Come and chat! Come and squish wool! Come along with any questions about breed wool, participating in Wool Exploration or buying local wool ! I am in no way an expert. I've only learned about local wool from becoming passionate about using it and supporting small wool businesses. What I have learned most of all is that you have to get your hands on it – not simply in a ball or skein – but in all of its stages.
Already an advocate for local wool? Come and chat, bring your local wooly hand-made items to show off. Let's all fly the flag for wool from our neck of the woods -wherever that may be!
There are going to be some vendors with incredible UK and local wool too – Border Tart; Wensleydale Longwool; Dodgson Wood;  Barefaced; Hawkshaw Sheep; Ripples Crafts; Yarns From The Plain; Doulton Border Leicester; Old Maiden Aunt; Lammermuir Shetland and I daresay there are a few I've failed to mention!
I am really looking forward to seeing you, if you're going there.

In other general wool-being news, I've been thinking a lot about the podcast and website. I've finally started putting the wheels in motion for a wee change that I've been meditating on for a while. It shouldn't change how you read or consume material but I think, or hope, it speaks wider about local wool, the work of people within the wool world and also the work that I do. Cos, although I always say that I love making the podcast, it is also work.
More on that another day! Right now I'm off to sit with the podcat, who is a little sleepy, but doing well, after her dentistry yesterday (thanks for the love and wishes, she got them all). I'm going to knit on my Norfolk Horn Polygon and when I finish that I'm gonna pick up my Tin Can Knits Posy Shawl, which I'm making in Wensleydale Longwool 4ply, in Semerwater. It's currently raining here, so it may just be a netflix and chill kind of day.
Whatever you are up to, I hope you have a weekend of woolbeing!