My mind is very much consumed with near future planning – Edinburgh Yarn Festival (15th-17th March) is so very close now and lots of fun things are going to be going on during that week, one of those things I really need to gush about because it is going to be SO awesome.
This year there is going to be an event on Sunday, 18th March which will really appeal to your #lovelocalwool sensibilities – it is certainly making my KnitBritish heart beat fast! It's called Meet the Shepherd/ess.
From 10am – 2pm the Corn Exchange is going to be open and there is going to be a be another marketplace. The focus is on small wool producers, particularly on farm yarn businesses. Eight out of the 12 exhibitors will not have vended at the main event and so this is incredibly exciting and really bloody special. EYF is a great event and – biased though you may say I am – I really believe that Jo and Mica just pull out every single stop for you, for us. I think with Meet the Shepherdess they are really spoiling us.
Some of the vendors will not be new to KB listeners…
Black Isle Yarns – Listen to Julie talk to me in episode 75
New Leaf Yarns – Listen to Jane and I in episode 88
Life Long Yarns – Review in episode 96
Rosedean Ryeland / The Accidental Smallholder  – Hear about this yarn's launch in episode 60
Croft 29 – read KnitBritish article here (Apr 17)
Daughter of a Shepherd – read KnitBritish article with Rachel here (Mar 16)
Whistlebare – read KnitBritish article with Alice here (Dec 15) 
Hawkshaw Sheep – review in episode 85
From Shetland, to the Highlands and Islands, the Lothians and Borders to Northumberland to Vermont, USA  – there is a lot of wool to love at this event.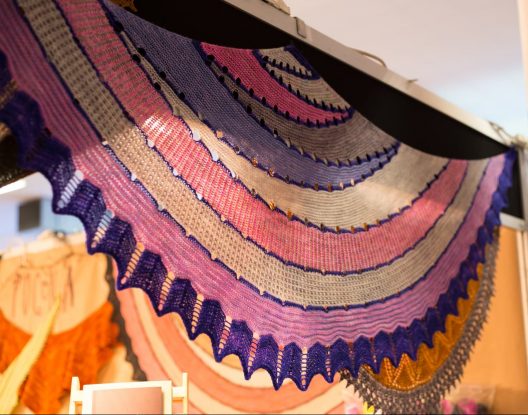 Also Ysolda will be there with her epic stall AND my woolly mucker Felix Ford will be there with her KNITSONIK Stranded Colourwork Play Book trunk show. In addition to all of that the marquee will be open and the concourse bars will be open for hot drinks, pastries and scones. This is going to be the loveliest way to wind down from the best yarn fest (yes, I am bias – so shoot me!)
| How can I go to the Meet The Shepherd/ess event?
You need to purchase a ticket in advance.  Tickets cost £7 and you can purchase them by clicking this link, which will take you to the EYF ticket tailor page.
Those of you going to EYF and the Meet The Shepherdess events should stay tuned to KnitBritish in the following weeks when I have a review of the new Whistlebare yarn – Cheviot Blue and a new yarn from Black Isle Yarns! Wool Explorer's may also like to seek out their Ryeland yarn at this event too.
I am really looking forward to talking with some of the vendors for the podcast. I'm also looking forward to spending a last few hours in the heart of the best wool tribe.  Are you planning to go? Let me know, it would be great to see you there.