Image: Ryelands belonging to Rosemary Champion. © Jeni Reid and used here with kind permission.
Can you believe we've now had two breeds of British wool under our explorer's belts? The deadline for your Gotland review is 5th February, but latecomers may still be included if its not too much longer after that.
If you listened to episode 100 and our results from the North Ronaldsay reviews you will have heard me saying that it was quite a trek to collate all of the reviews via Ravelry and I was thinking up a better way to do this. Well, we have Elizabeth, aka Atlasphere, to thank as she set us up with a google form, which means you can cut and paste your review notes in there and it will collate them beautifully for me at the other end. The link for the google form will be the same each month, so I don't know if you want to book mark it. It will always be linked on the ravelry chat thread and I will link it here…
Long link (for anyone who wants it… be warned, it is long) https://docs.google.com/forms/d/e/1FAIpQLSfcLCK56ZesbbbpMFT3zQZwChw8sWJ4aM-9BFhCaiYSzyQveA/viewform
| Ryelands – Teddy bears of the sheep world!
I'm really excited that our next breed to explore is the Ryeland. Mostly I'm excited as I have two different kinds of yarn to test for this – there is nothing like taking glee in using great wool, is there?!
This is what my Wool Bible says; Deb Robson and Carol Ekarius say in The Fleece and Fiber Source Book
As one of the oldest British sheep breeds, the Ryeland originally had one of the finest fleeces in the British Isles – said to be so fine that it rivaled that of the Spanish merino. […] By the late 18th century Ryelands lost some of their original exceptionally fine fleece quality when they were crossed with other breeds in order to increase their meat value. […] Despite their loss in wool quality from their legendary early days. they grown an exceptionally, fine, soft and fluffy fleece, perhaps the quintessential candidate for woollen spinning, which will emphasize the fibre's unusual loft and lightness.

P304
British Ryeland sheep come in coloured varieties from grey, black and brown, they also appear in white too. I think we might find lots of variety in yarn colours. And that lofty lightness has got me thinking about stitch patterns!
My first foray with Ryeland was a heavy weight yarn from Blacker many, many years ago (before they were such a good brand). We have a word in Shetland for the texture of dry tough meat – tyoch – and this yarn was the woolly equivalent of that – little give and very very dry. Back then I hadn't really learned that not all breed wool was the same so I didn't try it again until I met Rosemary Champion at Fluph, in Dundee, in 2016. Rosemary keeps a flock of these beautiful sheep – as you can see here in Jeni's pictures. She had produced a DK weight Ryeland yarn with the help of the Natural Fibre Co. The resulting yarn – a heavy DK, light aran – is so wonderful. You can hear me talk about it in episode 60 of the podcast. Last year she released a 4ply (which is possibly more like a sport), which I used in my Anora cardigan. So, if you are looking to buy some Ryeland yarn, you know what my first option will be for you!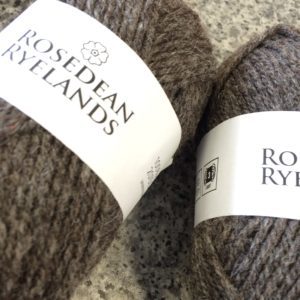 | Where can I buy Ryeland Yarn?
Rosedean Ryelands are Rosemary's flock yarn. She has two different coloured (heavy) DK and also a 4ply (sport) – These yarns cost £5.50 for 50g balls
If you want to go bigger, Garthenor do Ryeland yarn in their chunky and super chunky in a white and grey coloured yarn.
There are four colours of  aran Ryeland from TurnAcre Ryeland Wool, which combine a flock of white and a flock of coloured Ryelands (it looks great, I may need to purchase a skein!) – TurnAcre also sell various forms of fibre too, in incredible natural shades.
Thanks to Bekki of Dartmoor Yarn Co to sign post us to her pure Ryeland yarn. There is natural white and a dyed grey in 4ply and DK.
I've not found any dyed yarn, you may have more luck. Remember that you need to use a yarn or fibre that has 100% of the breed yarn in it. I should say that Blacker have  since made much nicer ryeland yarn (it must have been a harsh fleece, or something!), but there isn't any in stock sadly. You could check in Ravelry for sellers or other Blacker stockists.
Update: Fine Fettle Fibres have both DK and 4ply in the white Ryeland, from Blacker.
If you have any other tips, leave a comment below.
| Get exploring
The chat thread is now open! I had a deadline of 5th March for this, but I've made it the 23rd March. BlitheSpirit pointed out that Rosemary Champion will be at The Meet The Shepherd/ess event, at EYF on 18th March. It got me to thinking that perhaps a pre-EYF episode will be far too packed for Wool Exploration and so I think I will feature it in a podcast at the end of that month. What that means is that anyone who may buy their Ryeland at the event does have a good opportunity, but has a short deadline! The rest of you…get casting on and exploring. There is perhaps even time to try different shades or yarns from these different sellers!