Image copyright: r. nial bradshaw 
Episode 100! WOW! What a lovely milestone, and all thanks to the encouragement of you, lovely listeners, followers and pals.
Listen to episode 100
| A little of what you've enjoyed over the past 100 episodes
I open the show today with a wee snippet from episode 1, four years ago! Thanks to those of you on social media who told me some of your favourite parts of the podcast over the past 4 years.
Julia, Alix and Clare all nominated a good rant – it was so hard to choose just one!
Isla wanted to hear a bit of my first interview with Karie Westermann, from Episode 18 and I also play you a bit from one of my own favourite episodes, when i chatted to Karie in front on an audience at EYF2015.
Lisa Jane, Lynne, Josh and Liz enjoyed my chat with Felix Ford, after EYF 2016.
Amy wanted to hear a bit from one of my chat's with The Knitting Goddess, Joy McMillan.
Shona and Clare wanted to hear a bit from the Jamiesons of Shetland episode; Shona nominated the clip you'll hear in today's episode!
Pam wanted to hear a bit of the Uist Wool episode and also she enjoyed my interview with Leona, from Fluph, in episode 56.
Thank you for all the suggestions. It was hard just to pick snippets and not play the entire thing for each pick! I am really looking forward to the next 100!
The cast on for the BlackerPodKAL is Saturday, 13th! There is a chatter thread in the Blacker Yarn group on raverly and all the info you need is here.
Cast on date is Saturday 13th January (The KB100DECK day!)
Cast off date is Sunday 11th March (with a few days to allow for blocking ahead of EYF!)
You must use yarn from the Blacker range
You can knit or crochet any design you like,
This C/KAL is open to everyone, whether you can make EYF or not.
There is a thread in the Blacker Ravelry group to chatter about your pattern choices and yarn choices and post pictures of your WIPs
There will be a Blacker discount code as a prize at the end of the KAL
Tag your projects blackerpodkal on Ravelry and use #BlackerPodKAL on social media.
Did you also see that the podcaster list has been revealed and that you can find out some of the podcasters and vloggers joining us at EYF? NO? Well get on over to the Edinburgh Yarn Fest website. Much more details on the next episode.
|Wool Exploration: North Ronaldsay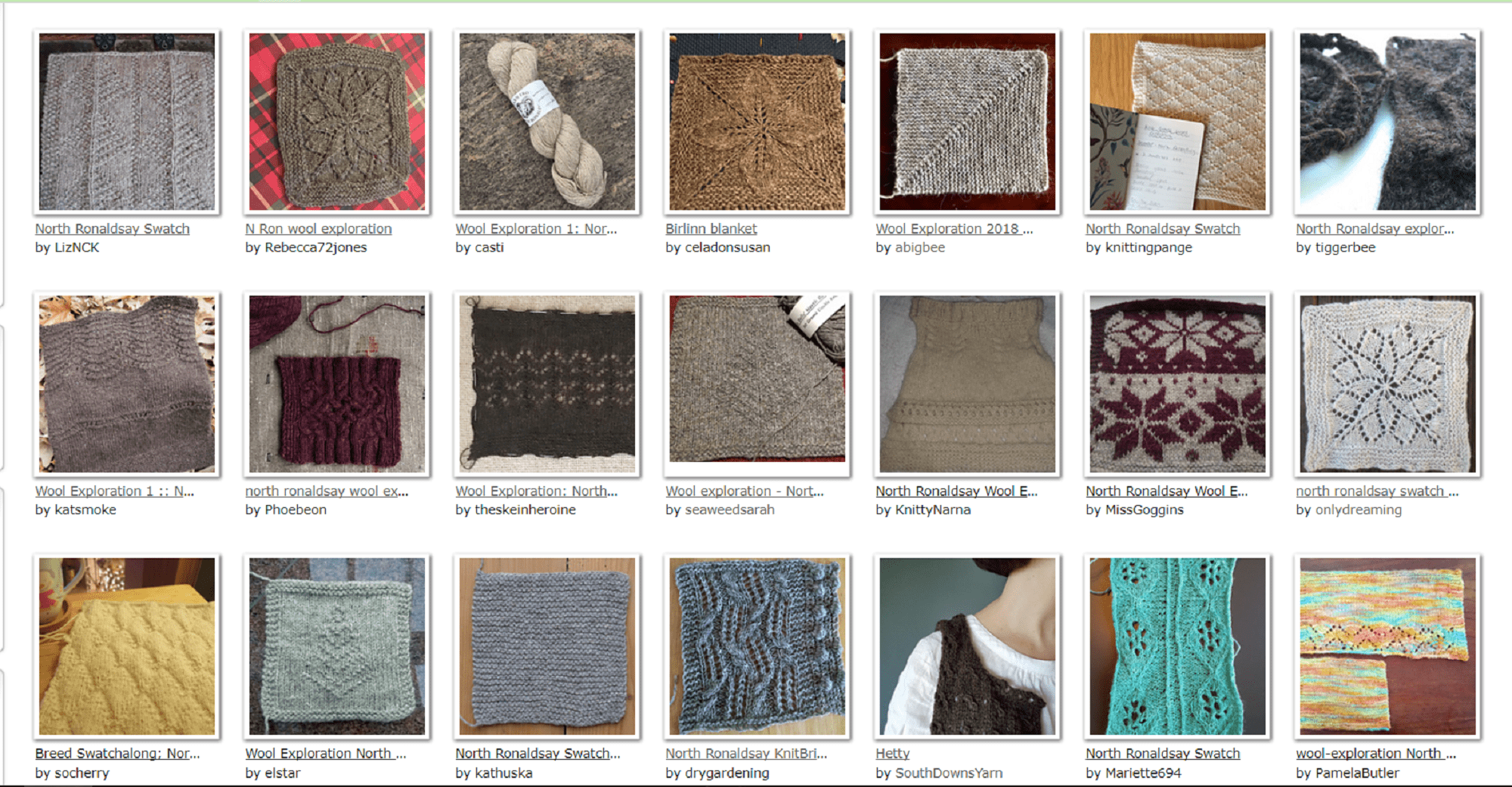 The first wool exploration has taken place – in December many of us went on an adventure with North Ronaldsay and took that yarn on a swatch road test. I would like to thank everyone who took part in the reviews, and also in the chatter in the ravelry group. There were 56 swatch reviews made in Raverly projects, but there was also discussion in the group too. These are collated keywords from those findings. As you will see there are different dimensions here. Do remember that people are using a range of different yarns here and the key thing: Not all wool from the same breed will be homogeneous!
Hand-squish-Grab (how the yarn feels in the skein/ball):
Coarse, but soft. Firm bounce in the ball, with a smooth almost soft feel. Soft and squishy with a rustic hand. Creamy in the skein. Ply is plumpy. Ball feels firm and dense.  Lots of guard hair present. Thin and thick guard hairs halo the ply. A great lustre. A great sheepy smell.
Initial thoughts on use:
A hairy yarn. Great for outwear.  Great for garments, cable and colour work as well. Should OK for stout outerwear. Great yarn from sweaters and garments.
Knitting experience:
Softer knitting than in the ball. Sheds a lot. Surprisingly smooth lanolin feeling. Crisp to the hand. The yarn sticks to the ball. Unwashed swatch is firm and the stitch definition is great. Grabby wool, but it also sheds. Silky and strong. Crispy and reliable.
Wash, block, wear test 1: 
Firm swatch with a prickle factor. Some guard hairs fell out in wash but others more pronounced. After wearing guard hairs smoothed down. Aware of swatch on my body. Such a warm swatch! I've never used a yarn that changed so completely in feeling.
Wash, block, wear test 2:
Aggressive blocking made it drapier. Softer with less shed. The swatch is even warmer now. Prickle factor is far less now.  Far too many hairs to wear next to the skin. Swatch is much softer. Not much shrinkage.
Further WBW, if any: 
We are lucky that some members of the KB group had swatched North Ronaldsay before in the breed swatch-along. Kathuska, Lindyhopper  and Wishcatcher were among those and they revisited their swatches with another wash, block and wear test. Results show far less shedding and some with even less prickle factor, others with slightly more! It just goes to highlight how great it is to have different opinions and reviews of these breeds
Final assessment and best uses:
The more that this yarn fabric is washed and blocked and worn, the more those guard hairs will wear in and will get smoother.  Outwear and cables would be great. Garter, lace – anything with great stitch definition. Strong, resilient and will make items to last. Yarn with less guard hair will suit items to wear near neck and face.
Brands used: Blacker and A Yarn from North Ronaldsay yarns were popular with reviewers, as well as Lauriston Farm, which is a bio-dynamic farm in Suffolk. Queen of Purls and Little Orkney Dye Shed were also reviewed, as well as some handspun. Myself, PrettyFunk and Lindhopper all used our own handspun in the review.
Do please visit the Ravelry group to read about the North Ronaldsay exploration and do join is for the current Wool Exploration on Gotland. There is a thread in the ravelry group too!
#KB100DECK
The KnitBritish 100th episode Drink, Eat, Chat, Knit is happening on Saturday and there are events also happening in Bath, London and York. Why not grab a WIP, grab a drink and take a picture on social media to celebrate too. Use the hashtag #KB100DECK.
I want to take a moment to thank all of the people who donated prizes for the Edinburgh celebration. I will be posting pictures on instagram this week to thank them properly, but if you would like to visit our kind prize donators, you can click the links below.
Thanks to:
The Knitting Goddess, Blacker Yarns, Louise Tilbrook, Dye Ninja, Ripples crafts, Meadow Yarn, Pom Pom Quarterly, BritYarn, New Leaf Yarns, Gardening Witch Designs, Edinburgh Yarn Festival, Loveliest Yarn Co, Juniper and Ginger, Owl about Yarn, Arnall Culliford Knitwear, WereWools, Whistlebare, Yarns from the Plain, Eucalan, The Doulton Flock, Northern Yarn, Ericka Eckles, and Ginger Twist Studio.
Giveaways!
We've got some amazing pattern giveaways for our 100th Episode.  Sophie McKane, AKA Unicorn Designs has a range of patterns for kids, adults and the home. Sophie has designed in British yarns, such as Kettle Yarn Co, Buchaille and Blacker and you can see her designs by visiting her ravelry shop.
My emphasis is on striking graphic designs that combine colour in unique ways. I like seamless construction, simple knits and quick results,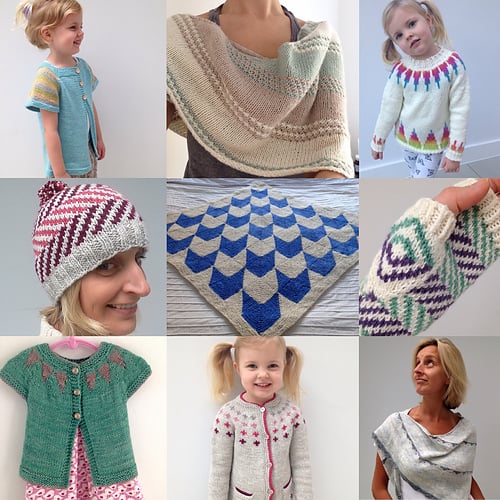 Sophie has offered incredible prizes to KB listeners. One lucky winner will win the back catalogue of Unicorn Designs; one winner will get all of Sophie's designs which are released in 2018; plus there will be three runners up for a single pattern of their choice. I have opened up a prize thread in the KB ravelry group and there are instructions on how to enter there. Meantime visit Sophie's online places, in her Unicorn Designs Ravelry group; you can join her mailing list and visit Sophie on Instagram too.
| Thanks and next time!
Thank you SO much, more than ever, for tuning in! It is my pleasure to do this podcast for you and you are the flagstones around my KnitBritish hearth!
I am back with the podcast next month when – amongst other things – we'll have Wool Exploration with Gotland and I and some listeners will be reviewing Whistlebare's new yarn Cheviot Blue!
Important information
This episode is marked Explicit on Itunes as there is one "fuck" about 9 mins in!
Music: Carefree by Kevin McLeod and Singin' in The Rain (demo) by David Mumford – Both are on FreeMusicArchive and are both shared under Creative Commons Attribution license. Images are copyright to those attributed in the caption or in the accompanying information, otherwise they are mine. Other music used in this episode were I'll Be Over You by Andy McKee and Happy (patty cake version) by Maria Z and Anna Free – which were both on music alley when it existed. Image in header from Flicker and shared via creative commons – copyright r. nial bradshaw