Our exploration of North Ronaldsay has come to an end and I am busy compiling your amazing reviews for the next episode of the podcast, on 12th January. Thank you to everyone who explored the breed with us and huge thanks to those of you who re-visited your swatches from the Breed Swatch-along.
Our next breed, fearless Wool Explorers, is the glorious Gotland. Now, there may be some quick to jump in and tell me that Gotland is not a native British breed. While not native, the Wool Exploration is not strictly about native breeds! Gotland is a  Swedish breed developed in the 20th century, which is a development of some of the more primitive breeds, and it is a breed which has made itself very much at home in the UK.
This is what Deb Robson and Carol Ekarius say in The Fleece and Fiber Source Book
"Gotland wool is an unusual wool, resembling a fine mohair or an English lustre longwool more than the other Northern European Short-tailed breeds. Its also more often comfortable in next-to-skin garments than would ordinarily be expected from the characteristic fibre diameters. […] Different strains of Gotlands have different fleece characteristics, but they have in common length, lustre, and well developed wavy crimp."
Page 162.
What larks and japes we will have in exploring this one! I know that there are a lot of you who struggle with wool next to the skin. Does that wee description make you want to take the challenge? Interested in discovering more of those unique textures and uncovering the treasures that this wool and its fabric may have to show us? I know lots of you are up for the challenge. Need a reminder of what we're doing?
The information for the year of exploration is here. Essentially, once you have procured your Gotland wool or fibre – in any colour, dyed or natural – you can knit or crochet any design in a big old swatch. Once you've done that use the Wool Exploration guidelines to review your swatch. You can chat in our thread on Raverly, create a ravelry project for your review and share your swatching on social media using #woolexploration. You don't have to take part in all of the explorations either, you can jump in and out as you like,
| Where can I get some Gotland?
I'm so glad you asked! There are lots of places you can find Gotland yarn or fibre. Firstly, Blacker Yarns have a great Gotland DK, which comes from Sue Blacker's own flock. You can find the Blacker Gotland at BritYarn too.
The Little Grey Sheep sell different weights of their own Gotland flocks yarn. They also sell tops and fleece too.
I've found a great looking DK Gotland from Trill Farm, in Devon.
If fibre is your bag, and you want to spin some Gotland (I will be trying this again) then you can find tops at Wingham Wool Works, Adelaide Walker and various different shades and preparations at World of Wool. A quick Google will yield even more results.
Some of you will remember trying out the Gotland swatches at EYF, in my Swatch sessions. This is what people thought then. How will you find Gotland to knit, block and wear?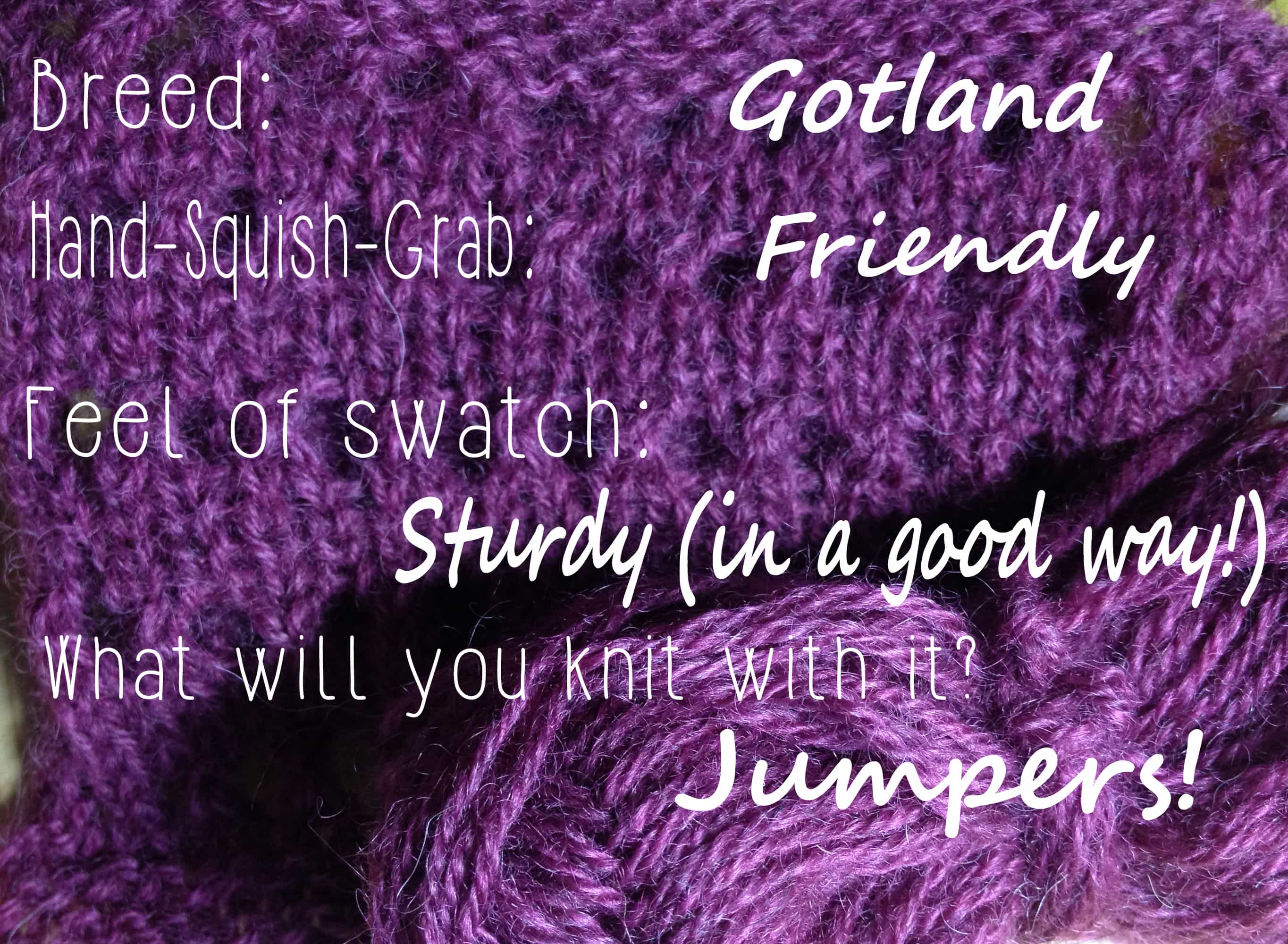 Any questions? Just want to get going? Then hop on over to the Ravelry group and get exploring! The deadline for reviews this time is the 5th of February, so plenty of time to jump in!