What a great week it's been – a woman in the TARDIS and some awesome ladies on the show today!
↓Listen to the podcast↓
You can also listen on iTunes, the podcast app, or search your favourite podcatcher, if you prefer!
| Sponsor
This month KnitBritish is sponsored by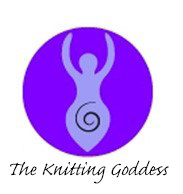 Joy dyes luxury yarn in her studio in Harrogate and is committed to supporting British wool in all her bases.
In addition to incredible yarns, such as Britsock; Wensleydale &Shetland; BFL & Masham and the forthcoming BritSilk, you will find screen-printed bags and books, hand-crafted stitch markers and exclusive yarn clubs in her online shop.
Click to visit the shop!
| Show Notes
I'm still utterly delighted with Sunday's news that Jodie Whittaker is the 13th Doctor – It's definitely time. It makes me wonder what kind of iconic wool item she should have (tweed coats/suits, scarves, cricket vests, etc) I'm pretty sure she would rock a pussyhat! – get on it BBC Costume dept! In keeping with the awesome women theme, this episode I've got news from The Knitting Goddess, a review from Christine Perry and a chat with Jane Green, from New Leaf Yarn .
| Clear Labels – Update from Cambrian Wool
I want to thank Sue James so much for coming back to us with a really detailed response to why they don't put breed information on their Welsh Mule DK. She was really grateful for the feedback and they've taken that onboard. This is the response, which Sue was happy for me to quote to you.
one of the considerations in looking at how to set up CMW was that it wasn't to be directly in competition with local small wool producers processing and developing yarns from their own breed specific/rare breed flocks;
as a community interest company, one of the 'communities' that we would look to supporting as the business develops is the group of small yarn producers;
our remit then, agreed with the Cambrian Mountains Initiative, was to develop the more commercial aspects of locally produced wool, by working with the BWMB and Bradford processors, to maintain consistency and quality year on year;
we were aware that being breed specific wasn't going to be easy – this project is about the final quality of the yarn for a variety of purpose and may even require a blend, especially when talking commercial quantity;
BWMB recommended a particular grade for our first batch, which happened to be Welsh Mule;
Welsh Mule is a cross-bred involving more than one different local breed with a BFL, (as I'm sure you're aware) and our experience from the research/design project and exhibitions that we ran for a year, was that the term 'Welsh Mule' caused much confusion (even hilarity!) over a cross section of users and consumers;
when it came to label design, we had to bear in mind the limited space and several other factors: many customers have impaired vision and the font cannot be too small, restricting amount of text that can be used; the Cambrian Mountains branding (inc Prince of Wales' watercolour) needed appropriate space; the tension info, batch etc needed to be easily read; contact detail is a requirement; ideally, everything needed to be in Welsh as well as English…. we ran out of space!
our conclusions were that the most important thing was that the wool was fine, consistent and high quality and grown in the region and this would be secondary to breed.
I do think that it is worth pushing on the point that there are a lot of people who aren't confused or amused at "Welsh Mule" and knowing that information is important and Jane says that they have taken that on board, which is awesome.
You've been getting in touch again to talk about what is important to you on the label, so I think this warrants further discussion and I think we will do more this winter on finding out which information is important to us when it comes to buying yarn.
| Remakery
There has been a fair bit of remaking going on in the KnitBritish ravelry group. I've been pluggin on my Marin, but got side-tracked by Antarktis! The yarn i'm using for my Marin got its launch at Pomfest. It is Kettle Yarn Co Ramble – Shetland and Romney blend and it is just delicious – soft, yet with an awesome character that really shows the best of both these fine British fleeces.
I also recently remade an Antarktis and I made it in a yarn that was very kindly given to me, as a gift, from Jane Green. Jane has some alpaca and decided that she really needed to do something with the fleece, but she didn't want to do 100% alpaca and thought that interesting blends could be the way to go! As soon as she gave me this skein of steely grey alpaca and Shetland, I huffed it and I knew I needed to cast on with it and tell you all about it.
(My photos of the finished shawl are not so close-up, but I will get better ones!)
I just love the halo on this shawl and that it makes the eyelets beautifully fuzzed, but not so much as to take the definition away too much. The yarn is just so squashy, it has a bit of stretch and memory, thanks to that Shetland in the mix and I'm so very chuffed with how it turned out. In the skein it feels like a rustic, soft, fine hand-spun and cos its spun at the Border Mill, I know how much care and attention to detail has gone into creating it. Do check out newleafyarns.com and see the yarns for yourself!
I managed to sit down in the sunny Meadows and chat with Jane this week (tractors, ambulances, noisy bicycles and an errant breeze aside!) and listen in as she talks about why she decided to keep alpaca, what spurred her on to make special blend yarn and what is coming soon from New Leaf Yarns. It was so lovely chatting with Jane, I hope you enjoy meeting her and follow her on instagram for alpaca, yarn and dog pics!
| The Knitting Goddess News
I spoke to Joy earlier in the week as I wanted to ask her if there was any news I could include in this episode and…wait til I tell you!
BritSilk is coming very soon – launching at Fibre East at the end of the month! This is a companion yarn to Britsock, but the nylon has been replaced with 20% silk. If you love your Britsock you are gonna want to see Britsilk – it is so seductive and slinky through the fingers and it is going to make shawls that drip in drape and shine.
Also there is another new custom blend coming soon too. Joy has once again worked with Rigmoor farm to buy their BFL and now also their Mule fleece to create a yarn that is 100% grown, spun and dyed in Yorkshire. It will be spun at Laxtons and I cannot WAIT to see how it looks. I just know this will be a very special, single farm yarn. If you are going to Yarndale, you may see it there first, but you should really sign up to Joy's newsletter so that you know when these yarns go up in the shop.
As well as Fibre East (31st July) and Yarndale (23-24 September) – Joy and Bobbie will be vending at the Great London Yarn Crawl on September the 9th too.
Joy has given us a splendid giveaway – cos she is so awesome and generous. Head over to the KB ravelry group to be in with a chance of winning a screen printed bag AND a skein of Two Flocks!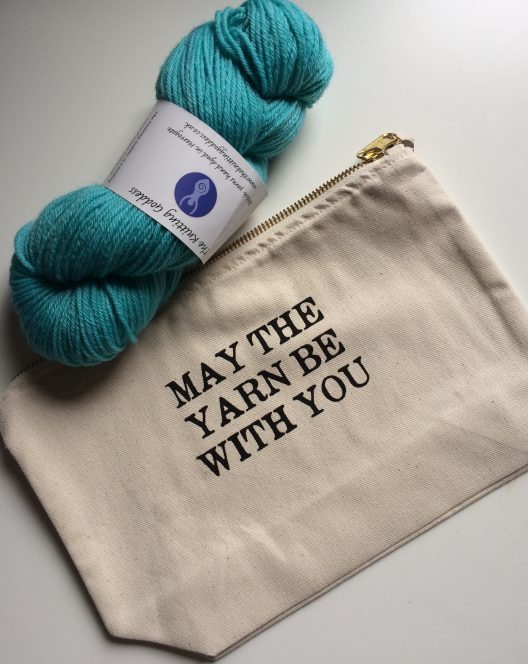 | British Woolly News
A very wee digest for you: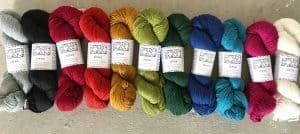 Walcot Yarns, which launched in March in neutral tones, has had a very colourful, juicy update with incredible dyed shades. Walcot Yarns is a collaboration by Carmen, from A Yarn Story and Sharon from Great British Yarns and the wool is a 4ply blend of Falkland merino and baby alpaca.
Lucy. from Lucy Locket Land, got in touch to tell me about her November Knitting Retreat at Calico Bunk Barn, at Druridge Bay, Northumberland. This is a budget (re)treat, it costs £150 total and there will be lots of knitting, walks and having a lovely time. Do visit the website for the specific booking steps.
The Great London Yarn Crawl tickets are almost gone! Have you got yours? It's on 9th September and its shaping up to be a great day – check out the website for the last tickets and see the great selection of vendors, including The Knitting Goddess, Walcot Yarns, The Wool Kitchen, Travel Knitter AND MORE!
| Blind Sock Yarn Review
Christine, Winwick Mum, did us a solid and blind reviewed a sock yarn for KnitBritish.
It is hard to write this bit, as some of you said that you like to guess the yarns too. So what I shall do is I shall link to it here (for those who can't wait to listen all the waythrough) and then in a day or so I will pop up the details. That way some of you get to hear the review and the reveal without spoilers.
All I told Christine was that this was a yarn with nylon and, when asked, I told her it was superwash. This is her cracking review.
Christine said,  My first thoughts were all about the colour – it's a glorious, vibrant purple which actually moves from shades of palest lavender to deepest Roman Emperor when you look more closely, and which is much more obvious when the yarn is knitted up. It felt soft to the touch but not particularly woolly so my first thoughts were of a worsted yarn.  However, when I started knitting with it, I wondered if it was even wool at all as it felt more like cotton to knit with – smooth, quick to knit and with a lovely shine that was quite noticeable knitting under a light although not so much in daylight.  That shine does make the colours glow in the daylight, though; there's a real depth to them so whatever the wool is obviously takes dye very well, and I'd love to see this yarn in other shades.
I got almost a full ankle sock out of the sample and I have to say that it feels very nice on your foot!  The stitch definition is very good – I also did a few rows of a lace pattern and it stands out nicely (not quite so obvious in the photo); the heel stitch on the heel is also nicely defined.            I liked the yarn even more when it was washed and blocked; there's more of a halo to it now and it's become a little softer too (although it was soft to start off with).  It feels like a luxurious kind of sock and although ordinarily I'd worry about how it would wear, I know there's nylon in the content which would make me much happier about wearing it every day.  Because it's superwash, it would probably be fine to go in the washing machine too, which makes it very practical.
Once I knew that the yarn was superwash, I thought that probably explained why it felt more like cotton – I think it would be fabulous for people who don't like their garments to feel too woolly but still want to wear real wool.   It would make a lovely pair of socks, but I'd also use it for shawls and even a cardigan – with a different type of swatch I think it would have good drape and I could see it being used in a whole range of projects.  Perhaps most importantly, I'd definitely be happy to wear it next to my skin and I can certainly see a pair of socks in this yarn in my future!
What a thorough review – Christine, thank you so much
[DETAILS OF THIS YARN *WILL* GO HERE!]
| Next Time
The Podcast will be back next week with my episode from Uist Wool. I'm so excited to bring you this and I really hope that you enjoy it. The episode after this will be on August 4th when I will be chatting to designer and wool obsessive  Francesca Hughes!!
Thanks so much for listening and taking part in the KnitBritish community. Til next time!
| Information
Music: Carefree by Kevin McLeod and Singin' in The Rain (demo) by David Mumford – Both are on FreeMusicArchive and are both shared under Creative Commons Attribution license. Images are copyright to those attributed in the caption or in the accompanying information. The header image is Joy McMillan. Other images are mine. I was given the New Leaf Yarn as a gift, and chose to review it.  I was also given the Ramble Yarn and the BFL/Nylon to review, for free in exchange for an honest review. All reviews on KnitBritish are honest and all information is correct at time of recording.