This is a special two part episode of the KnitBritish podcast, where I visit Uist Wool. I was very fortunate to have had the chance to visit there in May and my visit has really stayed with me!
This episode is in two parts because of upload limits and length.  On iTunes and podcatchers you will find these as two separate parts.

Uist Wool has interested me ever since I saw their stall at the Highland Wool Festival, in Dingwall, in 2014. At that point they were a funded training project, aimed at bringing back skills in wool-work to Uist. They had recently completed work on their mill and as well as bringing back these skills to the islands – islands so rich in wool heritage – they were also committed to getting crofters a better return on their clips. I can remember seeing their stall at the HWF and thinking that I looked forward to watching their progress!
The idea behind Uist Wool pays a great debt to Mary Norton, from Uist, who had seen what her friend Libby Mills had done for local wool in setting up the Green Mountain Spinnery, in Vermont and wondered if the same could be achieved in Uist. Dana MacPhee, who was working at Taigh Chearsabhagh Museum & Arts Centre at the time, came in on the wool development group as a volunteer and then as Project coordinator as the project continued.
The Wool Centre officially opened its doors in November and they have been trading as a Community Benefit Company since then. Anyone who saw Uist Wool at Edinburgh Yarn Festival, or Woolfest, or has fallen down the rabbit hole of their online shop can tell you that their yarns speak chapter and verse of local wool, with a story and a tangible culture (intangible too, with the use of Gaelic language). However, as you will hear, it took a lot of fundraising, awareness-raising and a heck of a lot of passion for place, an eagerness for learning and knowledge about wool and sheer determination at times.
Dana, now director of the Uist Wool, is the vital spark and driving force who has taken Uist Wool to where it is today, along with the Wool Development Group and the amazingly skilled and knowledgeable team of mill staff.  Join myself and Dana in the first part as we talk about the mill from its inception to the present and what might be in store for Uist Wool in the future.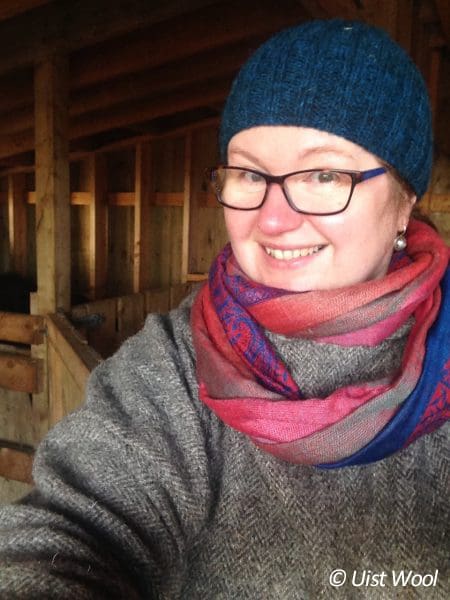 | Part one – in conversation with Dana MacPhee, Director of Uist Wool
Dana is utterly driven to give local crofters a better price for their fleece, rather than sending it to the wool marketing board and she says if the mill does well, it means that the benefit gets passed back to the wool grower with an increase in the annual wool clip payments. Now that Uist Wool is trading the emphasis is on  getting the word out further and selling those incredible local wool yarns, even if parting with the yarn can be a bit difficult sometimes.
"Now it gives me great joy when people come in and are buying … we've made that transition from training, set up and development and now we're in a position to say we're open […] I still smile a little bit, even if one person is just buying a skein of yarn and I know what's gone into create that. That one hundred gram skein that they're walking out with, I know what's gone into creating that from nothing. And I'm handing it to them and it's almost like I'm pulling it back – and that sounds terrible!  "Now be careful with it now, take good care of it!" It's like your letting it go!"
Dana also confessed that she would not call herself a knitter – though she was wearing a Nuuk, in their Fras yarn, knitted by her own fair hands.  I wondered how she came to be making yarn with such passion and knowledge and she tells us about her background, which features training in constructed textiles, but it is her work in local museums and the heritage and her passion for place that really piqued her interest. Since becoming involved with the project and being on this incredible learning journey she has learned more about wool and appreciate knitting more too. The sky is now the limit when you have a beautifully curated yarn showroom next to your office! We'll delve in that wool shop in the next part (below).
| Part two – From woolshed to wool shop with Hazel Smith, Mill Manager
Hazel Smith first came to the Western Isles whilst studying at Sheffield University and it was during this trip that she learned about Uist Wool and took part in some of the training days. Hazel was originally working with the RSPB in Uist, but with further training available at the mill and the opportunity of a job, would you say no?
This slideshow requires JavaScript.
Get your second cuppa and listen as Hazel takes us on the journey that wool takes around the mill. First we go to the woolshed – we meet Marple the dog who is keeping a keen eye on things. Hazel talks about how the mill goes out to the croft for the fleeces and it comes into the shed. It is then graded. Uist Wool used 9 grades and the best fleece for them is a medium staple (3-6 inches) with a soft handle. We also talk a bit about some of the breeds that are local, and some of the fleece that they buy from neighbouring islands, or the Scottish mainland.  Uist Wool aren't spinning to commission, they do not have capacity at the moment, but their business model is to generate wool-brokering for the community and sell yarn for the business.
After grading and picking, we go into the rebuilt byre, which is the wash house. Beds of washed locks of Cheviot X and a lovely air of sheepy scent meet us. as does Fiona, who tells us a bit about the washing process. Then we go into the mill and watch some incredible pieces of machinery – of all ages – process a Shetland blend. I also spoke to mill technician Maddie, who was setting about carding that blend and we talked about how she came to be working at the mill.
THEN we go into the shop and Hazel talks us through some of the yarns, and the wool products. Many of the yarns are DK, with some incredible 4plys, such as the Scottish merino Canach and the new Trusadah Las and Las Glas yarns – the latter being a blend of Scotch Mule and Wensleydale! Hazel also shows off the pattern kits, designed by Flora Kennedy and created in Uist Wool. Lovage and its deep ribs and curving shapes and Tarasgeir, with lovely lace details really show what these local wools and blends can do. You can buy these as single patterns, as well as kits. This blog post would be TRULY gargantuan if I wrote down every single yarn available, but you can hear us talk about them all in the audio and you can find the yarns at uistwool.com.
I think my personal favourite yarns are Reothart, Conntraigh, Fras and Dile – These yarns have been blended with Cheviot and Zwartbles and Cheviot and Hebridean to such incredible effects and I think these are the kind of yarns that will blow minds!
Bouncy, yieldy and incredibly local yarns which have been created with such knowledge and care – and via the hard work of a lot of dedicated people. Wool and wool-work has been so integral to the Outer Hebrides and while Uist Wool are real tradition bearers they are respectful of ther past, but forging ahead with these artisan yarns, championing local wool, local crofters and securing a future for wool and milling in Uist. Long may their good work continue.
Thank you so much to Dana, Hazel, Fiona, Maddie, Neil and Toby who all made me so very welcome at the mill. Thanks so much for your hospitality and for being so generous with your time.
This slideshow requires JavaScript.
| A gift to KnitBritish Listeners
Update: Uist Wool have offered 10% off sales in their online shop. Use code knitbritish89 . That is incredibly generous of them and I know you will be happy to partake of it! This code is valid till 31st August 2017.
| Important Information
Music used all by Doctor Turtle. Part one – Intro , Ladies Take Me With You. Other music in part one, and part two intro: It Looks Like The Future, But It Feels Like the Past. Other music used in episode two – Beaconsfield Villas Stomp. Images are copyright to those mentioned in the caption or accompanying info, other images are mine. My visit to Uist Wool was at my own expense.