Welcome to this special episode of the podcast, which focuses on the North Atlantic Sheep and Wool Conference, which I attended in Uist, in September.
↓Listen to the podcast↓
You can also listen on iTunes, the podcast app, or search your favourite podcatcher, if you prefer!
The North Atlantic Sheep and Wool (NANSW) conference was founded in 2011 by Karin Flatøy Svarstad, a felt artist and self-confessed "woolly lady", from Norway. Karin wanted to put focus on the native wool in Norway, which was seen as worthless and which was being disposed of, rather than used. Karin saw that areas of the North Atlantic were seeing similar issues with their primitive or native breeds; sheep which she calls "viking" and which are part of the Northern European Short-Tailed group.
This group is thought to date back to Neolithic times and while the NANSW conference has chosen to focus on sheep breeds from the North Atlantic region (Shetland, North Ronaldsay, Icelandic, Faroese, Norwegian, Manx, Soay, Boreray, Hebridean, etc ) the group also incorporates Swedish breeds, such as Gotland and all the Swedish landrace breeds; the German Heidschnucke breed; the Finn sheep; Ouessant; Estonian Ruhnu; the Polish heath sheep; the Russian Viena and Romanov breeds and the Skudde sheep, from the Baltic states.
The characteristics of these sheep are their small stature, their short tails, a double coated fleece and the fact that they are agile and hardy, to be able to live in some of the most unforgiving and harsh climates. The sheep in this breed group are tough, often living on the periphery of their environment.
The areas of the North Atlantic which have been visited for conferences over the last 8 years have been Norway, Shetland, Orkney, Iceland, Faroe, Isle of Man and now Uist and the hosts of the three day conference in the Outer Hebrides was Dana MacPhee and Hazel Smith, of Uist Wool.
Listeners of this podcast will remember that I visited Uist Wool and did two episodes back in July last year. If you haven't already listened to that and would like to hear those and the interviews with Dana and Hazel and the tour of the mill, please enjoy episode 89  – it will be a companion to this episode.
I was delighted to be asked to speak at this conference and it was a truly eye-opening and fascinating conference to be a part of. Not simply a knitting event, but an important event which put the focus on the whole sheep, the landscape and the people who champion these breeds.
The Lectures
Each day there was a morning of lectures at the Iochdar Hall, South Uist, followed by lunch and then a tour of the islands.
Hazel Smith, Mill Manager at Uist Wool, talked about how the theme of the conference was "tenacity" – a word which perfectly describes this group of sheep and also the hard-work and perseverance which goes into caring for and championing these breeds and their wool and mean products.  The talks all draw together those themes – like warp threads – and what is woven into this important fabric is the drive and passion of the speakers – from the croft to the mill, to yarn, to cloth.
Please listen in for a run down of the lectures, below is the list of speakers and links to their online places.
Introduction – Dana MacPhee & Karin Flatøy Svarstad,
The Hebridean Sheep Society – Eric Medway and Mary Claire Ferguson
Seafaring sheep – Meg Rodger of the Birlinn Yarn Company
St Kilda – Patrick Hughes, Scottish Natural Heritage 
Texel, Island of Wool – Renske Van Den Tempel 
Leadersheep of Iceland – Daniel Hansen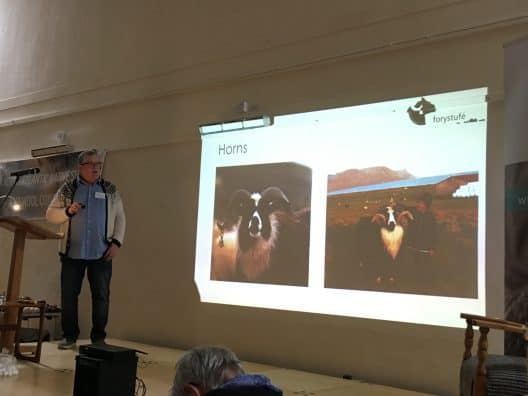 The Natural Fibre Company – Sue Blacker
From Wool to Clothing – Dorthea Joensen – link to Navia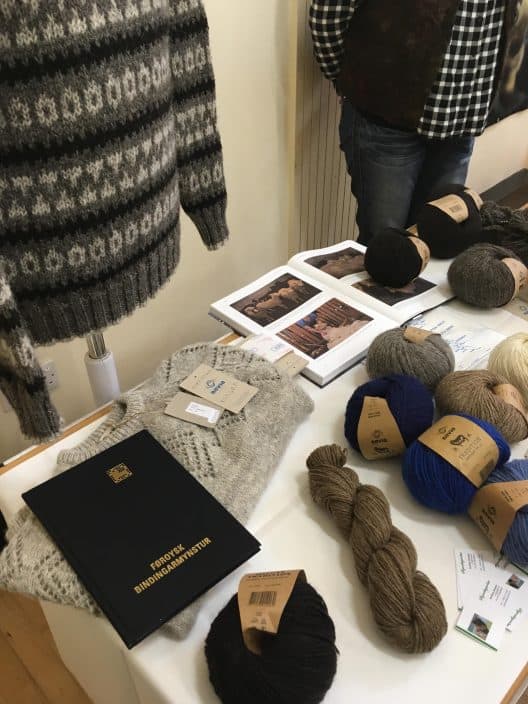 Tend – Joanna Spreadbury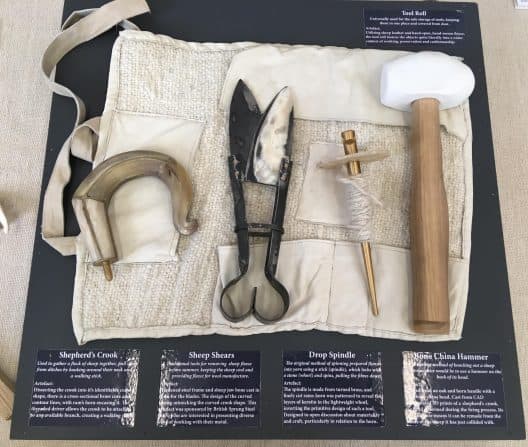 Contemporary Cloth – Netty Sopata
21st Century Crofting – Donald MacSween 
Local Wool: Be the Change: Louise Scollay  (have you heard of her?)
The Tour
Each day after the talks we got on a bus, one day we travelled south and the next we travelled north.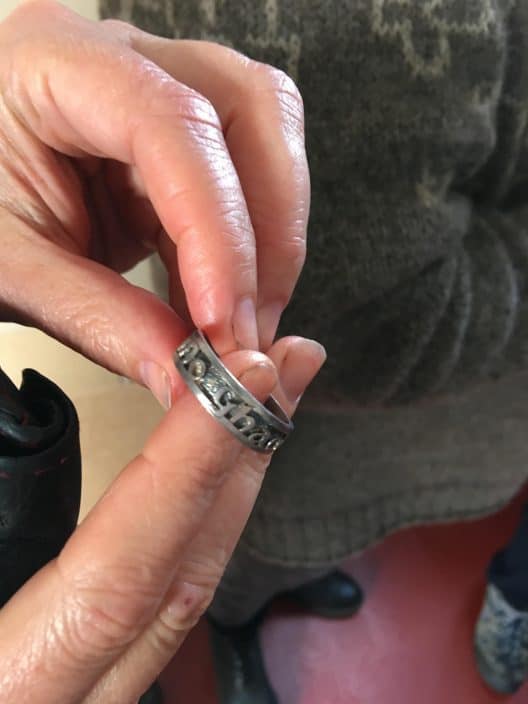 Martyn & Jan Jamieson's Hebridean Sheep (And Hector, the bull)
Eriskay  (remember the Eriskay Ganseys in episode 82?)
Hebridean Woolshed
Ceann na h-Àirigh – Community Cafe, Grimsay

Andrew Ross' Soay Sheep, Berneray
Culla bay – close to my accommodation at Nunton Hostel (highly recommended, btw)
Wonderful Women
I had such a great time at this important conference and I really hope there are more conversations and events which have a whole sheep focus. It was also a delight because I got to spend some time with some incredible woolwomen; we put our heads together in thought and threw them back with raucous laughter. I loved this! Thanks so much to Lilith, Jeni, Rachel, Jules and Tania for being great companions and to Hazel and Dana for arranging such a great event and looking after us so well.
 Information
Music used in this episode is Squire Tuck, Declaration of Love, which is available via freemusicarchive and shared via creativecommons. Images are copyright to those mentioned in the captions, otherwise they are mine. Please don't reproduce without permission.  I flew to Uist, with Loganair via Glasgow to Benbecula. I stayed at Nunton House Hotel , in Benbecula.