The sponsors of the next episode of the podcast will be Croft 29, a small family business creating wool from their Hebridean flocks on Skye. I think the story behind their business is really special and wanted to share an interview with them here on the blog. Put the kettle on and join us….
It was almost a year ago, I was in Fluph, in Dundee, and I saw a gloriously sheepy wool. The yarn – the colour of fresh cut peat – was an instant draw to these KnitBritish eyes (and hands) and I had to know more. The wool is described as genuine Hebridean wool from Skye. You can hear LJ introduce me to this yarn, and our first impressions of it,  in a wee snippet from episode 58 (you will have to follow the link to hear the whole episode and the answer to the question hank vs ball)
Croft 29 is a real croft on Skye, on the Trotternish peninsula, and is home to Stephen and Rachel Varwell and their family. They've been running the croft for 12 years and, as well as a small flock of Hebridean sheep, they keep a few Dexter cows (Bodan and Freya) and also their (extremely photogenic) sheepdog, Mac.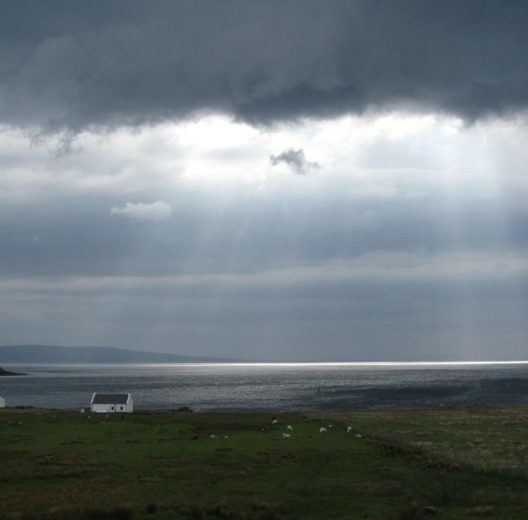 It's been just over a year since the Varwell's launched their Hebridean yarn; the wool – handshorn on the croft – is spun under the expertise of the Natural Fibre Company into a plump aran yarn. I wanted to ask Stephen and Rachel why they took the decision to create their own yarn.
"Crofts have never been full-time occupations and crofters have always had to be innovative to make money from what is a very marginal existence.  I guess that using our fleece to make a valuable by-product has in some ways been a logical and natural step, as we are making the most of the resources we have."
Those resources make a stunning yarn and you will be able to hear me review it in the next podcast episode, out on Friday. What was most interesting to me was that it's unlike a lot of Hebridean wool I'd knit with in the past; the natural colour is lighter, more caramelly, and the yarn much smoother. Of course, we should never expect homogeneity across fleece or yarn from the same breed, but to me this looked like a lot of thought had gone into getting the best of the fleece for a quality hand-knitting yarn. I think this is something that Stephen and Rachel are particularly proud of and it really does set their yarn apart.
Stephen:
"We do carefully select the fleeces that we use to make our yarn – Hebridean sheep get greyer as they get older (bit like ourselves) and so we use the youngest sheep to make the yarn – that's what gives it the dark black-brown colour.  We deliberately keep the lambs over the first winter so that we can shear them for the first time at 15 months old, for their wool.
"One thing we had been puzzling over, was what to do with the 'grey' wool that we get each year, from the older sheep – it is coarser and not nearly so soft. One idea we got from the EYF was to get it spun into a 'tweed gauge' thickness, then perhaps collaborate with someone to get it woven into a tweed.  What do people think of that idea?"
I'm pretty sure that KnitBritish readers and listeners will be able to offer some suggestions! We're an intrepid bunch and "soft" is a term that is not as important to many of us – many of us here  love a textured yarn to knit with. (Feel free to make suggestions in the comments or drop a line in the Rav group!)
For anyone who makes a yarn it must be incredible to see what others create in that wool; it must be huge boon to see items knit in the wool from your own flocks. Stephen says:
"It's hugely satisfying to see a thing of beauty and art (and use!) come into being as a result of us using something which some people would consider to be a waste product.  We hand-shear our sheep, and this adds to the satisfaction as you can really feel like you are personally involved in every stage of the process."
Something I am always keen to highlight is that the people making the biggest steps in British wool are working from their kitchen tables. Their knowledge of the wool, having worked with it at a grassroots level,  teamed with an understanding of the value we hand-crafters place on that wool is really unique.
Stephen:
"We feel that one of the main selling points for Croft 29 is the provenance of our yarn, and the fact that it all comes from the same place, from the same flock, and can be identified as a 'made in Skye' product. We can show the provenance of our wool from the sheep in the field, to the ball of yarn – people really appreciate that they don't just get a beautiful ball of wool, but the story that goes with it, and can perhaps feel a part of that story/process.  Social media has been a great platform from which to get feedback, and for us to get our story 'out there'.
"We're relatively new to Instagram (and indeed social media), and so perhaps hadn't fully appreciated how much of a tool or platform is could be for getting the word out there, and getting people interested in our product.
"I guess that, perhaps initially, we didn't think that our story was particularly special, and didn't think anyone would be that interested in what we thought of just as 'day to day life'.
Last year Rachel took the plunge and got a digital SLR. It's a Canon EOS1200. We use that for a lot of the good shots, but we usually use camera phones or a wee point and shoot camera to capture the more spontaneous picture moments. Also it just wouldn't be practical to carry around a big SLR when doing the chores every day!"
Those of us who buy British wool love a label stating the breed and provenance, but we also love the story behind the wool and that can really make purchasing decisions for us. This is definitely what is special about Croft 29, anyone who follows them on social media can attest to that. Images of the day-to-day work on the croft are stunning, as you can see from the images used in today's post, which are all kindly reproduced from their Instagram.
The star of many of the images is Mac and I asked if he was a willing model! Stephen said, "He certainly is very photogenic and to be fair is very good at patiently sitting in a specific place while we take his photo.  He's a pretty low-maintenance model – his fees are pretty low!"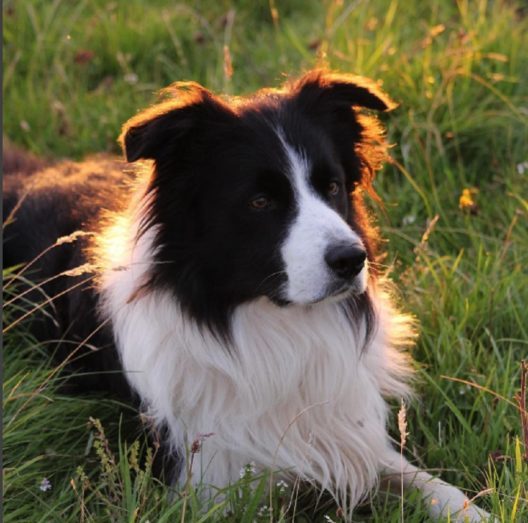 A year in and Stephen and Rachel have just taken delivery of the latest clip spun up into yarn and will be selling that via their Etsy shop. This year they've had the wool spun into skeins and they hope to also vend at some of the agricultural shows and sales this year too. I had the pleasure (albeit briefly) to meet the couple at Edinburgh Yarn Festival and they were really inspired by the event and hope to vend on a bigger scale in the future. In the meantime, life on the croft goes on.
"Calving was in December, so the cows are now back with the bull and we're looking forward to moving them to their summer pastures in the next month or so.  Lambing starts in mid-April, bit later than in other places, and the sheep are looking quite good – it's been a relatively fine winter this year, which isn't so hard on the sheep – hopefully that means we'll have a good lambing without too many problems.  Last year's lambs are also looking good, and we're happy with how much they have grown. "
I often get asked by small holders about starting their own yarn as a sideline business and I reply that it is definitely an undertaking that can require as much hard work as your day job.  I asked Stephen if he had any advice for like-minded folk, who were also thinking about creating yarn and wool products from their own sheep. As Stephen says here, it is important to think about the bigger picture.
"As with all things on a croft or smallholding, it's been a learning process for us and you need such a diverse 'skill set' – you need to know and understand stock and land management, as well as having an eye for business, and customer service.  I think I would say to any smallholder – do what you are interested in, and have a passion for.
One of the critical things for producing your own yarn (if you want to do it on a reasonable scale) is having a large enough flock – NFC require a minimum clip of 20kg, which equates to slightly more than 20 fleeces (Heb fleeces are approx. 1kg each, although other breeds, like Cheviots for example, are heavier.  If you only have a few sheep, then try and pair up with someone else in a similar situation, and make a distinctive 'blend' – but think about your story, try and learn from others and take advantage of events, such as EYF, to chat with like-minded people."
Thanks so much to the Varwells! Tune into Friday's episode to hear all about the yarn!
You can find Croft 29 Hebridean Yarn on sale in their etsy shop www.etsy.com/shop/Croft29 or with selected stockists such as Fluph. Yarn prices start at £6.00 for 50g ball, but you can expect to see more hanks in the next clip!
| Information
All images used here are (c) Croft 29 / Steven & Rachel Varwell. Images are used with kind permission and many thanks to them.  All images (apart from the balls in the suitcase one, that's mine) can be seen in the Croft 29 instagram stream. Please follow them at @Croft_29, if you wish to see more of their wonderful images. Please do not reproduce images without express permission of the copyright holders.