I can't believe it has been a week already of LushPodKAL and I can't believe I still haven't got my yoke blocked yet! I had hoped to get this done last night, but I ended up almost-coma-like after a few days of strong antibiotic taking  due to this awful tooth (or lack thereof!)
I thought it might be useful to link to some information on waist shaping – it's one of those techniques that I see a lot of people skip when I am perusing projects on ravelry (this is how I procrastinate!). In a lot of patterns this is an optional step and so it is fair enough that some skip it. Others skip it as they feel they don't need the fitted effect in their finished garment. I also think a lot of people don't knit shaping because everyone's bodies are different and waists tend to be in different places.
Personally speaking, I was scared to put more fittedness in my first Lush – I knew it was a fitted knit, with negative ease in it that I had not knit before. I was frightened that I would look like I had been put on a boil wash. But I am so glad that I did this. I bloomin' adore the fit!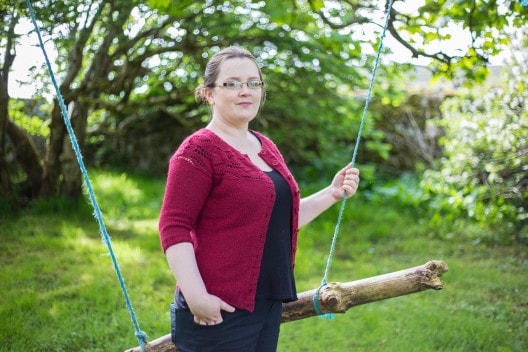 Knitty.com, again, have a great article on making your knits fit  – this time by the fantastic Stefanie Japel (whose Shapely cardigan is also in my queue).
If you want to tailor your waist shaping for your very own measurements then you are going to need to do some calculations. Before you run away at the thought of knitting maths  Knitting Daily have a calculator tool to assist you in this!
Knit to Flatter author Amy Herzog also has a great tutorial  on shaping (subtitled "YES, you need it"). on the different types of shaping you can do and how to adapt side seam shaping to shaping at the back and front – and also how to put waist shaping into patterns that do not include it. According to Amy, whatever shape you are you and your garment will benefit from waist shaping and making your knits fit to flatter.
There are not many video tutorials, unless you join a Craftsy class on the topic, but I found this one.  The example used in this KnitPicks video is on a bottom up garment, but for those who haven't added waist shaping before and just need a little demystifying, then this is quite a good. It is part of a series of video tutorials on knitting a sweater. The KnitPicks website has further instructions for waist shaping – such as instructions to help calculate waist shaping for your exact measurements

I hope this has been a little helpful.  This is the start of week two on the Safari and the LushPodKAL chat thread has moved to Aimee's group in KnitSpinCake Ravelry group. Thanks to all the chatterers in my group and we will see you back there in week 6 – Jeezo! I hope my progress is further by then!