You will have heard me get really gushy about how I have met some amazing knitty and woolly people through the wonderful world of Twitter and Ravelry. I am pleased to say that I have had the real pleasure of meeting some of them in person and they are even more smashing in real life.
Taking part in LushPodKAL is fantastic and it is lovely to be knitting along with woolly pals I know from real life and online life, and hopefully make a few more along the way. All this must bring back nice memories for LushPodKAL co-host and shiniest of bees Jo Milmine – taking part in a KAL opened up a whole new yarny world!
It was while taking part in the iMake KAL over on Ravelry that Jo met the group moderator Kate Ellis, perhaps better known Katestwirl and coordinator of the P/Hop fundraiser for MSF. While most people had finished their Damask, Jo was still posting in the KAL thread. It took over a year for Jo to finish her item (and I thought 8 weeks for a cardi was gonna be a toil for me!) in that time she and Kate had become firm friends.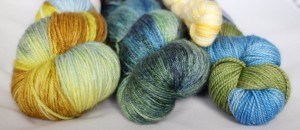 Kate says, forget looking for love online, how about a business partner!  Jo had been considering a yarny venture for a while and it was her husband who came up with the suggestion of a yarn club which worked like a wine tasting club – a yarn tasting club, if you like. They were living in South Africa at the time, so wine quaffing was a frequent pastime and the idea was to introduce crafters to the plethora of indie dyers out there. Jo emailed (yes, they had dared to swap email addresses by this time) to ask Kate if she had any comments or advice on her business proposition – as Kate was also looking for a yarny venture, she popped the question: Are you looking for a business partner? The rest, as they say, is history!
The very first shiny gold parcels of yarn were despatched in December 2013. The inspiration was an image of a Tornado flying over London – look at those divine greys, soots, and mercury silvers.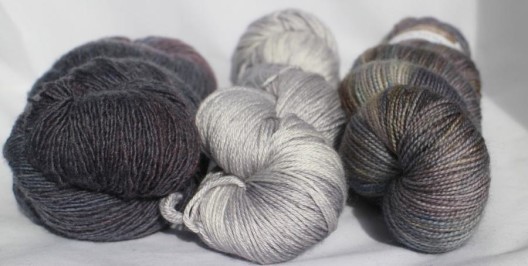 TGS's main club is the Power of Three club – each quarter, subscribers receive three skeins of 100g of sock yarn, dyed on varying bases, by three different Indie dyers to the same inspiration picture. The Power of Three Club has been well received and has produced some fantastic and varied yarns. Jo and Kate hope to add some British breed and British dyer clubs in early 2015  – but for those who need a little British sumthin-sumthin in their club yarn British dyers such as Yarn Garden, Sparkleduck and Ginger Twist have all taken part in the Power of 3 clubs.
Look at the inspiration pictures for the next Power of Three – Sumptuous, juicy and so deep you could dive right in! (click for a larger image)
Sign ups are open now, with despatch on 1st September 2014, for the Power of Three and the Slimmers' club – a one skein option for those who must have a golden skein in their stash! 
To find out more about Jo, Kate and The Golden Skien, visit www.thegoldenskein.com or find them of Twitter, Facebook, Raverly, Instagram & Pinterest
The power of a knitalong in making new friends is strong indeed – do you think there are any potential collaborations in the LushPodKAL?
This is the anniversary of Jo and Kate's collaboration and I wish them continued success. I think they have struck on something really, really special….and the yarn is pretty special too!