This is the Mezquita shawl. This was the first time I knit anything with holes where there were meant to be holes. This was my first shawl and it was the first time I wrestled with blocking anything bigger than a hat!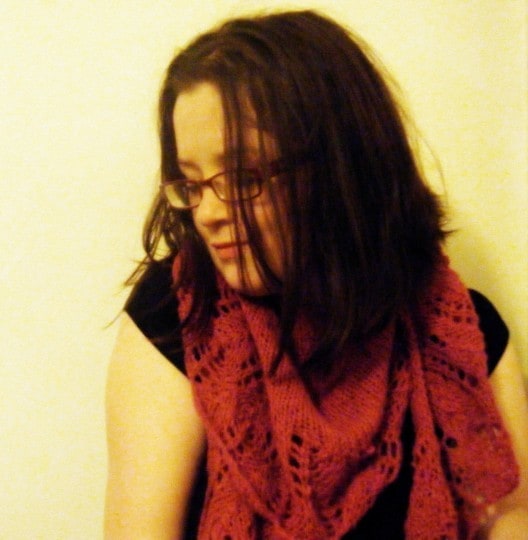 For about three years I had learned stitches, I had knit scarves, hats, cowls, wristies…even made up a pattern or two. I was also beginning to feel like I had begun to near the surface of that deep hole. Behind me was a lot of hard work, counselling, medication, learning to forgive and realising that you don't need to forget, but you can lessen how raw it is to remember.
I had gone back to Uni and, living with my best friend who had gone through a similar situation, I was finding camaraderie  and even humour in what I had been through. I had come to realise that I was pressing on.
Not only was I utilising the tools that I had learned on my journey I was really keen to go further in my knitting too.
As I learned to assess potentially worrying situations rather than hide from them, I also learned to read (and re-read) patterns before casting on. Too many times before – with patterns and with situations – I'd either run off at a gallop and miss the finer points, or avoid it all together thinking I couldn't deal with it.
I learned that I had to go back along my lifeline and tackle some people and issues that I had either run from or not dealt with sufficiently in the past. So too did I learn the importance of realising when you have made a mistake and knowing whether it can be rectified or abandoned. Many times I could start again, other times I turned a new page in the pattern book and saved my precious yarn for another special project.
I learned how to block (hmmm! I always feel that blocking is a learning curve!) I learned that wool grows in a way you don't really expect and that it is malleable. I realised that while I had felt so low, so lost and so deeply packed into the bottom of that hole, I had taken those experiences – pinned out all those sharp points  – and I could look at what I had achieved.
The Mezquita shawl was knit in Artesano Inca Mist  This was the first time that I knit with a yarn that wasn't sheep wool based; baby alpaca, soft as kittens, gliding through my fingers, in-around–through-off. It was the first time I spent a bit more on my wool, the first time I thought about the yarn and the garment in connection to my senses and the first time I was knitting an item that I really wanted to look beautiful and be eye-catching. I was opening up to the idea that I was allowed and deserved lovely things (…cue thelovelyfella soon after that)
Knitting is a form of therapy and can be a life-line in times of crisis, frustration, anxiety and in challenging times. I think often of that first ball of acrylic and every time I use my first pair of needles I think of why I bought them. I think of how far I have come since buying them, the things I have lost, but also the things I have learned  – so wide and myriad, both practical and emotional.
I am not writing this to say that knitting was the cure; I needed support, counselling, medication and lots and lots of time during that deep bout. Neither do I mean to say that knitting saw off depression for good -far from it! but I do feel now that when I start to see the Black Dog at the corner of my eye I feel better equipped to kick its arse. 
Truth be told, my anxiety and I haven't been the best of friends recently and each time I have had to reach for the Rescue Remedy, medication or  take some deep cleansing breaths there is the need to knit soon after –  just a row or two to focus and steady.
I have mentioned that lovely book Knitting yarns and my favourite essay is Barbara Kingsolver's Where it Begins (you can read it via the link, but I highly recommend the book) -She is dead right; knitting needles are my oars, steering through life's waters with a lifeboat of yarn.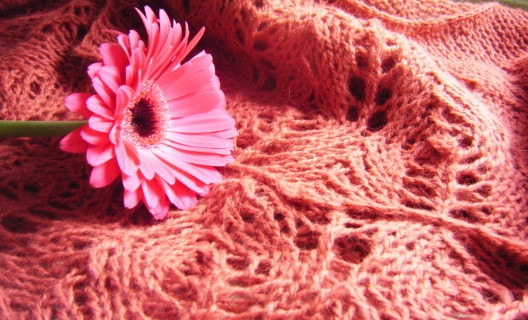 I still wear Mezquita and wear it with pride. I was very conscious when I was knitting this item that I was knitting my butterfly wings.
: : : :  
Thank you to the lovely @KatySwiftKnit for making me aware that this week Is Mental Health Awareness Week (12th-18th May). This year their focus is to make people aware about anxiety; to understand, manage and overcome the anxiety which can impact on our daily lives.
Anxiety can be debilitating, it can floor you, it can take you far away from your comfort zone within seconds and an attack can last over half an hour, leaving you exhausted for hours afterwards. With anxiety can come tension headaches, muscle pain and tensing, dizziness, nausea, racing heart and breathlessness. If you suffer from anxiety, do see a doctor or seek advice, there is a lot of support and assistance out there.
Please visit the Mental Health Awareness website for helpful information and find out if there are any events in your area.