Have you entered yet?
There is still time! You have until the 31st December to enter to win 1kg of British wool and kick off your new year with a new stash!
As you know, I am drip feeding you with little tidbits here and there, but SO FAR (and there will be more) we have…
100g Manx Loaghtan and Portland blended DK
100g Whitefaced Woodland DK from the National Trust
200g Marriner DK British wool acrylic blend in a a lovely teal
100g John Arbon UK Alpaca sock yarn
100g of Alpaca fleece from Shetland Alpacas
Combed tops samples from Shetland Spindrift Crafts
Titus mini-skeins
I will publish the full list with the last of the goodies in a post before the closing date, but today I am adding to the booty…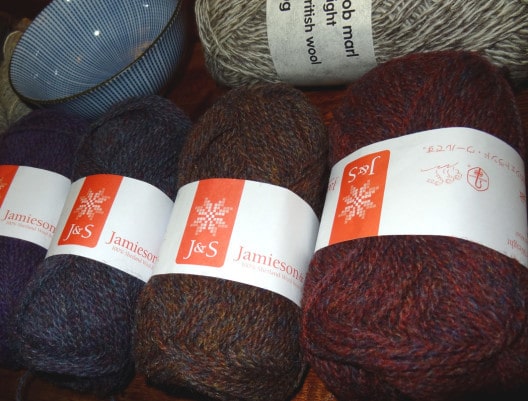 Four balls of Jamieson and Smith jumper weight in some of my favourite of the mix colours and Sheepfold British wool Suffolk and Jacob Marl DK!
The colours of Jamieson and Smith are always speaking to me, but some of these heathery mixes practically shout, "buy me!"
Shetland wool sometimes gets a bad press for being coarser, but believe me your finished and washed garments will soften up a treat. I think there is enough here to please J&S enthusiasts, and to give newbies to Shetland wool and colour work a whetted appetite for more!
I bought some Jacob Suffolk Marl at Woolfest and quickly bought more. It is a lovely, slightly greasy yarn to work with and I adore the knitted fabric. It has a lovely, flumpy, floppy feel and I really loved knitting my Thrappled cowl with it.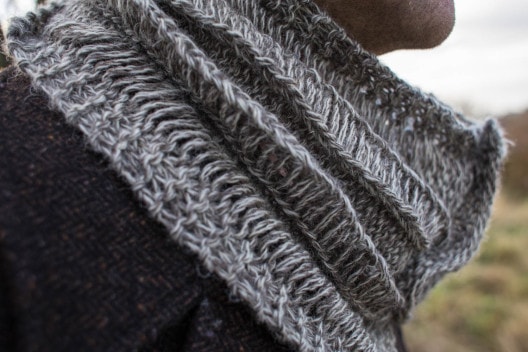 So, if you want to be in with a chance of winning please enter here. There are extra ways to enter – one of which is subscribe to the blog by email, and if you do you'll be first to know when I publish the next giveaway tease blog, won't you!
More to come next week!
How are your gift WIPS – frantically knitting or are they all wrapped up?
I have just been told I am going to be an Aunty again – better start my baby gift knitting soon!