This month KnitBritish is a big 1 year old!
It is also almost Christmas, a time of giving presents!
To celebrate this – and the fact that for the last year I have been celebrating British wool and having great fun exploring the wealth of fibre this country has to offer, with you, dear reader….I am going to give away….
….ONE KILOGRAM of Great British Wool!!!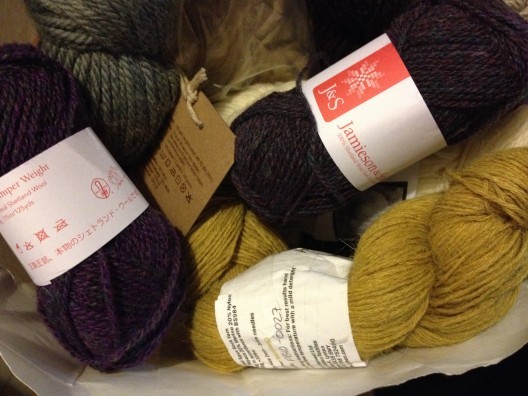 All year long I have been squirrelling away extra skeins, purchasing one or two more than my projects require or hand choosing yarns that I think will make one KnitBritish reader very happy to own.
It started off that I intended to give away a couple of skeins throughout the year, but the pleasure that a ready-made stash might bring someone became too tempting. Then some yarn producers kindly donated some skeins for the prize and it became even more special!
Do you want a peep inside?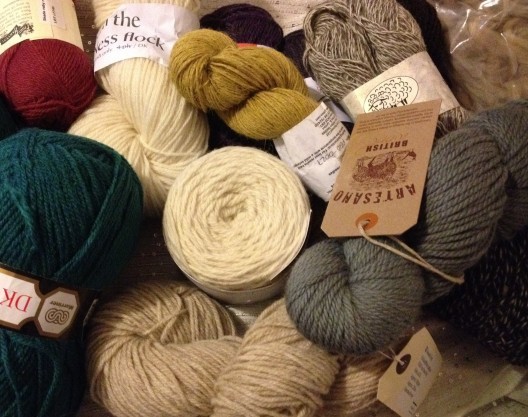 I am not even picturing the bulk of it here and actually there will be more added before the end of the contest. I think I should get a loudspeaker for this bit.
*Klaxon squeal* *ahem*, "Is this thing on….
ONE PERSON WILL WIN A BRITISH WOOL STASH OVER 1KG!"
Do you want to know what is in it so far?
Hmm, I think I might tease you with just over half for now….
100g Manx Loaghtan and Portland blended DK
100g Whitefaced Woodland DK from the National Trust
200g Marriner DK British wool acrylic blend in a a lovely teal
100g John Arbon UK Alpaca sock yarn
100g of Alpaca fleece from Shetland Alpacas
There is a whole heap more I will introduce you too in the coming weeks leading up to the deadline of the giveaway.
I have tried to create a prize that will satisfy a knitter like me…one who wanted to sample breed-specific yarns, rare breed yarns, easy care yarns, something other than sheepy yarns and a knitter who fancies trying their hand at spinning too…
Do you think you might fancy that? Maybe? Well, to enter this is what you do
: : Firstly and most importantly : :
Leave me a comment here by completing this sentence…
I want to KnitBritish because…..
I won't be choosing based on the best answer, but it sort of eliminates one word entry comments that you quite often see on blog-giveaways… T'is the season to be sociable after all!
: : Three more chances to win : :
After leaving a comment here, you can earn extra entries by doing the following
 – Subscribe to KnitBritish via email – KnitBritishy blogs straight to your inbox (I mean, think about it, it'd be so handy!)
– Tweet the following with hashtag
I entered #KnitBritishGiveaway Win a British wool stash at www.knitbritish.net
– Go here and find my KnitBritish win a stash board and Repin the stash on your Pinterest Board!
I don't do Facebook or anything else, so you can feel free to share widely and wherever, but only the above ways to enter will be valid.
The contest will run until December 31st so you have ooooodles of time to enter and share it about.
I will announce the very lucky winner very soon into the New Year.
oh, and p.s. I am away for a few days, and will be doing no admin or promotion on this til I get back. If you enter comments and they don't appear straight away on the blog, do not worry! I will approve them when I get back to my desk.
: : Important : :
This competition is only open to entrants in the UK<– I am really sorry about that, but over 1 kg of wool is heavy to post and, to be honest, this year has been all about exploring the wool on my doorstep and I feel it is a very UK-based prize. Comments, pins and tweets, etc from outside the UK will not be entered 🙁
Some of the yarn has been kindly and generously donated by yarn sellers. I have stated this in the stash where applicable.
I am giving away this prize largely at my own expense because I love British wool, I love talking and writing and knitting British wool and I really want to promote it as widely as I can. I can't think of a better gift to receive than an entire stash!
The final prize listing I will publish before the closing date is non-negotiable – If you can't use a certain yarn for health reasons, or you simply don't like it, pass it on and share it with someone who might – its the time of year for giving, after all!
Good luck and play nice!
THIS COMPETITION IS NOW CLOSED!