The fifty-second episode of the podcast is here and I am in awe of all the Natures Shades fun going on!
You can listen on iTunes, the podcast app, or search your favourite podcatcher.
You will find the very best of British wool and an incredible range of patterns by British based designers at BritYarn.
To share and celebrate in a love of British wool click on the logo.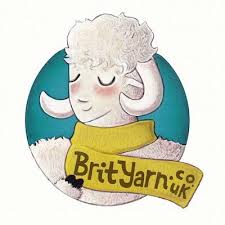 Listen in to hear about the Kent Romney yarns new at BritYarn for 2016
| GIVE AWAYS
Win one of three pairs of tickets to Edinburgh Yarn Festival by following this link. After 12pm on Wednesday 24th February I will use random.org to draw three winners. There is also a yarn give away on the blog this week and if you need an injection of sunshine and warmth you should check it out.
| NATURE'S SHADES ALONG 
I talk about some of the KAL projects which have been delighting us in the Natures Shades along. There is a lot of Kate Davies love in this KAL with Buchanan, Tantallon and Epistropheid all being cast on and looking striking in those natural shades. One of the reasons Isla and I wanted to do this KAL was to see people get enthusiastic for what you can really do with natural shades. Don't think of the natural rainbow as 'vanilla' – there is such a lot of inspiration and striking design here. Check out the hashtag #NaturesShades on instagram and twitter too. Here are a few images from Instagram of natural shade love! 
There's plenty of time to join in  and heaps of inspiration from stash busting, quick projects to sweaters, shawls and blankets. 
Virtual Knit Night: We will have a virtual KAL knit hour on instagram, twitter and Ravelry on Friday 12th February at 7pm (UK) so please join in and use the hashtag #naturesshades.  There are going to be prizes too and I tell you about some wonderful small farm wool I bought at the weekend for a prize. 
| BRITYARN NEWS 
Isla is stocking two weights of a 100% Romney wool from the Aylesbury Flock in Kent. The DK is worsted spun and the aran is woollen. Isla described the DK as a very smooth yarn, which knit into an drapey fabric with a delicate look and a lovely stitch definition. She roadtested this in the Breed Swatchalong and you can read those notes here. It certainly looks lustrous and silky, doesn't it?
Having knit with woollen spun Romney aran before I bet the Aylesbury yarn is just as bouncy, springy and woolly as the yarn I knit with. I think it is really great to offer the same breed wool in these two preparations as they produce different yarns and different fabrics. Definitely one for you wool explorers to get a couple of skeins to try. The Aran Romney costs £10.50 and the DK costs £11.
Also in stock new BFL sock from Eden Cottage Yarns, delightful coloured yarns from The Knitting Goddess, The Klee collection by Renee Callaghan and the Drift Collection by Eden Cottage Yarns. I reviewed that incredible book back in episode 45 – every design is just beautiful and I wanted to cast on all the things! 
| Meaningful Knit When I was in Shetland at Wool Week I recorded some meaningful knit stories as I am really interested to help you share the stories in your stitches of your beloved woollen items. Today Marghie is here to talk about her special Shetland lace scarf.
| Next Time 
Next time I will be looking at Kate Davie's Buachaille yarn and talking WIPs of DOOM. Don't forget to visit the giveaway links at the top of the post! 
| Important 
Music: Carefree by Kevin McLeod and Singin' in The Rain (demo) by David Mumford – Both are on FreeMusicArchive and are both shared under Creative Commons Attribution license.
Romney yarn photos courtesy of BritYarn. Instagram images used with kind permission.