This has been a bit of a blue week.
.
It started with the news that David Bowie had died. Still not quite got my head around that one. As so many people have said, he just seemed immortal. Incredibly sad – the stars do indeed look very different now – but legends never die and we have his groundbreaking music; His legacy for embracing your differences, your oddities. He liberated and influenced so many, in music, in fashion and in life – what an indelible mark to leave. And Alan Rickman too – such masters of their craft. 
I find myself needing an escape from all the blue and, while it is only a small distraction, I have been drawn down a Ravelry pattern hole. I am finding myself very drawn to the yellows and ochres this week and if ever there was a colour to cure the blues, surely it is yellow, n'est ce pas?
Bowie was also evidently a fan of yellow knitwear (we shall let the acrylic slide in this case).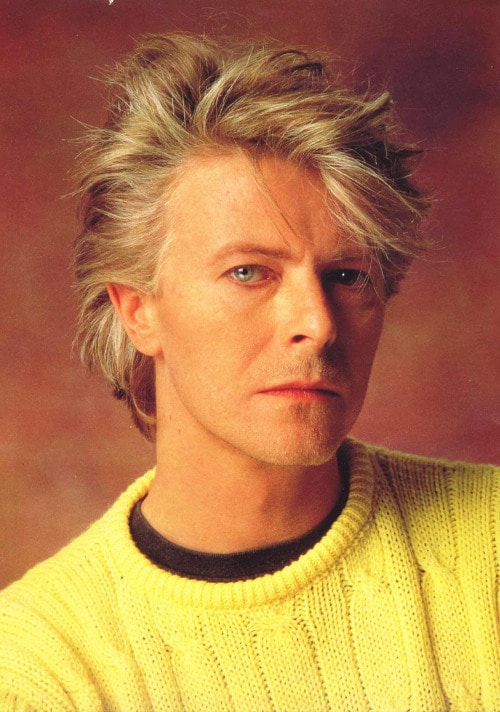 Yellows, grellows, ochres, mustard, chartreuse; sunshine shades, golden tones, citruses, earthy shades, spicy hints, pastels and brightest highlighter pen neon…there are so many incredible yellows out there and they are calling to us through the winter chill. (which this week had eventually kicked in!)
I love not only the honey coloured yarn of Katya Frankel's Slip Cable hat, but that crown is blooming lovely, like a beautiful flower. It is a worsted weight hat and I think it would be a lovely quick and interesting knit.
Slip-Cable Hat costs £3.50, via Ravelry
Designer Louise Tillbrook kicked off a #KnitYellowSocks KAL last month and following that hashtag on social media is an utter joy! What could be nicer than placing an injection of invigorating yellow in your sock drawer? You can read more about this KAL in Louise's ravelry group or on her brand new website. Even the most vanilla of socks look incredible in yellow. I might be temped to cast on Dave socks by Rachel Coopey, which I see are in the most recent issue of The KnitterI, as well as in Coop Knits Socks Volume 2.
.Aureola, by Janina Kallio  is a bright golden halo to swathe around your shoulders in this winter crispness.
I am a big fan of Janina's patterns having knit a few myself. I just love that the use simple stitches and construction but in really fresh and stunning ways. Aureola costs around £4.60 on Ravelry.
I haven't even touched on the incredible range of yellow wools there are out there, but I need to shout loudly about one of the new colours of Kate Davies' Buachaille. Furze just totally sums up my current yellow yearning. It is such a golden earthy shade and it looks incredible in Kate's Epistropheid hat, along with the Squall shade.
Buachaille is Kate's range of Scottish wool, worsted-spun in Yorkhire in 10 colours (3 naturals). It is really a yarn which celebrates British wool and the skills of the British wool industry in creating a hand-knitting yarn knitters will love! There were three new colours released this month, including Furze and the shop gets updated every Sunday at 5pm. Buachaille costs £7.49 for 50g/110m skein. 
| GIVEAWAY
Ages ago I told podcast listeners that the lovely Knitting Goddess, Joy had given me a skein of British wool to give-away. This is 50/50 Wensleydale and Polwarth and the combo is just divine; soft, squishy with a lovely little spring. I had held it back as we had so many give-aways in the run up to the festive season, but I think this skein will definitely warm up the gloomiest winter and its about time we get it up for grabs!
To be in with a chance to win this skein of 100% British wool in Gold please comment below and tell us which – off all the myriad shades, tones and hues, is your favourite yellow….brownie points for the most descriptive names and terms! Comment by 12pm on Sunday 31st January and good luck.
Thanks so much to Joy for injecting a little joy into this yarn and giving it so generously. You could repay the kindness by signing up to her newsletter and getting regular yarnie updates from her!  
UPDATE 3/2/16 Random.org chose Fi Morris' comment as the winner! Well done, Fi!