It's a New Year and it's also the 2nd anniversary of the KnitBritish Podcast! Happy New Year, lovely listeners! KnitBritish is stepping gaily into the third year of the podcast and today I have some exciting Edinburgh Yarn Festival and Podcast Lounge news for you;the #NaturesShades KAL and my top 3 yarn, project and books of 2015.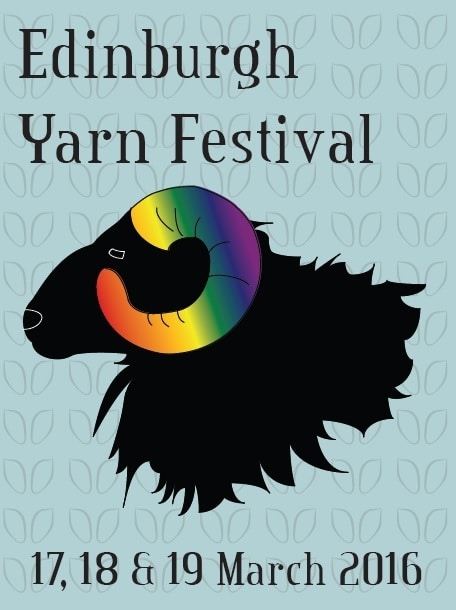 You can also listen on iTunes, the podcast app, or search your favourite podcatcher, if you prefer!
Today's episode is sponsored by Edinburgh Yarn Festival.
Scotland's premier knitting event is being held from 17-20th March. Four days of classes with world class tutors; a packed marketplace on the Friday and Saturday with hand-picked vendors, meet-ups, demos – and the Podcast Lounge – the Edinburgh Yarn Festival is a must on any yarn-lover's calendar.
Click on the logo to visit the website and do sign up for their email newsletter.
Show notes
| Word for 2016
I know I promised a review of 2015 on this episode of the podcast, but I felt I needed to write about it instead and I posted about it here on the blog. Last year my word for the year was 'Focus' and today I talk about how I came up with my 2016 word 'Momentum' – with some thanks due to my new Woolmakers Bliss spinning wheel. Momentum is a driving force, an energy, a growing impetus and I am really excited for what that forward motion will mean for KB in 2016.
| Edinburgh Yarn Festival and the Podcast Lounge 
I am SO excited to exclusively reveal that this year The Podcast Lounge has a very awesome sponsor.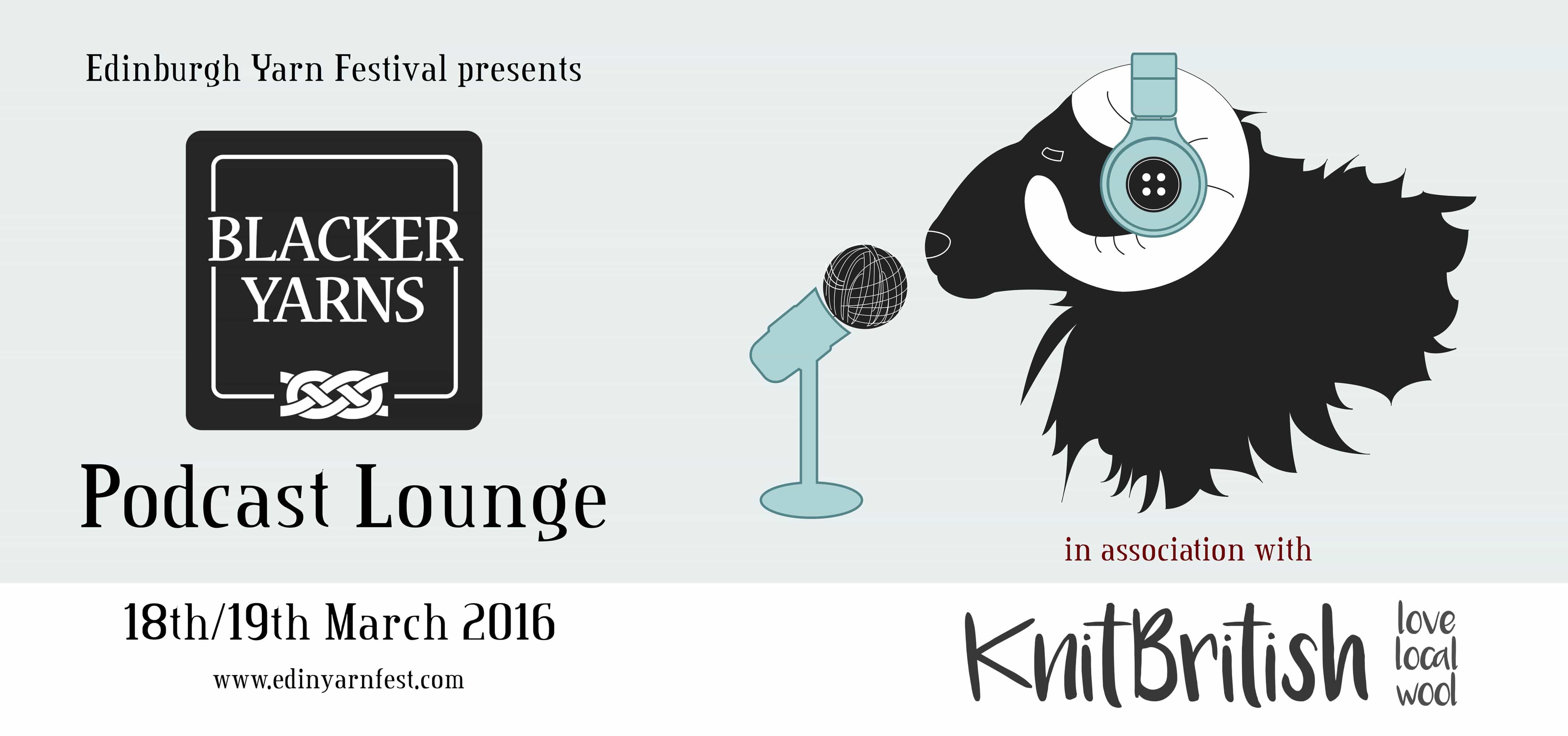 I am incredibly chuffed that Blacker Yarns are going to be involved in EYF and that we are going to helm that wondrous lounge. You know how highly I think of them as the best resource for British wool and so you can bet we will have a lot of British wool fun for you!
There is actually a lot more to get excited for with Blacker at EYF. The tickets for the market place are now on sale online at edinyarnfest.com – you can buy a day ticket for £10 and a weekend ticket for £15 – and with every online transaction you will get a £5 off discount code for Blacker Yarns website! Incredible!! 
In addition to all that, there is even more…..Blacker are launching a brand new yarn in March, which is getting it's debut at EYF. Tamar is a longwool blend of Wensleydale, Teeswater, Cotswold and Leicester longwool – silky and lustrous wools and the blend also includes Cornish Mule to add a woolly bounce. You can bet I will tell you more about this wonderful new yarn when I can (I can hear you all hyperventilating already!) 
| The Big January De-Stash
If you are champing at the bit for EYF and you feel the need to clear the stash before hitting the market place then the Big January De-Stash may be just the thing! It is being held in Edinburgh on Saturday, 16th January from 10-4 at the Columcille Centre and organised by Jo and Mica, from EYF.
You can book a table to destash, you can go as a visitor to re-stash, or just to sit and knit and meet with yarnie chums. There will be a small cafe, which is being run by the Teapot Trust and the entry is £2 with all proceeds going to the Teapot Trust, a charity which provides art therapy for children coping with long term medical conditions.
You can register to have a table to swap, sell or donate your yarn, fibre stash, needles, notions, books and mags and any spinning or weaving gear. You need to register by this Wednesday. If you plan on going as a visitor it would be great if you could let EYF know and register, so they can get an idea of numbers. The entry is £2 and it is a coin collection at the door, so please ensure you have change – no notes or cards. Please also remember that the stall holders won't have card facilities.
I have been asked to have a mini Podcast Lounge, and so come seek me out for a knit and a chat. I will also have my mic with me so you could tell me your words for 2016, or talk about your EYF plans, or even bring a meaningful knit to tell me about for the podcast.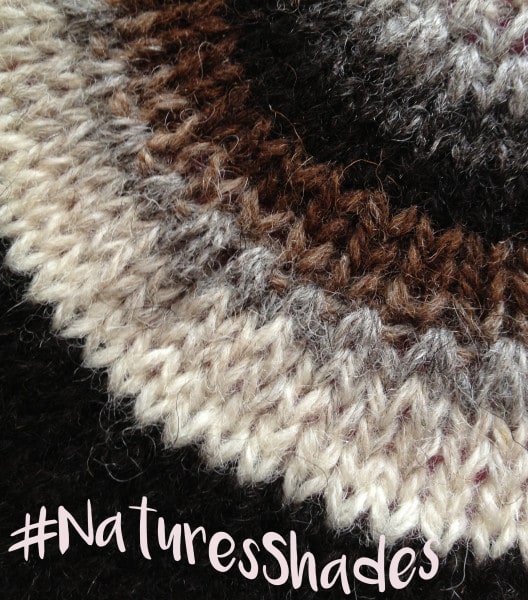 | Nature's Shades along
Lots of excitement in the Ravelry group about the KnitBritish and Brityarn #NaturesShades -along. 
The cast on day is Thursday 14th January
You can knit or weave or crochet any pattern, but it must be something you can wear; 

The yarn must be undyed, natural shades; 

You must use a minimum of three shades. Any fibre can be used; 

The yarn must be grown in Britain or local to you if you do not live in the UK; 

You must be a member of both the BritYarn and Knit British Ravelry Groups; 
We will have a meet up at Edinburgh Yarn Festival and we will also arrange a virtual knit night next month. Don't forget to drop into the KB Rav group to chat about what you are knitting and in which yarns!  
I am going to knit a Chamomile Hat in oddments of DK naturals and I am going to use my magic ball for a hitchiker or a wingspan, or a similar shawl that lets the yarn do the talking. Use the hashtag #naturesshades and tag your projects naturesshades on rav.
| KnitBritish Awards 
When I did my post on 2015 I didn't talk about my favourite knits of 2015. Here I give my top yarn, project and books of the last year. There is a thread in the Ravelry group for you to tell us about your top three too  
| Next Time 
I am back on January 22nd with Natures Shades chat, a Meaningful Knits story and more woolly fun! Thanks for listening, for all your comments, emails, tweets, and for reviewing the podcast on iTunes. 
| Information 
Music: Intro: Carefree by Kevin MacLeod. Segments: Rah and Seasick by Uncle Milk; Pattycake Happy by Marina Z and Ana
Feature image: Wheel of Light by Wlodi, Flickr, 2007. Used under the Share-alike Attribution license.