| Update June 16
Since I first wrote this post in 2014 there have been some changes and lots of new yarns! I have updated this post to reflect those. 
: : : : : :
In the last few years I've blogged (and regularly updated) about UK yarns for Under £5, Under £10 and for a few pennies more. You'd think after all that time I would stop being surprised when people tell me that British wool is too expensive for them. I have written and spoken about the misconceptions of this before and also written a post begging the question what is the true cost of your making and how much are you willing to spend on your materials for quality, hand-knitted items. (I know that there will be more misconceptions and more posts to follow!)
We all have a budget for yarn buying; sometimes we need reining in and other times we impose yarn diets on ourselves. I am quite sure that since I started KnitBritish the more I've learned about my wool, what goes into it, where it comes from and how it is created that my own yarn purse strings have lengthened a little. We all like good value, but there is no doubting that we like a little streak of luxury too. With that in mind, I have (in no particular order) a range of yarns from around £3.50 to £24 – beautiful, British (grown, dyed or spun – if not all three) and will suit a wide variety of budgets. 

Kettle Yarn Company was perhaps the first yarn review I did for the KnitBritish podcast. I just fell in love with Linda's Twist range  (£18.00) – a beautiful high twist BFL with gorgeous mercurial, metallic hues on the charcoals and greys that I bought back then – I just could not resist! This year Linda launched Baskerville  – a worsted spun, 2ply fingering weight that is a dreamy blend of silvery Gotland, woolly Exmoor and lustrous silk. Linda has used indigo dyes to create the gradient grey to blues and I can testify to the sheer luminescence of these yarns. Soft, yet a slight rustic character. This would be a special addition to your stash. As Baskerville is spun in small batches you may need to pre-prder, but it it is definitely worth the wait!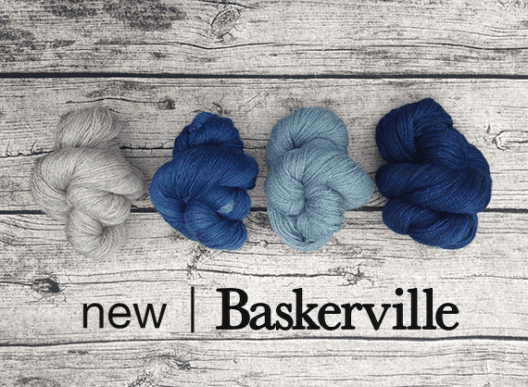 Baskerville 100g/400m £24.00
:   :   :
Brigantia Luxury Yarn comes in DK and Aran weights and is 100% pure wool, spun in Yorkshire.  I am not sure what the luxurious bit is (I sort of think silk, or similarly wonderful fibre when I see 'luxury) but this is a FANTASTIC work horse yarn. It is a great sweater yarn, but is warm, cosy and reliable in accessories too; soft and beautifully bouncy My only gripe is that Briganita do not seem to give any focus to their amazing yarn on their website, which sells their needlework lines. Thankfully we have the wonderful Jess at Ginger Twist Studio – herself a dyer and purveyor of awesome UK wools – who has the good sense to stock this awesome yarn in both DK and Aran in a range of great colours.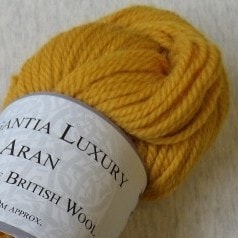 Brigantia Aran 100g/160m –  DK 100g/240m £7.75
:   :   :
West Yorkshire Spinners are going from strength to strength and it feels like in the last year they have exploded with ranges and colours. From 4ply to aran and roving yarn, from pure wool to wool blends, WYS have a yarn for every project and every knitter and all yarns contain wool reared, sheared and spun in Britain. I know I mentioned some of their brands already, but I do want to draw your attention to the Signature Sock range and their newer Illustrious blend. The former contains enough yarn for a pair of socks and  – truly – such a lot of colour inspiration for sweet, jewel shades, earthy spicy tones, cocktail inspired self striping and a hugely popular self patterning yarn. Illustrious combines Falkland Merino and UK alpaca to create a very luxurious yarn, perfect for next to skin softness. Prices start at £7.20 and go up to £10.95 for the illustrious.
:   :   :
Eden Cottage Yarn released a new British mill-dyed wool a couple of years ago and this lovely yarn has really had knitting fingers go wild for the soft BFL and silk, with an incredible high twist . Victoria dyes so many beautiful colours and bases, but Milburn is really special and luxuriously soft! Look at those deep, sexy colours…you might think I over-egg, but just look at that those colours and that incredible shine. I also heard tell over at the Eden Cottage Yarns blog that Victoria is working on 17 (yes, Seventeen) new shades for this range!
If you need further enabling I reviewed this yarn over on episode 26.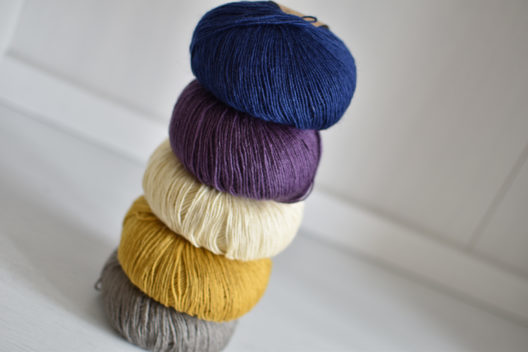 Eden Cottage Yarn Milburn 4ply 50g/200m £6.99
Woolyknit
One yarn that has been recommended to me quite a lot over the years is from Woolyknit – a family run business, based in Saddleworth, Yorkshire. Woolyknit sell patterns, knitwear, yarn and fibre, and (according to their website) are producing some of their yarns to the same style that has been spun in Yorkshire for over 250 years. They create a lot of yarns and many of them contain British wool –  Blue Faced Leicester (£4.68); brightly coloured and neppy Diggle DK (£3.60); British Naturals (£3.48); Countryside Tweed DK (£6.84) and packing a woolly punch Big Brit Super Chunky (£5.95). Woolyknit seem to have – in a one stop shop – a yarn for the low to mid range budgets.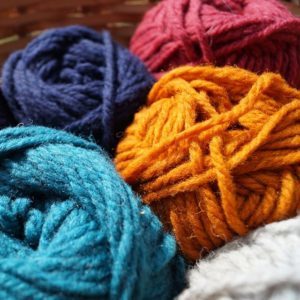 I know that *you* guys know this already, but for those who haven't knit with British wool (for whatever reason) you have plenty to choose from. I've brought you featured posts showing a representative sample of yarns from dyers, commercial yarn companies and small British milIs, all with a wide variety of price tags. I'm also going to bring you a post on small producer yarns too. British wool can tick all the boxes for feel, stitch definition, drape, warmth, comfort – budget too – and I will not stop working to show you what's out there and who's out there growing it, spinning it, dyeing with it, selling it, and creating with it.
If you have a suggestion feel free to mention it in the comments. If you are looking for more suggestions you could look over in the KnitBritish Ravelry group in the wool questions and suggestions thread and feel free to post about your great wool finds there too.
Images belong to and are copyright to (in order) Kettle Yarn Company, Ginger Twist Studio, WYS, Eden Cottage Yarns and WoolyKnit. Click on the images to visit te websites. These views are 100% my own. I have not been paid to feature yarns/companies here.