I realised the other day that I haven't been talking much about WIPs and FOs on the blog, rather talking about them on the podcast. I realise that some of you read, some of you listen and some of you do both, so I hope you do not mind if I revisit some recent FOs and tell you a little more about their lovely yarns (Although, you may have to forgive the odd selfie. Camera-toting fiance's weren't always around)
One of the first projects of the year was Tin Can Knit's pattern Gather, a hat and cowl pattern which feature smocking. Now, I had always loved the look and texture of smocking but put it down to it being one of those things that would be tricky and so I put smocking in my "one day I'll learn" pile….. it is really, really simple and such good fun to knit.  And when I say simple…I could do it in front of River City.  It was incredibly pleasing to watch that honeycombed goodness emerge and you get that pattern-emerging satisfaction almost immediately. As always a beautifully written pattern by Tin Can Knits, easy to follow and – again, as always with their patterns – I immediately wanted to cast on another!
The yarn is Yarn Pony Highland Pony sport weight, which is a blend of 50% Suri alpaca and 50% merino….hellloooo, soft, sultry, sexy yarn! It was like knitting with air! I really love the colours that Mica  (one half of the amazing duo behind the Edinburgh Yarn Festival, as well as dyer-extraordinaire!) creates. There is such a depth of hue in this Toffee Cinder colour – caramels, toffees, fudges – honeyed colours that are a feast on the eyes, delightful to feel and, quite frankly, make me need some sweeties, stat!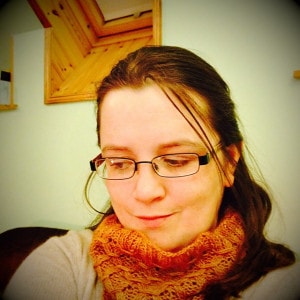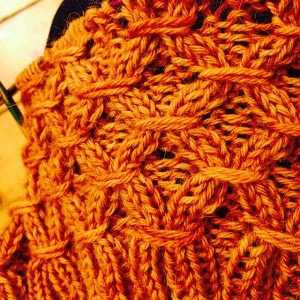 You can find Yarn Pony Yarns in Kathy's Knits and The Woolly Brew and if you are interested in learning to dye your own wool why not subscribe to Mica's blog to find out when she is running her next dyeing workshops?
My first version of Karina Westermann's shawl, from the Doggerland collection, was also the first time I had knit with lace weight wool! I had used Shetland Organics laceweight on that version, but had done a bit of struggling to get the sheepy yarn wrangled on the slippy metal needles. I loved the pattern, but I had made a couple of mistakes in that one and decided I would knit another one straight away…if at first you don't succeed!
The yarn I used on this version was Laura's Loom BFL single lace weight yarn. Laura has a real love affair for British yarn and has a real desire to know exactly where the wool comes from when she is weaving her beautiful cloth. The wool in this yarn is from the Yorkshire Dales and you can see from Laura's website how important wool miles and the idea of local is so incredibly important to her and her work. I really enjoyed working this yarn. It has just a little more sturdiness than BFL I have knit with in the past (maybe due to twist?) and I love that I can scrunch hoxne around me on a cold day, but if I give it a shake the pattern completely opens up again! Magic!
If you like shawl knitting I cannot recommend Karie's patterns highly enough – they are always so beautifully written and I love learning about her inspiration behind the patterns. Hoxne is a lovely knit. I really felt it's rhythym when I was knitting it and in places it was almost intuitive.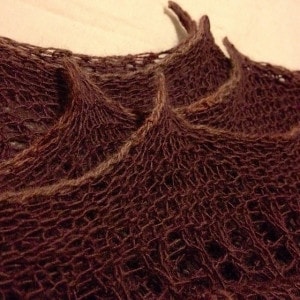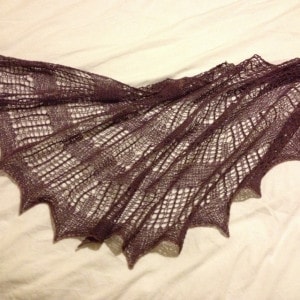 I quickly realised I had not bought enough yarn and so skipped the last repeat on the shawl and played yarn chicken! I cast off in a little lilac Scottish lambswool (an experiment with Kool Aid) and I love that tiny little ping of different tone at the edge.
: : Maets dna ssarb fo ega (Age of Brass and Steam) : : 
Named backwards because instead of knitting the kerchief as directed, I reversed the stockinette section to garter and the garter eyelet section for ST ST. It is knitted in Viola, a merino DK yarn spun and colour blended by the fantastic Devon millJohn Arbon.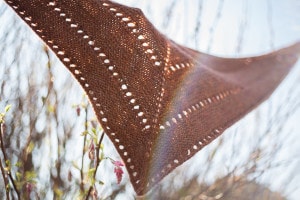 I adore this yarn, the colours are multi-faceted and have been blended to look hand-dyed! Thick, plumpy and so cozy. Age of Brass and Steam is brilliantly quick knit and definitely recommended as great first shawl project.
This is my most recent FO and I adore it. The Ramona Cardigan is by Elizabeth Smith. I was really drawn to the simple style and that beautiful deep ribbed hem.  It was a relatively quick knit and I think I would have been finished it much quicker had I not had a trip away amid knitting it.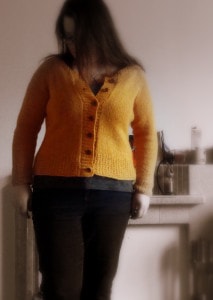 The yarn is JC Rennie Chunky (but actually aran) lambswool; this is on the cone and greasy and I really liked knitting with it – though it can be bought in balls and non-greased. It is a lovely robust yarn, soft and has a slight tweedy look. I am keen to knit with this yarn again but, if like me, you prefer to see large swatch  pictures of the different colourways, you may be a bit disappointed with the KnitRennie site. The swatch images are tiny! Ravelry is great for checking out better colour images and looking up garments made in this yarn if you need more visuals.
I was determined that I was not going to lengthen or modify the pattern in anyway (as I usually do this!) but the only mod I made was to knit the same rib on the cuffs as there is on the hem! I knew I wouldn't be able to resist a tiny change!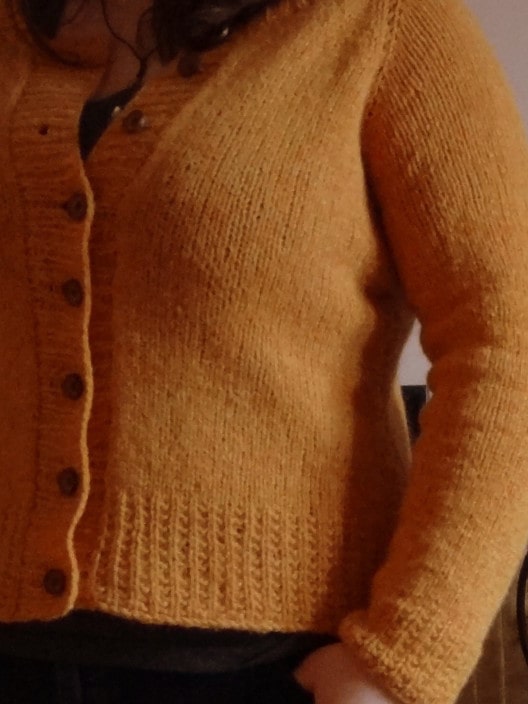 I'll try not to forget about the FOs on the blog, in addition to discussing them on the podcast!
What have you cast off recently? If it's in British wool you can share your projects in the KnitBritish Ravelry group – you can also join in the chatter on your favourite British yarns and dyed wool and also tell us about your Desert Island Knits.