I've had some lovely feedback from my interview with Kristina from Romney Marsh Wools, in episode 36; even one or two of you telling me you visited their stall at recent woolly events. Thanks so much for your lovely feedback.
Kristina was very kind to send me some of her Romney yarn to review and it was a special skein as it is the first yarn from her coloured Romney to be spun. It is so special that it isn't even on their website yet – but, don't worry, I will give you the details of how you can get it at the end of this post!
This slideshow requires JavaScript.
| Breed Info
The wool in this yarn is from Kristina and Paul Boulden's farm in the Romney Marshes, where this breed of sheep has been kept since the 13th century. The Romney has been categorized as a medieval longwool, and is categorized as a medium wool type by the British Wool Marketing board.
The micron range of the fleece is 30-34 and if you have knit/spun with Zwartbles, Manx, Wensleydale, Castlemilk, etc then you will know something of this range. The shorn fleece weighs 3-5 kg and staple length is roughly 10-17 cm.
| The [KnitBritish-Patented] Hand-Squish-Grab
The hand-squish-grab of the skein gave a lovely firm yield – I immediately thought of knitting garter stitch in it (and yes, I know! I love garter stitch and think of it for most things) and utilising that spring to the very best of its ability. The initial feel was a medium handle and the woollen spun yarn makes a robust, round ply. The yarn feels a little crisp to the touch and has little darker fibres throughout, which I thought would make a nice halo when knitted.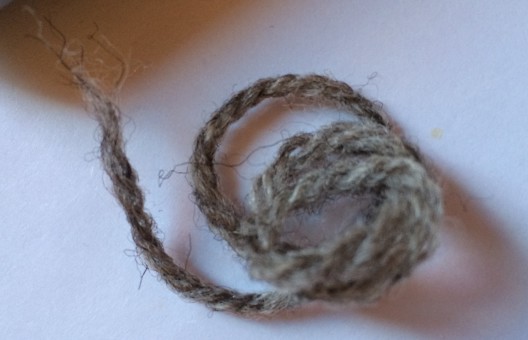 | How it knitted 
I decided to cast on the Rikke hat, by Sarah Young  which is a free pattern that is available via Ravelry. It is a very easy pattern and has a lot of character, as you can see. Lots of people have used hand-dyed for this hat, but I think the wonders of natural sheepy colours can add even more character to this design.
I knew that garter stitch would be fantastic in the Romney! and I really loved creating that stitch in this yarn – it's perfect for stitch definition. I was aware that the yarn was ever so slightly rustic to work through my hands, but you know the score here at KnitBritish – we never judge how the wool is going to actually feel until it is washed and blocked. I found using a little non-greasy moisturiser helped before sitting down to knit (Romney Marsh Wools can help with this too!).
This slideshow requires JavaScript.
The DK yarn knit to 21 stitches/4″ in garter stitch on 4mm needles. I love how sheepy and 'sticky' the yarn is. When i dropped a stitch it stayed it exactly where it was, it didn't slip down a few rows, it was ready to be picked back up when I got back to it (didn't even need a stitch marker to hold it in place). The knitted fabric of the hat is thick, and has amazing memory and stretch – great for a slouchy hat.
I really like the look of the knitted fabric, it does indeed have a lovely halo, there is an ever so slight sheen and it feels like a favourite, fulled woollen blanket. I haven't tried to felt a swatch of this yarn. yet I am told that Romney wool felts incredibly well. I am also told it takes dye fantastically.
I hugely enjoyed this knit and the yarn – KnitBritish readers who love exploring texture and our breeds of Britain will really love Romney Marsh wool. I think it will make wonderful hats, gloves and cowls and cables and defined stitches are going to look awesome in this yarn.
You can buy Romney Marsh Wool from DK to Chunky weight. Skeins cost from £8-12. The colour available on their website is currently the natural cream, but the silver grey is available from them directly and all you need to do is drop Kristina a line at info@romneymarshwools.co.uk. Available in the DK weight it costs a very attractive £8. I am not sure of the meterage, but my finished slouchy hat weighs in at 72 grams, so plenty left for more stitch experimenting.
Thank you to Romney Marsh Wools for allowing me to sample this great knitting yarn and….there is more!
…One of the questions I get asked a lot is where can knitter's find merino from within the British Isles and, as well as from our British overseas territory in the Falklands, you can find merino closer to home.
Kristina and Paul have a very small flock of Saxon Merino and create knitting yarn from their fleece. They have very kindly given us a big, squashy, velvety SOFT 100g skein of their natural merino DK, worth £12. This is an extraordinarily cushy hank and it will belong to one lucky winner. 
This slideshow requires JavaScript.
To be in with a chance of winning please visit this Romney Marsh Wools Shop and then leave a comment on this post telling us which other products in their range appeal to your wool-loving senses – with a range from woven home furnishings, beauty products, candles, cards and more you will be spoiled for choice!
This give-away will run until midday (UK) on 14th September and I will pick a winner via random.org after that: the winner will win one skein of that awesome wool. Thanks so much again to Kristina and Paul for a generous prize. 
| UPDATE  14th September Tonight I entered all comment numbers into random.org and the winner is Denise! Well done comment number 87!