One of the things I hinted at last time I blogged is a project that KnitBritish readers and listeners can get involved with this autumn to REALLY get to grips with British breed wools and to discover the unique characteristics of our native (and long-term lodger) breeds.
Very soon I shall be launching a single breed swatch KAL where we will knit, spin and crochet our way through the British breed wool available to us. We will be going way beyond the skein on a journey of woolly discovery! 
This year at KnitBritish I have tried to put focus on us collectively thinking beyond the ball – beyond the hand-squish-grab – and beyond any initial thoughts that breed wool is itchy or coarse. I did the squishing sessions at the Edinburgh Yarn Festival too and it was fantastic to see knitters look at the ball, feel the knitted swatches and feel how very different the washed and blocked swatch was from the ball. Not only that, but then some wanted to go and seek out breed yarn at the festival, armed with the knowledge of what the yarn actually looked like knitted and what that yarn would be best suited to. You can read a bit more about that event here.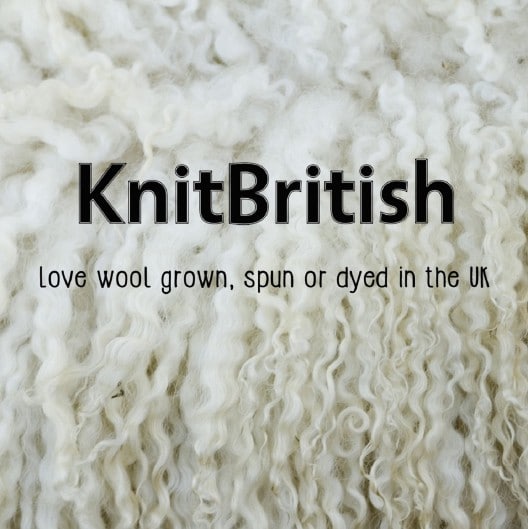 | What will we be doing?
We are going to test drive the yarns from ball – or from fibre, if you choose – knit or crochet a square (in any weight or stitch design) and we are going to test drive the yarn at each stage. I will reveal more details of this soon, but this will be a journey of discovery as we look at how single breed British wool evolves as we knit it, then *wash it, block it and wear it. Repeating from * also totally changes the wool and the fabric and tells us about the longevity of the fibre too – far more than a squish of a skein in a LYS ever will.
The KnitBritish community is so vibrant, it is full of love for wool and I thought this would be an excellent way to discover more about British wool and support wool grown and spun in this country. Our results from these reviews could well help people in the future when they are trying to select breed yarn…but again, I shall reveal no more at this moment!
More details will be forthcoming, along with how you can sign up and a list of stockists and small producers of British wool and fibre simply brimming for your delectation!
| You can KnitLocal too
I know that there are so many people across the world who have told me they buy in British wool and wish it was more local to them. In addition to using British breed wool you can also take part in knitting along with the fibre and breed that is local to you. This is a wonderful opportunity to truly celebrate local wool industry and our native breeds, wherever they may be. Everyone can take part.
| When does it start? 
Soon, my eager wool lovers, soon!  I will be opening up a thread in the KnitBritish Ravelry group shortly and posting with more details here in the very near future.
This KAL will also complement this year's wonderful WOVEMBER – what a truly awesome celebration of 100% wool it will be! I can't wait to tell you more about it. 
| Do you need a breed yarn fix in the meantime? 
Don't forget you can win a fat, squashy soft hank of BRITISH Merino wool from Romney Marsh wools over on this post, over here