Thanks for your feedback on the first natural gradient designs post – I am glad to know I am not the only one to appreciate the natural sheepy rainbow! This time I have more natural gradient beauties which are perfect for keeping warm this winter and looking spectacular too. I also have more yarny suggestions from our sponsor BritYarn to help further enable you!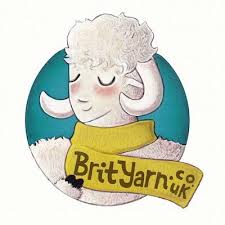 BritYarn is driven by the woolly principles and specialises in bringing you the very best in British wool. To share and celebrate in a love of British wool, click the logo!
First point of Libra shawl, by Laura Aylor is a simple triangular shape, but with a really striking use of gradient colours.
Modular and garter…lovely! There is absolutely no doubt about it that I would knit this in Jamieson and Smith Supreme Jumper Weight, but I think I'd use Shetland Black as my MC and go with the grey shades for a really dramatic look. The pattern costs $6.00/£3.98 and Shetland Supreme is £6.00 per 50g ball.
Drawing nigh shawl by Susan B Anderson appears in the Quince Collection Scarves, etc, but is also available as a single pattern via Ravelry.
It is a semi-circular worsted weight lace shawl and uses 6 colours for a very lovely ombre effect. It uses two strands of fingering held together and when beginning the colour change you can use one strand of the next darker shade with the colour from the previous section to create a very harmonising change. This would be another fantastic shawl in Shetland Supreme from J&S and I would be so tempted to knit this in the natural through the fawns and browns. 
Nordic Wind is a very simple triangular shawl, knit in stockinette, but the colours really make it stand out. It is designed for Lopi wool; warm yet a little rustic and keeps out every little bit of the cold winter wind. West Yorkshire Spinners Jacobs wool is the Yarn of the Month for November at BritYarn and the four natural shades would be well suited to this. The yarn costs £5.50 per 100 skein and the pattern is $6/£3.98 via ravelry. I imagine this around my neck over my coat, so that it can keep me cosy and be admired too.
For chunky yarn fans and for crochet lovers too, check out the Chunky Ombre Cowl, by Purl Grace Threads on etsy.
I love the texture of this and the designer recommends that it would be perfect for a beginner. I think that something bulky like this needs to be in a whisper soft yarn and should be incredibly warm. For the coldest winter days I heartily prescribe Chilla Valley Alpaca and Shetland Lambswool from BritYarn. There are three colours, mist, sandpiper and storm and these would make a very delicate gradient.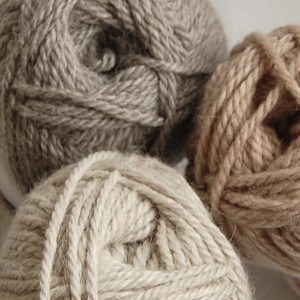 The Chilla Valley Alpaca and lambswool yarn cost £13.60 for 100g/110m ball and you will be amazed how soft this yarn is.
Of course, one of THE best patterns for showing off your amazing sheepy rainbow shade is Layter, by my woolly mucker, Felicity Ford.
Felix designed this incredible cardigan – with really wonderful construction – in 10 distinct breeds of British wool. Knit in garter, it is a wonderful textural exploration through breed yarn, as much as it is of a colourful one. You could really go mad with texture and colour here, couldn't you? I'd want LOTS of texture in there and I think the lustre of the BFL and the juicy drench of the natural Wensleydale will be awesome with Jacobs, llanwenog, castlemilk and mule. 
Because it is WOVEMBER Felix has a special 15% discount on the Layter pattern, and it's small-person-version Blayter. Each normally costs £3.95. 
I also fancy the WYS Jacobs or the WYS BFL for Elizabeth Smith's Gradient wrap cowl.
Not your traditional cowl construction; this is knit lengthwise and can be worn as a scarf as well as buttoned up around your neck. I must admit that worn this way it looks incredibly cosy. I might be persuaded to drop to a DK weight though and, as I said Jacob (£5.50) or the Blue Faced Leicester natural shades (£6.90) would be gorgeous. This cowl also encourages knitting the gradient in a slightly different and more playful way.
As you can plainly see this design doesn't have a natural gradient, it uses dyed colours…and this is a taste of later post…switching from colour to natural! I think next time though, we will look at more YARN and perhaps how you can utilize what you have in stash!
| Information 
Images are from Ravelry and are the copyright of those named in the captions. Click on the image to link to the Ravelry page.  Yarn images are copyright to BritYarn used with kind permission