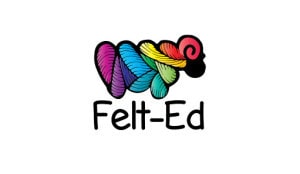 Today I am excited to bring you the first in the Kitsmas Shopping post and this one is a kit that gives the whole year long and one which can be enjoyed by the whole family!
Felt-Ed is a small business run by teacher and textile artist, Sarah Jones. Sarah discovered felting over three years ago and since then has been firmly bitten by the bug and said, "I instantly fell in love and quickly realised how accessible and versatile it was as an art form for children and adults of all ages and abilities."
Since then Sarah has been working in schools delivering felt making workshops which are enjoyed by all ages and can support learning in other subjects too. Out of this grew Felt-Ed – a one-stop-shop for felt-making resources, kits, how-to-guides, workshops and projects for the education sector – and last week Sarah launched the Felt-Ed Club 2016.
Sign ups to the club are now open and club members can expect 12 monthly packages which contain everything you need to create your own beautiful felted items. In addition to the fibre you will also receive all the practical materials you will need, such as bamboo mat, bubble wrap, soap and spray bottle. Each month you also get a link to a video tutorial and a how-to guide. 
Sarah has really thought about families with this club and you can buy more than club to create incredible felted projects with your children and grandchildren – though the felting projects are really suitable for all ages, including adults. What could be more fantastic than crafting with the family, teaching children how versatile wool is and letting the creative and arty juices flow?!  It's tactile, it's a bit messy and it can create not only works of art, but fosters a bit of shared family craft time. I can also imagine the excitement when each month a new parcel of goodies drops through the letterbox.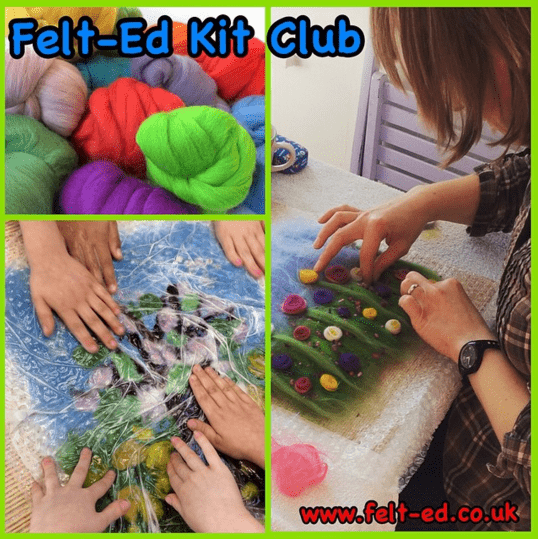 If you are looking to explore a new craft, looking for a fun, regular family art activity or you want to give a special crafty gift this Kitmas (still not ready to use the C-word) then the Felt-Ed club would be the perfect solution. Click on the image above to go straight to the shop and find out more information.
You can also follow Sarah on Instagram – where she will have a very exciting Felt-Ed competition soon, and do also have a look at Sarah's own etsy shop – where she sells her own hand-felted items.
Next week we shall meet Tina Barrett of the Cornish Gansey Company and learn about her classic and contemporary kits which draw on the gansey tradition.
| Information: All images copyright to Sarah Jones (Felt-Ed) – unless otherwise stated – and used with kind permission.