Here is my progress so far on day one of the #LushPodKAL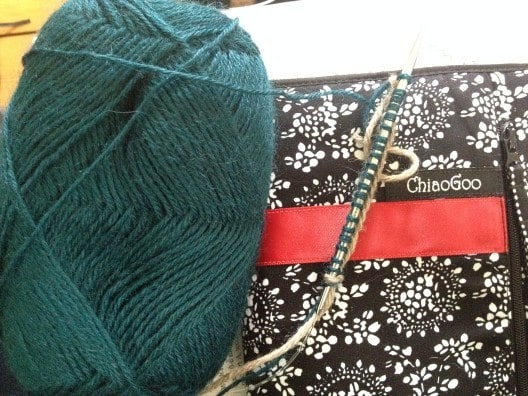 I cast on – a little later than expected – using the long tail provisional cast on method, which Jo featured a video off in her great post from last night.
The yarn I am using is Wensleydale Longwool Sheep Shop and I will post a little more on this later in the week. Needless to say I love the longwool sheepy halo – but the colour is hard to photograph!
I managed to get the right hand yoke finished and I am really pleased with how the yarn is knitting up. The pattern is, of course, fantastic. I love watching the leaves form.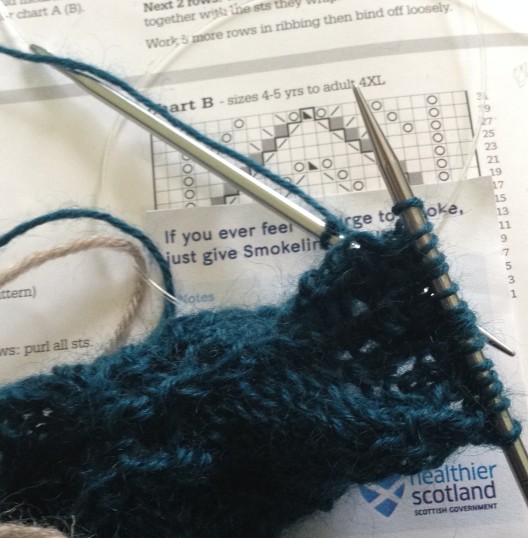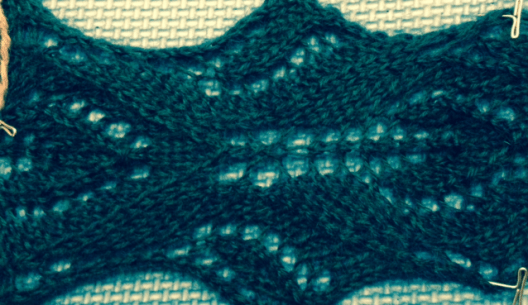 It is fantastic to see all the progress so far in the chat thread – this week in my ravelry group – and on the hashtag on twitter.  There are some fantastic yarns out there too and it gladdens my heart to see lots of British yarns in the mix!
My day of knitting pleasure was brought to you by orange juices and lemonades, a fan (it's awffy close!) and the King Creosote album, From Scotland, With Love. I am a huge fan of Kenny Anderson's music and his new album accompanies a film of the same name. The film is compiled of archival film from around Scotland – just breathtaking and his vocals are – to pinch ~@bluebluegrey's term – melty!
I have called my project on Ravelry Bluebell, Cockleshell, 123 – a name of one of the songs on the album and a traditional children's skipping rhyme. I thought it was apt for a KAL project. …"all in together…"
Well done on day one Lush-alongers! I am sad to be working tomorrow and missing out on extended Lush time!