Some of the Podcasters coming to Edinburgh Yarn Festival are stopping by the blog today with a few tips for you, if you are planning to take up the Let's Make a Podcast Challenge in the Podcast Lounge.
Lots of people want to get started with a craft based podcast because we feel such a connection to our craft and the community of others who share our interests.  I wrote about these aspects recently.
(right click image to open in a new tab)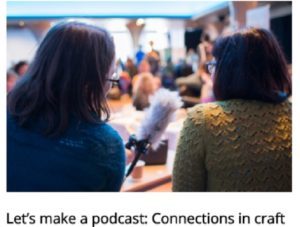 So if you're coming to EYF and you're inspired to start podcasting you'll need to know the kind of podcast-tastic things we'll be providing for you. (also listen in to  episode 77 for info on this)
Video Panel, Friday 10th at 2pm
We will have a panel with vlog and video podcast special guests. Leigh Kristensen, from LouLeigh podcast; Joeli Kelly, from JoeliCreates and the new WoollyHub podcast and Vero Pepperell, from Along the Lanes will be in the Lounge to answer any questions you may have about starting a podcast using film. So if you are interested in a vlog, or maybe you've recently started a video podcast and you need a bit of advice, please come along!
Audio Panel, Saturday 11th at 2pm
That afternoon we have Helen Stewart, from Curious Handmade; Alison and Rachel, from Yarn in the City and Louise from Caithness Craft and me (watch me try and steer the session AND take part hah!) We'll be around to answer any questions you have about audio podcast-making. Audio craft podcasts are not as prevalent as those on YouTube or vlogs, but they have huge audiences. Come along with your questions or just chat with us about audio podcasting.
Let's Make a Podcast Challenges, both days at 3pm
why?
Cos you wanna try podcasting! It really doesn't matter whether you want to do a knitting podcast or a podcast about books, or a vlog about gardening. This challenge is all about just giving it a go! If you can do this, you can do anything!
what and who?
Each day at 3pm we will be challenging wannabe podcasters to get recording! Just come on up to the lounge and choose a challenge. Basically all you need to do is take your challenge and whatever your're asked to record, or whoever you are asked to talk to (and we do have some select guests and vendors lined up) just go off and do that. You'll be asked to ask one, very broad question, so no background info to learn, and this could form your first episode of your own show. Alternatively there will be a way to send it to me to (eventually) be edited into a podcast episode for Edinburgh Yarn Festival.

Important Point
I've been asking certain vendors at EYF if they won't mind being interviewed at the stated times on both days. It is really important to remember that vendors and teachers are going to be really busy and it is just not practical (or polite) to descend on stalls and expect vendors to be able to stop and chat at any time. Please do keep this in mind and stick with the vendor and the one question you're given. If you get brave and you fancy interviewing more people, there are tonnes of festival goers who may want to sit down and have a wee chat with you.

We're really limiting it to one question and a very short recording as it's all you really need to get you started and there is no better time to try your hand at recording a podcast at an event like this. And don't worry if you feel nervous about taking up the challenge, hopefully we'll have a podcaster or two on hand to buoy you up!
how?
You definitely do not need any big or special tech for this. Just your phone or your regular camera will be fine. Most phones will have some sort of voice recording app and there are plenty of free or reasonably priced ones in the app and play stores. No need for big mics and things – we really want to stress that you can get started with the tech you already have. If you are using your phone check out what is already on there or look in the play store or app store for a basic recorder. There are a lot you can use for free, check out some of the reviews if you need more info.
What you will need to do is to make sure your batteries are fully charged and, if you have them, bring spare batteries. You will also need to think about space on your phone or camera (which is another reason we're challenging you to ask one question!)
Tips
I asked some of the podcasters who are coming to Edinburgh to give you some of their tips. Do click on their names to visit their shows and come on out to the Podcaster Meet Up or the panels to say Hi in person!
My best piece of advice is just do it! You can't get better if you don't start, so just give it a go. 
Joeli, Joeli Creates and The Woolly Hub
Think about your story; What are you trying to share? A tale of burning love and passion for what you do will carry you along further than any technology, fancy editing or celebrity guest can. Trust your instinct and you'll set your audience on fire. (Not literally. Let's not set our stash on fire!)
Vero Pepperrell, Along The Lanes
My tip is to listen to what the person is saying! It sounds obvious, but it you are too busy thinking about the next question then you might miss something really interesting – it's then the ideal moment to ask them to expand on a topic that you might not of thought of.
Sophie Scott, PomCast
ONE: Test and get to know your equipment, and your editing software.  Go through to whole process of making the video, editing it, and uploading it. As part of your test, try your equipment in places with different light and noise levels so you know how it works best.  This is especially important if you're in a situation where you wont have an opportunity for a redo.
TWO: If you are using your phone, hold it landscape. Louleigh's pet peeve – huge black areas on either side of the screen, and feeling like I'm peering through a keyhole.
THREE: Edit.  It will help to have way more footage than you need, then you can be selective about the content you include.  It's better to make a short video with interesting content, than long one with sections that are poor quality.
Leigh, Louleigh Podcast
I think my best piece of advice would be to prepare thoroughly with notes for reference. Writing them out helps to organize one's thoughts and invariably creates a more cohesive flow to the podcast.
Specifically when intervewing someone its critical to have a series of questions laid out to use the interviewees time effectively and efficiently – and allows one to avoid being sidetracked as the conversation ensues. 
Eric Lutz, Sticks + Twine
My tip would be to download Cogi to your phone or Audiobloom. Do some test recordings and then edit with a free suite like Audacity. Get a feel for editing as this is where you can take really bad audio and make it shine. You don't need really expensive equipment to get really good sound quality but you do need to invest time into learning how to edit. 
Nadia Seaver, CLN Podcast 
it's very simple. Be yourself. Don't try to do it like anyone else, or come across a certain way. People see through that in an instant. Just be yourself, and let people get to know the person behind the podcast. 
Nathan Taylor, Sockmatician
Determine why you want to make a podcast so you can tell when you reach your goal AND make it your own. Not everyone will like every podcast but be yourself and you will be satisfied.
Lori, Intuitknit Podcast
We all feel a bit daft when we first start recording, but do it anyway! If you love what you make it will shine through regardless, and that is what viewers respond to. Oh, and be honest about your mistakes too – my most watched episode is number 11 where I model my infamous 'snack sleeves'!
Zoe, Pins and needles
Consistency. Picking an upload schedule and sticking to it. It doesn't matter if it's once a week or once a month, whatever fits into the podcaster's life, but I think having that regular structure helps one plan and have a feeling of routine (which can stop podcasting feeling scary or intimidating) and my audience has always appreciated knowing when to expect new content so I think they prefer it too!
Katie Lavelli, Inside Number 23
My own tip? A basic handle on editing is essential and not difficult to learn. Editing is key for a show that is a pleasure to listen to or watch. Also shownotes…pretend the person reading your shownotes has not listened or watched your show yet. Does your blog post give a good short description of what you are talking about and make sense to someone just reading it, or is it just a list of links?
After
and what about starting your podcast in its own right? Well, that will be another post for another day and a lot of that relies on your own research.  There are a few interesting posts here in the meantime.
If you have any questions about Let's Make A Podcast, wanna proclaim that you are a burgeoning podcasters and you'll be coming to Edinburgh? Drop a comment here or drop me a line via the contact menu above (Though please be aware I am dealing with urgent inbox items first these days and taking a few days to get back to the rest, just in the run up to EYF)