(Image: Me interviewing Karie Westermann, in the Podcast Lounge, 2015)
As you may know there is a wee theme going on in the Blacker Yarns Podcast Lounge, at Edinburgh Yarn Festival this year. Let's Make a Podcast has been inspired by those of you at previous Podcast Lounge events who've been full of questions about getting started. Also, there could be no better time to bring the theme around to podcasts. It is the Podcast Lounge, after all, and full of podcasters (in fact, more this year than in previous years). With more and more vlogs and podcasts starting up EYF is a prime and very unique chance to chat with other podcasters about making show. There just isn't the opportunity on a scale like this at other events.
Last year I wrote a very short piece about knitting podcasts for Wool Tribe.  But the word count was just not enough to really get my feelings  about podcast making and the podcast community into words. So I hope that you will indulge me here.
Reasons for starting a craft podcast are varied. Some people decide to take laid back approach and focus on their own crafting journey through showing off their stash acquisitions and talking about their WIPS and craft plans. I think of these as almost personal crafting journals, shared with a wider audience. Other podcast makers create a structured approach, which can focus on a combination of personal craft stories and segments with a wider appeal – these can be trips to yarn events, interviews or yarn reviews. Shows like this can also take a focus on the knitting industry – design or business, perhaps.
When I last wrote on this subject just over a year ago,  I typed "Knitting Podcasts" into a search on YouTube and got 2000 top hits. I did it just now and there were over 12,000 top hits. Use the same search on google and you get over 44,000 hits. That just goes to show that craft podcasts aren't waning any time soon and that there is a huge variety of shows and formats out there. I'd say there is a definitely thinning of audio craft podcasts and…well, I suspect that is sometimes down to the fact that certain video (with very little or no editing) can be quicker to get out, but that is my personal opinion! There are some very high quality video podcasts that are a joy to watch and you can tell a lot of time and effort has been put into editing and production, but – personal opinion again – these are a bit thin on the ground too.
Tech and setting can differ too but whether you use your computer to film yourself on your couch, or you have a recording area and equipment fit for purpose, it doesn't really matter. It doesn't matter because whatever the format – and whatever your personal listening or viewing preferences are – we are drawn into something that for 20 mins (or even a hour or more)  makes us inhabit a unique space. This special space is why – I think – people want to make podcasts and why craft podcasts are so popular. It's connectivity through shared interest that counts.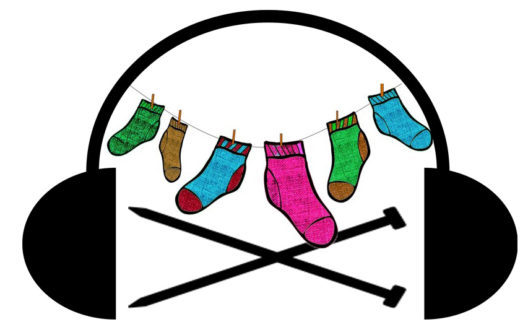 A love of craft is at the core of these podcasts and it instantly resonates with others who love or partake of that craft too.  Knitting has always been concerned with sharing, learning and is a very sociable activity. The simple act of discussing the yarn, designs, WIPs – essentially the things that mean a lot or factor highly with you, the host – is mirrored and absorbed with the audience. With niche podcasting you get rich content delivered around a specialised theme and that quickly engenders a strong audience base with shared links to that theme. With knitting podcasts in particular, you find that that audience can quickly become a community, made up of listeners and viewers from all over the world. Ravelry and social media allows us to not only interact with the podcast and share content, but fellow listeners can reach out and interact with one another too…and that started from you, on your couch in front of your computer.
When you introduce KALs and meet ups, that community becomes even more cohesive. It is an incredibly powerful thing and it is something I've felt very keenly over here. The Hapalongs I've hosted have been amazing in terms of meeting new people and sharing bonds in wool and knitting and finding connections outside those interests too . This particular podcast community can be relied upon for all kinds of support, assistance with techniques and skills, suggestions and recommendations for wool and always, always a go to place for great fun and laughter! (Amongst so many other things)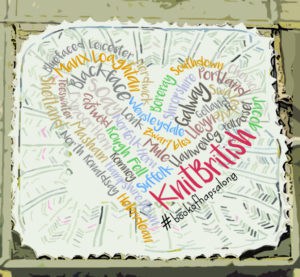 For me, as well as connecting with like-minded people, I also wanted to do a podcast that might help inform. I started the blog at KnitBritish because I wanted to share what I was finding in my own exploration of British wool. I felt that if one other person found the blog and bought some British wool that would be a massive plus. I never (ever) claim to be an expert. The podcast and blog is still an extension of my own interest and adventure in British wool and in sharing those adventures it is still my aim that others listening may want to seek out the yarns and small wool businesses that I talk about ("dirty enabling" has been another term used to describe it!).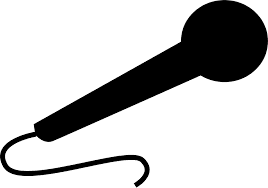 Whether you want to present your own crafting journey of personal discovery or you want to have a structured content that takes the audience out into the larger knitting world, you should do it! Just do it! You already have the love of craft, find a medium you can be passionate about using, be willing to learn a little (or a lot) about editing and production and get your podcast out there.
You already know what it is like to inhabit that special sphere when you see your favourite show is out – you take your knitting and your cup of tea, your headphones and you hunker down into that place (Even if you listen without knitting, and you run, or you clean your house, or you make the dinner, or sit on a bus – you are in that place) where you feel you are talking with a good friend one-to-one, but at the same time you are there connected to all the other listeners or viewers. Being the maker of that podcast and making those connections is incredible.
Have you ever thought that you've got the makings of a podcast in you? Have you every just wanted to give it a go or talk your ideas out with someone? If you are coming to Edinburgh Yarn Festival, you've got a really unique opportunity to ask podcast makers questions and try it out for yourself. There will be more details on the podcast in the run up to EYF, but feel free to drop me a line via the "contact" page above.