Happy New Year podcast lovers! Settle in for lots of
↓Listen to the podcast↓
You can also listen on iTunes, the podcast app, or search your favourite podcatcher, if you prefer!
| Show notes
n.b If you are listening with kids there is one F&&K and a few Sh!ts in this episode from 2 mins 29! (but I think that's them all! You'll tell me if not!)
| Blacker Yarns Podcast Lounge News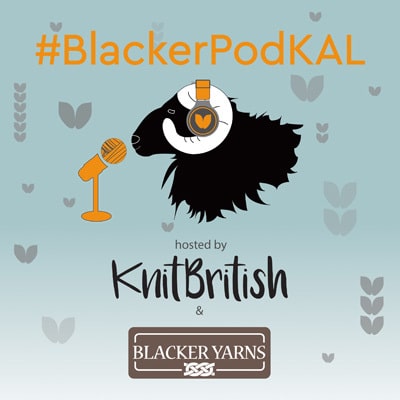 The chatter for the #BlackerPodKAL is well and truly underway (click the logo or visit the Blacker rav group). We cast on on Thursday and the thread and the enthusiasm from the participants is a joy! Whether you can come to Edinburgh Yarn Festival or not, you are very welcome to join in the fun with this KAL.
I will be knitting Sandness in Tamar and I am really excited to be on #TeamTamar and also #TeamHap (predictable much?).
| Let's Make a Podcast at EYF!
As many of you know as well as being THE place to sit, chat, meet, knit and schmooze; and as well as the podcast lounge being the spot where you will find yarn heaven at Blacker Yarns,  I also arrange a few sessions in the lounge too. This year we are making it all about podcasting – so if you are a wannabe podcaster itching to try it out we'll have challenge sessions and we'll have a couple of Q&As for you too, where you can ask our podcast guests how to get started.
Just by using your smart phone you can make a podcast (please don't think you need to bring anything with you other than your phone or usual camera) and you will be tasked with going out and recording 60 seconds which could become the first minute of your own podcast or may be edited into a collaborative podcast for EYF.
If you can't make it to EYF but want to help challenge wannabe podcasters, why not email me (via the contact page above) and tell me what you want to hear from the sights and sounds of EYF. Ground rules apply – we need to keep it laidback and fun and unobstrusive to teachers and busy stall holders. It also must be something that can be captured in a minute. So if you want to hear what people are wearing, what they knit for EYF, which yarns they just bought, on the spot yarn review… then drop me a line! More details on the Blacker Yarns Podcast Lounge soon!
| Edinburgh Yarn Fest EXCITING REVEALS!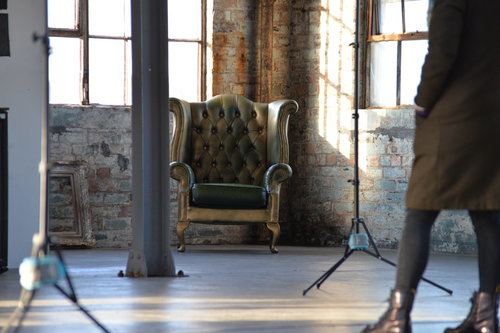 I was very lucky indeed to get a sneaky peep at  Wool Tribe, which is the second edition of the EYF companion magazine. Pre-orders for this very special publication open on Wednesday 18th and they aim to post these out on 23rd January. The page with all the details you need can be found here. I am allowed to tell you very little, but what I can say is that the aesthetic and the feel of the magazine is extraordinary, truly stunning indeed. The behind the scenes shots here will give you a little indication of backdrop.
There are 6 accessory designs all by designers you know and love and the yarns (all available at EYF) are awesome. I totally neglected to tell you about Michelle, the model, who is utterly breathtaking in these images and the designs. I'm sorry, Michelle! I was overcome with the whole thing.
There is also great written content too and another really well documented route around Edinburgh, for those of you who will be going exploring. If you loved your little slice of EYF in paper and ink last year then you will not be disappointed this year. I promise! Purchases of Wool Tribe come with a Ravelry Download code and you will get a separate download of the walks from last year's issue (just the routes only) and you will also get a link to this in your order confirmation. Perfect if you have time to spend enjoying Auld Reekie. Mica and Jo do such a lot of good work to ensure we all enjoy the festival AND town too.
oh, and I have something else I can exclusively reveal…..
THERE WILL BE A CEILIDH!
And that is all I can say. It will be happening on the Friday night and tickets are not on sale yet, but they will be soon! To know when the tickets go on sale please sign up for the EYF newsletter as this is the only place you will find out the details first. Please do not bombard Mica and Jo with enquiries on social media or email about this. The mailing list is the place to be on to find out.
| Knitting Goddess two flocks yarn
I'm so chuffed to tell you about Joy's new Two Flocks Yarn. It is a blend of Poll Dorset and BFL which come from farms around 20minutes drive from Joy in Harrogate. The resulting yarn is soft and sheeny with a great strength. I'm so chuffed for Joy and that her vision for a Yorkshire yarn has become a reality. This yarn is properly local !
The yarn is a very limited thing. The clips are from small farms and when she has dyed it all there will be no more until the next clip is spun up. Even more excitingly – and very limited indeed – will be some special KnitBritish colourways! Yes! Joy has dyed up some of these special skeins in colours inspired by some of my photos. (click images for Joys photos)
Rusty door 1 and Sea Urchin are this months' colours and came from a secret pinterest board we share. I got a sneaky skein of sea urchin to knit for you and its colours are inspired by beachcombing finds on my honeymoon, last year.
The knitted fabric of this DK yarn is divine – pearly and soft!
I decided to knit a vanilla sock and let the colour do the jive-talking!
This yarn is now in the Knitting Goddess shop and the shop updates every Thursday, but you've had your klaxon – the KB colourways are very limited and you will need to sign up to Joy's newsletter to know when they are in the shop.
Next episode I will bring you an interview (previously published at Wovember) with Joy, Bobbie and Clare Tunney from FourWays Dorsets, about how incredibly special the Dorset fleece is and the story of the flock.
| Information
Music: Carefree by Kevin McLeod and Singin' in The Rain (demo) by David Mumford – Both are on FreeMusicArchive and are both shared under Creative Commons Attribution license. Images are copyright to those attributed, otherwise they are mine, except header by  Katie Blair Matthews Photography for EYC Ltd Recordings of hustlebustle at EYF 15 and the Picts at EYF 16 were recorded by me.