After having a little look at my PodKAL plans for Tamar last week, is your appetite whetted for another of my favourites?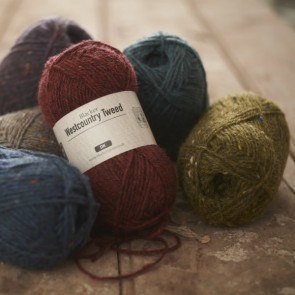 Westcountry Tweed was released way back in September 2014 and was initially a limited edition yarn, which I am glad to say is now a main stay of Blacker Yarns awesome ranges. It is a blend of Teeswater, Romney/Shetland cross and Black Welsh breeds and it is a really woolly delight.
I reviewed the yarn on the blog and the podcast back then and have scooped a bit of that review out for you below. (it is hilarious listening back to myself! Hello me from 2014! ) Please be aware that the yarn recipe is slightly different now to how i described, and there are different shades now available,  but the resulting yarn still has the properties I discuss.
The above image – not great to show off the actual colour, but showing off the excellent defintion – was taken after washing and blocking in 2014. I wear these wristies all the time. They sit by my desk and I use them when my office is cold, so they see a lot of typing action.
I said back in 2014 that I hadn't given them a pil test, but I suspected them to be hard wearing. Well, the best pil test is over time and this is them today, well loved and worn and hardly a pil!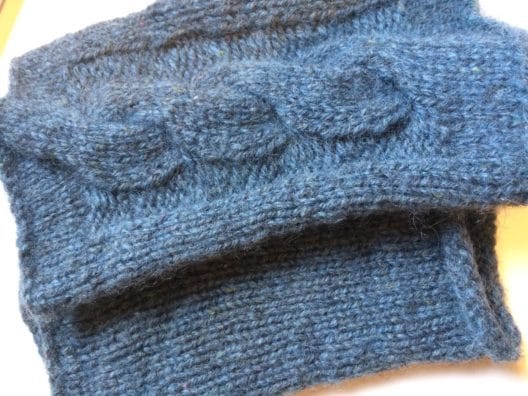 If you want to knit something in the #BlackerPodKAL that is going to be really hearty and woolly and have a good long life then this is an awesome yarn. At £5.40 per ball it is also quite a nice yarn on the budget too!
But what might you knit?
Personally, I think a sweater would be ideal in this and I've kinda fallen for a free pattern from Blacker. the sleeveless tunic. It is a plain v or round neck vest, perfect for these crisp days and it would really look great in this subtle tweedy yarn.
But there is also no getting away from how awesome cables and texture look in this yarn, so how about a Jones by Tin Can Knits? I also think Westcountry tweed would make a lovely Wainthropp cardigan by Andi Satterlund (which features a lace design similar to my first ever swatch in this yarn!)
Not sure you'll have time to make a garment? This yarn will really work well with smaller projects too and will make such cozy hats and cowls.
Got time to make a shawl? I just made Veera Välimäki's Fly Forward Shawl –  a deceptively simple shawl made with garter, twisted rib and short row sections. This made in Westcountry tweed would be like a great big woolly hug!
Have you decided what you'll knit? Join us in the Blacker Yarns ravelry group for the #BlackerpodKAL.