Happy New Year, KnitBritishers! I hope your 2017 is off to a cracking start. Mine has involved getting down to the blocking mats and dressing some of the FOs I managed to crack out before the end of the year.
I've been trying to clear the decks WIP-wise because the Blacker Yarns Pod KAL* is kicking off soon. I talked about this on episode 72 and since then myself and Sonja have had such great feedback from you guys, all excited about joining in.
If you didn't already know about the C/KAL, we are casting on for this KAL to celebrate the Blacker Yarns Podcast Lounge at Edinburgh Yarn Festival (10-11 March). A KAL is such a great way to ramp up the excitement and make something with your fellow festival goers, but don't worry if you can't go! Even if you have the EYF FOMO we still want you to cast on and feel part of the festival. Here are the KAL details.
The BlackerPod KAL casts on on the 19th January and casts off on 4th March.
You can knit or crochet any design you like, but you must use yarn from Blacker **
This C/KAL is open to everyone, whether you can make EYF or not.
Use the thread in the Blacker Ravelry group to chatter about your pattern choices and yarn choices and post pictures of your WIPs
There will be a meet up at Edinburgh Yarn Festival. (date and time tba) If you are going to EYF and you wear your FO in 100% Blacker Yarns you will get a 15% discount on the stall as a prize.
For those who cannot make it to EYF we will have a FOMO FO (fear of missing out finished objects) thread and there will be a random prize draw after EYF.
Use the hashtag #BlackerpodKAL on social media (it is also the tag for Rav projects)
Feel free to use hashtags for your yarn choices too; #TeamTamar #TeamSwan #TeamNatural etc
You may also have seen that other podcasters, designers and groups on Raverly are fielding their own #blackerpodKAL teams. This is great! The KAL is pretty wide open with few rules and so we thought it was a great chance for others to join in. The official KAL chat is on the Blacker group, but feel free to dip in to as many #Team efforts as you please.
So, with the sky being the limit in terms of designs, which Blacker Yarn will you choose?
I am going to be casting on the Sandness shawl (we say Saaness in Shetland. It is a place in the west mainland of Shetland…Jamieson's of Shetland Mill is situated there. Fact.)
This lovely shawl was gifted to me in the Wovember Ravelry swap. I also had the perfect yarn in stash.
The gorgeous Tamar yarn was launched last year ahead of EYF and coo-lummey it is lush. Tamar, in 4ply and DK, is a semi-worsted lustre yarn is spun from the fleeces of fine British rare breeds, including Teeswater, Wensleydale and Leicester Longwool.  I reviewed it on the podcast in episode 54, and have handily scooped out a bit of that review for you below. (n.b. some details may have changed since last March. See Blacker Yarns for current info.)
I actually won a skein of this at Joeli's Retreat last year and so it is high time I put this yarn to good use.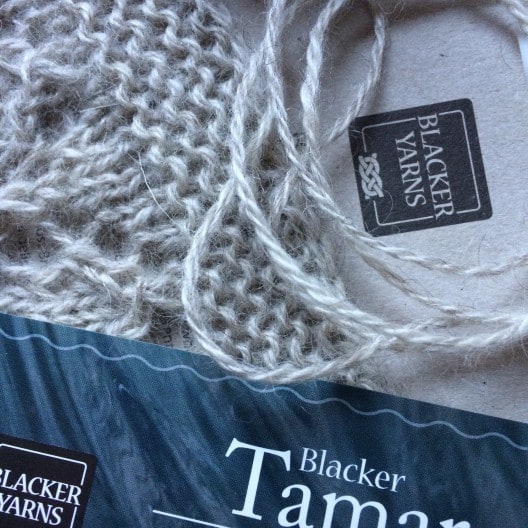 I plan on showing off to you some of my avourite Blacker Yarns over the next few days to give you a tip or two, just in case you are finding the choice difficult!
Don't forget to dip into the Blacker Yarns group on Ravelry and say hello!
| Info
*This Kal is being run by myself and Blacker. The organisers of EYF are not involved with this KAL and should not be contacted with queries. All info in the Blacker Yarns group on Ravelry
** you can use other yarns, but only FOs in 100% blacker yarns (from one skein or multiple different yarns from their range) will be eligible for a discount at EYF and for the FOMO prize draw.