I have become a bit of a square knitter. Not the boring kind of square…knitting is never boring!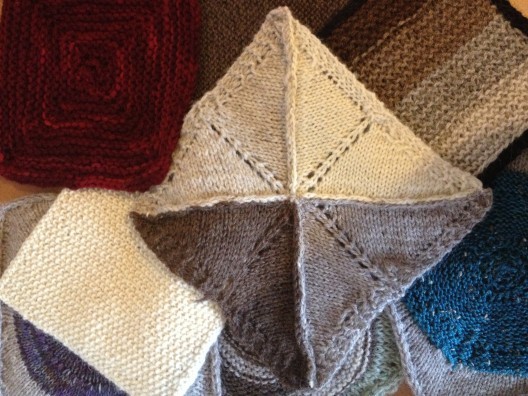 I have been using up my odds and ends for squares and I have also been knitting squares for the Vivid Blanket.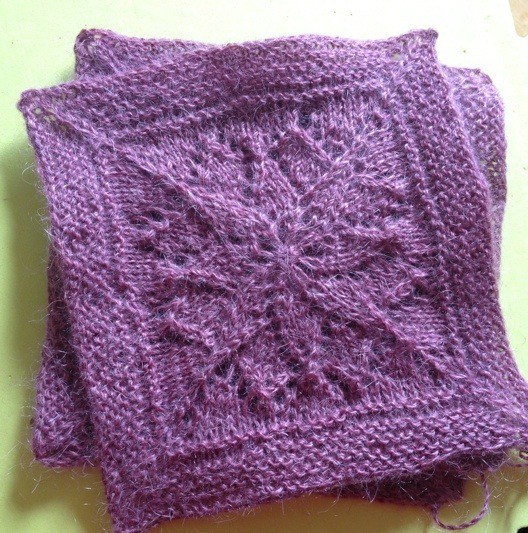 When I received my first delivery from Foula Wool – neat little, springy, soft 25g cakes – they were just begging to be played with in a fun way. I also had a few other Shetland ends, from Jamieson & Smith and Shetland Organics – these weren't really enough for much, but my imagination bubbled and so began Hwaarl, using a trinity of Shetland wools!
Taking my inspiration from the POP Blanket squares I made a few mods to make a larger squares (about 8.5 inches). I love the statement of the colourful original and I knew that the Shetland colours could provide a similar effect.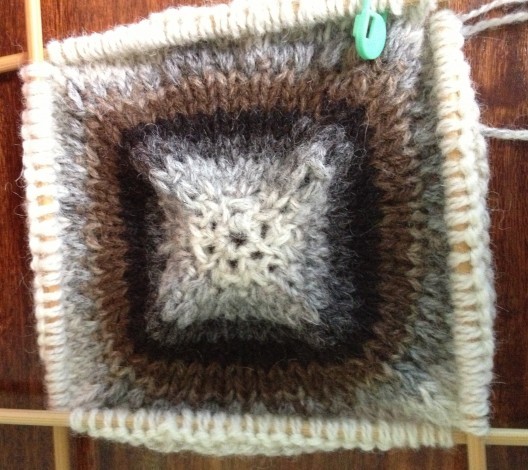 The Foula Wool has lovely characteristics and its a lovely plump yarn, but, of course, I appreciate all the wool in this project! Shetland wool is so deliciously sheepy and I adore the texture. The fact that all the wool was grown and sold in Shetland is also massively wonderful…truly local wonderfulness! You can read more about Foula Wool in a previous blog.
There is also a lovely short film of the Foula sheep being hand clipped. Check out the beautiful, natural colours!
(I have been to a few clips in my youth and I don't recall such quiet, well behaved sheep!)
Being Shetland wool, it had to have a Shetland name. Hwaarl is the dialect word for that lovely curl of hair at the crown of the head, that's a good symmetry, I think.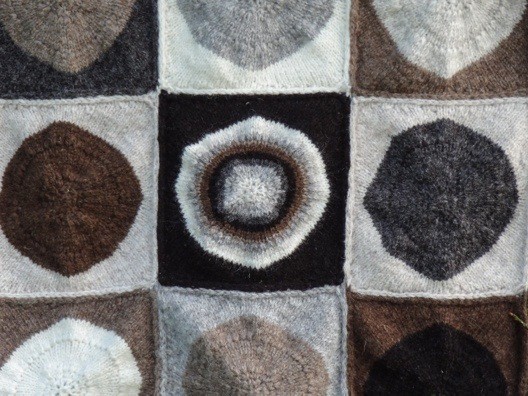 I was sure that I wanted the finished item – 9 squares stitched together – to be part of a cushion OR a wall hanging, one useful and decorative, one just decorative. I thought that I would have made up my mind by now, but I haven't! Probably a good reason why I finished this ages ago, but haven't posted a blog…. I was waiting to see if I made a firm decision!
I have made it into a wall hanging – thanks to a bit of driftwood – but that's not to say it won't be re-purposed in the future! The best thing about wool is that it is always re-customisable! I might hang it over the bed, or above my fireplace in the kitchen, but it may become a floor cushion yet!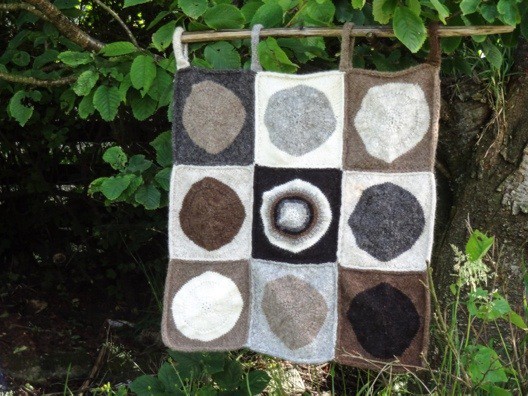 I do like the boldness of the colour, texture and pattern combined – I like to hit all those bases! I got some bright dyed herdwick at woolfest – I think that would look good in a similar project (maybes a cushion, this time!)
As an aside, if you like the Pop Blanket and Tin Can Knits, I do have a little giveaway you might be interested in!