I finished 3 WIPs this weekend. Three! *does dance*
Two of these are for the imminent arrival of a friend's baby and this one was in real danger of becoming an UFO.
I wanted to make something that wasn't the usual bootees or blanket and while thumbing through Erika Knight's Natural Nursery Knits that I saw the lace pillow pattern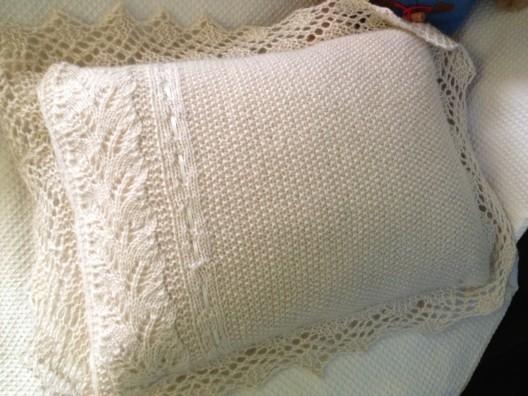 I did have a couple of misgivings – the lace panel, as I thought, did draw out at the bottom and top of the piece and it was not rectangular. I did not want to block it too aggressively to correct this as my moss stitch was a nice texture and I didn't want to open it up; also I wanted the pillow to be lovely and plump and doing so would have made the cover bigger. [The pillow, incidentally, was purchased here and I am very pleased with its feathery plumpness!]
As a result I had to fudge the seam when it came to this part. I don't think it looks *too* bad, but I would swatch a little before I tried this pattern again to try and minimize this.
Does anyone have a trick for stabilising lace within a project to stop that stretch in the fabric? Or maybe there is a type of stitch that skews the fabric less? I would love to know.
I was slow in knitting the lace edging and really this needed a few more repeats to be suitably gathered. I blocked mine fairly well and still I needed to unpick the cast off and do 3 more repeats. It is clearly a bit taut, but hopefully baby won't mind!
I am really happy with the finished object though. I have never knit on an edging to a seamed edge before and that was a bit fiddly (probably won't be doing it again any time soon!) and that wool is just so soft that Halo was really the first name that came to mind.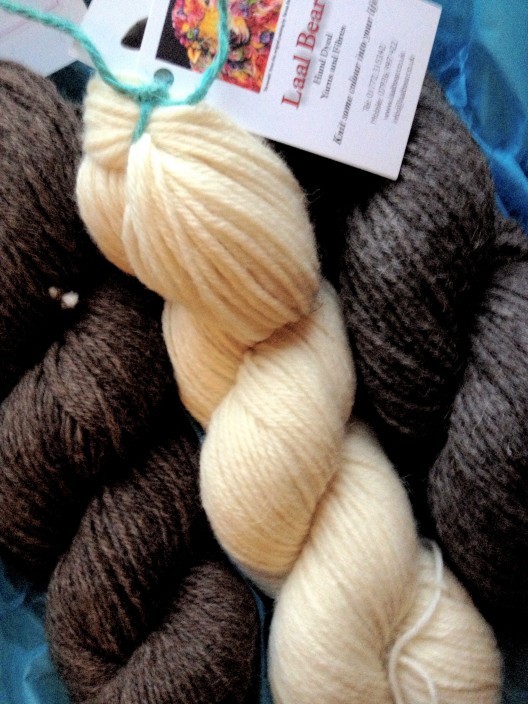 This was British Yarns Bluefaced Leicester, which I bought from Laal Bear's Etsy shop. I have knit quite a few things with this wool now and I really do love it. It is as soft as cashmere and just knits up beautifully…in fact one of my other FOs this weekend was made in this yarn, but more on that in another post.
It feels so nice to have finished up a few projects – gives one a sense of relief and simultaneously a wonder of "what can I cast on now?"!