Recently I was talking with my Mam about a knitted cardigan that her mam – my Nannie – had knitted for her, when she was little. It had a hand knitted yoke which was attached to a machine-knit body.   I wish the original existed, but when Mam was a lass and knit clothes got too small they were handed down or unravelled and made into something else.
I have written before about my family's history with the knitting industry; during the course of the conversation I began to realise that, while I knew both my grandparents machine knit garments to supplement the family income, I didn't really appreciate that standard of hand-knitting Nannie did. When Mam asked if I wanted Nannie's note books, it was only then that I realised she must have been a very talented Fair Isle knitter.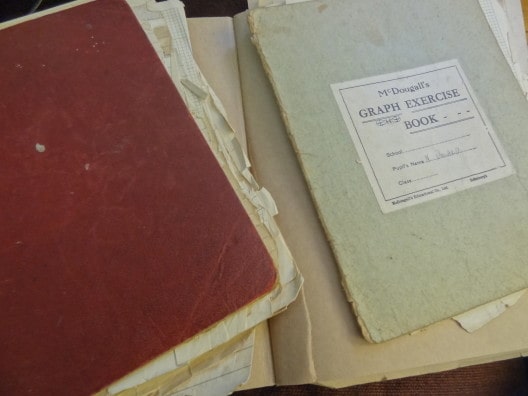 A 'Lifestyle' carrier bag came out of the loft crammed full of note books of handwritten charts, clipped out patterns and scraps and fragments of her knitting past. What a shame for them to be in a bag for so long and not looked at or enjoyed. Some of the papers are in real need of saving.
The collection had been in the bag and in the loft for some time so it did smell *quite* musty and smoky smelling; not so appealing to initially leaf through. After a little research I placed them in old pillowcases in boxes filled with cat litter to absorb some of the mustiness. I wasn't sure of the efficacy of this method, but unbelievably it did really lessen the smell (downgraded to old library book smell).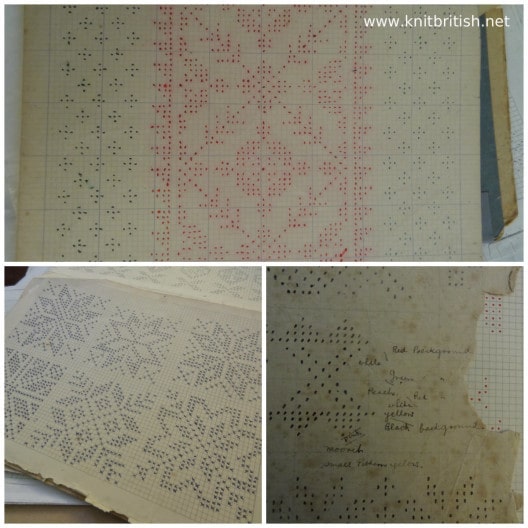 Much of the written patterns are machine knitting instructions, which I never learned to use, but if I get better at Fair Isle, I will have no end of inspiration. There are lots of recognisable patterns, but I really love the pages where she has played with designs and motif. There are charts which I am sure were not typical designs for Shetland knitting at that time – such as a coat of arms. I love seeing her notes written next to the designs – it is a like a little treasure map and all the X's and dots mark the spot of something special to me.
Also included in the bounty are clippings from magazines from the 1950s, such as My Weekly,  and measurement guides from the different Shetland knitwear brokers and shops that Nannie sold to.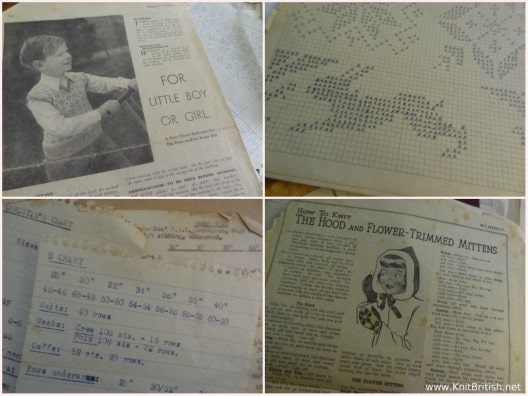 I will be going through the collection in more detail and making an appropriate display book for them (rather than a plastic bag) so I will share some of these treasures again.
I can't really put into words how it makes me feel leafing through her handwritten notes and charts – it was quite emotional, really. My Nannie was my favourite person in the worlds – still is –  to see her handwriting and see her notes for garments for members of the family, now also gone…it's moving. I can imagine her drawing out her charts, sitting in her chair by the fire.
I guess there is some small part of me that was looking for some little note from her to me, across the years – that is totally sentimental and, well… unlikely, however, in a way there is a big message – I need to get better at Fair Isle knitting and I have no excuse now, not with Nannie's treasure maps.