Apparently, Scotland is going to have a warmer autumn. As I look out my window it is not *quite* an Indian summer – it's dry, but the fact that I went searching for my slippers the other day is a sure sign that the weather is turning.
I find myself constantly procrastinating on "researching" Ravelry for new patterns which make my knitting hands hungry and stoke at the coals of autumn; urging to add more beautiful, woolly layers.
As well as warmth, texture is also calling to me loudly and I thought I would share some autumnal pattern pick-me-ups with you.
The Bronntanas hat is the first pattern in a new collection from Ysolda. Knitworthy features 8 patterns which are perfect for knitting as gifts or coveting for your ownself!  It is a worsted weight hat, which requires 150 – 240 yards and there are sizes 16″ to 22″.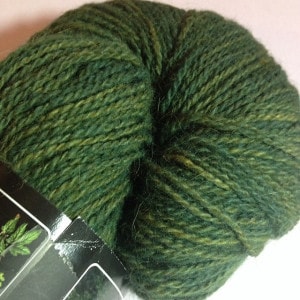 I really like the garter stitch with the honeycomb cabling; the effect is so pleasing on the eye and I think it will be equally pleasing to knit. I am thinking to knit one in Shilasdair luxury DK yarn (if i get gauge!) in this lovely mossy green. those subtle colour variations of the Shilasdair would be really pretty in this pattern – a special hand-dyed skein would make this an unbelievably wonderful gift, wouldn't it?
You can read more about the collection and pattern delivery info on Ysolda's blog, the e-book costs £10.95 and you get Bronntanas to cast on right away!
Green has been an appealing colour lately. There is a certain time of the evening when everything green looks even greener with the setting of the sun. I am aware that colours are beginning to change and so maybe that's why I have been clinging to these tones. Due in part to this my eye was caught by the new shawl design by Amanda B Collins
Kelvinway is a top down crescent shape shawl with lovely lace and cable texturing. One skein of sock yarn is enough to make this shawl, which is a real tribute to the green places and spaces in Glasgow and the textures and shadows therein. I love how the shawl flirts with nature and how beautiful it would be draped around the shoulders on warmer autumn days, or swirled around the neck and tucked in a coat in colder weather. This would look so good in hand-dyed also, but if you are looking for British yarn, a silvery Gotland would make a stunning version too. Check out Amanda's website for more details on her inspiration for this design.
You know by now that I am a sucker for garter stitch and reverse stocking stitch – lovely squishy bumps row on row. Clare Devine's new pattern takes this simple stitch and adds a real touch of class.
The Edina Mitts are the September release from the Head to Toe collection and the elegant twist of mirrored cabling adds beautiful interest and flowing lines to an accessory that is an absolute must for every autumn wardrobe.
I think these mitts are really beautiful in Ginger's Hand-dyed yarn – the colour variations of the the Sturdy Splendour DK are gorgeous with that stitch definition, Jess has some Edina Kits in her shop and you can choose from some outstanding hand-dyed colours. You can also buy Edina as a single pattern for £3, treat yourself to the collection ebook for £10, or hang on a bit longer for the print version, which will be available soon.
Another lovely textured knit to catch my eye recently is a pattern by Karen Burnett, which was published in an Ancient Arts collection earlier this year, but the rights have reverted back to her. A sweet little shoulderette, Cat's Paw is a fingering weight shrug with a lovely lace design.
It comes in small, medium and large sizes, but Karen says that the pattern is easily adapted to ensure your shrug is custom fit. I think this would be beautiful in West Yorkshire Spinners Signature sock yarn, maybe in a spice rack colour; or a luxury dyed yarn, like Knitting Goddess's lovely BritSock – a BFL, Wensleydale, Alpaca & nylon mix.
Karen has also released the toe-up Cat's Paw sock pattern to accompany the shrug – both feature that lovely traditional lace stitch which is in honour of Karen's neighbour's cat, who wandered up a path of wet concrete, immortalising her paw prints forever!  These look so cosy and perfect for ruching the tops down with a pair of boots. (I am rubbish at knitting socks, but maybe there's Cat's Paw boot cuffs in my future!). Both patterns cost £4 each.
Karen is offering a lovely 25% off the Cat's Paw Shrug and Cat's Paw Sock patterns til Wednesday 17th September, just enter KNITBRITISH at the Ravelry checkout. Keep an eye on Karen's Ravelry store and her twitter as she is planning on releasing new designs soon, in British wool.
Thanks very much to her for a great offer and to all the designers who gave their kind permission to use their images.
Come on autumn, we're ready for you!