Like me, you may be looking at all the Autumn/Winter collections and start thinking those 8 fatal words…
I WANT TO CAST ON ALL THE THINGS!
I call this the equivalent of one's eye's being bigger than their belly and that analogy is also discussed by A Playful Day in her recent episode "Never Knit When Hungry". There is no getting away from it – it is knitting season and my hunger games have already commenced!
Before those 8 words form on your lips, spare a thought for those unfinished WIPs that you have dotted about the place. Come on, you have more that you'd like to admit to, don't you? Project bags with with barely cast on garments, that sweater you got bored with once you split for the arms, that shawl that needs tinking back a few rows, but you were just waiting for a bit of time and patience to do it….we are all guilty of wanting to CAST ON ALL THE THINGS, only to have a few of them languish.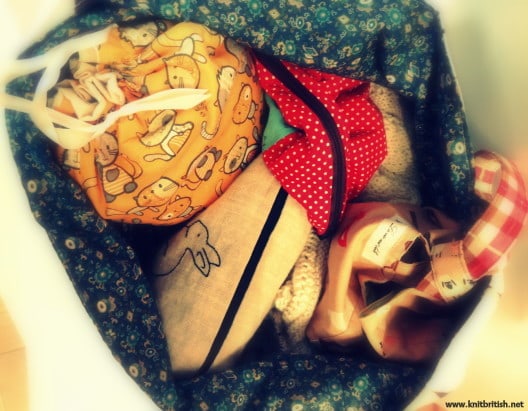 As you know, I have been co-hosting a Lush KAL with  Shiny Bees, KnitSpinCake and Caithness Craft Collective and there was some twitter chat last week about starting another podcaster KAL soon. With my Lush still awaiting arms,  I just can't think of casting on a 4-ply jumper. no matter how beautiful.
What is on my mind are my WIPs and someone else who was worried about their growing pile of UFOs is Nic, from the Yarns from the Plain podcast. I tweet-suggested we should probably have a WIP-along. Instead of casting on all the things (for now), we are going to knit our UFOs – and you can join us!
There have got to be items that you want to finish…think of the pattern you loved so much….think of that yarn that you bought especially for that project…think of how you really needed that item in your life and for whatever reason it got left behind…..
If you want to save some of your UFOs from languishing then join in with Nic and I and we will support each other through a WIPapalooza.
: :  The Details : :
Start date is Monday, 15th September and the KAL will run til 15th November.
You must have a WIP or WIPs, which you cast on before September 1st 2014.
The chat thread will alternate between The Yarns From The Plain and the KnitBritish Ravelry groups. Join both groups, if you fancy -we like the company. The thread will open on Monday.
Give us the WIPstory and tells us about the project, share it with the groups and tag it WIPCrackAway. Get chatty & support your WIPALers
There will be prizes! In fact, Nic has so many WIPs that she says she will donate a new prize each time she finishes one before the cast off date!
There will be a finished object gallery in both groups
Anything else we'll make up as we go along! 🙂
You can also tweet, instagram, pinterest, etc the heck out of them too and let everyone see how your are liberating you WIPs! Use the hashtag #WIPCrackAway
I am going to need serious WIP assessment before beginning this KAL – every now and then I lay out all the projects before me and decide what to keep and what to frog. I try to have no more than 3 WIPs, but currently there is my Lush cardigan, The Tree Rings Blanket, Vedbaek shawl, Montrose hat and Follow your Arrow. I fear two of those won't make the cut!
This KAL could be the impetus you need too and just think of all the practical knitting and finishing of items that could be done before the winter sets in.
Are you with us?