UPDATE: Due to space I can no longer host the audio files on the blog, please use your favourite podcatcher or right click the Podgen link below, to listen in a new tab (y'know, so you can also refer to the shownotes whilst you listen!)
I am delighted to announce BritYarn as the first ever sponsor of KnitBritish!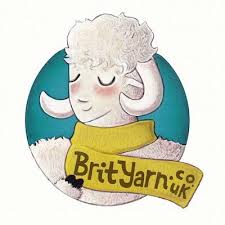 BritYarn is a brand new online yarn shop specialising in British wool.
To share and celebrate in a love of British wool, click the logo!
You can also listen on iTunes, via podcatchers or my Podgen page
Tales from the WIPs including more hap horror and dreaded SLEEVE knitting. I also mention the prizes for the hap KAL.
| Sponsor 
Why have I decided to introduce a sponsor? Well, when Isla approached me it seemed like the most natural fit! Look out for a blog post on this soon. Isla and I have been planning some exciting content coming your way soon, so keep your ears peeled!
| BritYarn 
Isla opened the doors to BritYarn this week and opened them onto a whole world of love for her new shop which .shares with you her love of British wool. From Jamiesons & Smith, Blacker, Wendy and Wensleydale longwool Sheep Shop and with yarn from dyers such as Knitting Goddess, Eden Cottage and Yarns from the Plain there is an amazing array of UK grown wool at BritYarn. You will also find patterns by UK based designers Karie Westermann, Rachel Coopey, Jo Scrace and Inspriation Knits, to name a few.
This month's Wool of the Month at BritYarn is Blacker DK Lyonnesse, which you might remember is the yarn I reviewed a few weeks ago that totally changed by perception of linen yarns; drapey, lustrous with great stitch definition it will be awesome for your summer garments and accessories. 
This slideshow requires JavaScript.
You can visit BritYarn by clicking the image above or visiting www.brityarn.co.uk, you can also join the BritYarn group on Ravelry, read the blog and sign up for email updates too.
| Indie Burgh Yarn Crawl 
IBYC is next weekend (13-14th June) Are you coming? There are some spaces on some fabulous Clare Devine workshops. Check out the availability here. I am really looking forward to the social aspect of this weekend and I will be armed with my mic, so if you want to stop me and talk about anything on the podcast then we'll have a little KB open mic!
| Knit 1 Bike 1
Later this month Janet Renouf-Miller is undertaking a very special project travelling around Scotland on a Brompton folding bike and she joins me to tell me all about it.
As well as cycling 850 miles, Janet is going to be knitting and crocheting the things that she sees and which inspire her on her journey and offering workshops and tuition in return for a bite to eat or a bed for the night. The journey will see her travel up the west of Scotland, as far north as Ullapool, and then down the east coast and she has an itinerary which you can view here. Janet already has some mini workshops organised, some are closed groups, but others are open to the public and if you know Janet is coming to your area you can even get in touch with her – either via her Create With Fibre site or facebook to arrange a crafting session or meet up.
The Knit 1 Bike 1 journey will culminate in exhibitions next year and also a new book about her experience of the journey and some patterns.  If you would like more information on Janet, Knit 1 Bike 1, or to donate to support the project then please visit createwithfibre website.
| Next Time I'll be back after IBYC and Isla and I have some exciting BritYarn/KnitBritish news! Also watch out on the blog for a Q&A with Isla too!
| Information 
You can find me on twitter and Instagram as @Knit_British; Raverly as Leira and you can find the KnitBritish Ravelry group by clicking here.
Music is Slippy-Peppy-Falco-Fox by Mason Jar Music and Mind's Made Up by Antiqool, both available on NoiseTrade.com.
Bicycle bell sound courtesy of bsumusictech on freesound.