I have been thinking a lot about the different knitting communities I belong to and how we are tied together in different ways with sticks and string.
This week I am also looking at Podcast Lounge news, a hap KAL and tea inspired knits!
UPDATE: Due to space I can no longer host the audio files on the blog, please use your favourite podcatcher or right click the Podgen link below, to listen in a new tab (y'know, so you can also refer to the shownotes whilst you listen!)
Listen right here, on iTunes or my Podgen page
| Show Notes
Aural Pleasure
I have been quite busy since we last met, but have been ably assisted at the computer by audio podcasts and audio books. Having listened twice to the awesome Radio 4 adaptation of Gaiman's Neverwhere I am currently listening to The Girl on the Train by Paula Hawkins on Audible. If you are interested in Audible, you can try a free trial.
Cast on / Cast off
Still currently knitting on Camille Cardigan, by Gretchen Ronnevik. I have one sleeve left to do and then it is done. The best bit about working in chunky yarn is that you can see results very quickly!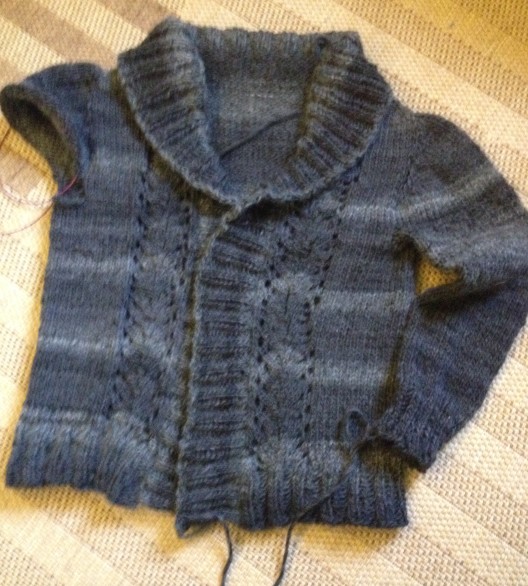 Also, since last time, I have completed the Lapsang Cowl, by Clare Devine. This is part of her new Tea Collection of hats and cowls that will just call to you on a cold day!
This slideshow requires JavaScript.
The collection will be added to throughout the coming weeks and months and so far I think I need to knit ALL of the patterns! The collection cost £10, currently. I knit my version of the lapsang cowl in Ginger's Handdyed flumps chunky in Hocus Pocus (which is not available at the moment in the chunky, but you can check out the shade here in Jess's humming DK weight). It is a warm, squishy, soft-soft-soft merino yarn and have barely taken the thing off.
Watch out in coming weeks for a Ginger Twist Yarn review and GIVE-AWAY!
Hap-along (Cassidy)
There has been some chatting in the KnitBritish Ravelry group about having a hap KAL.
A hap is a square or triangular (half) shawl from Shetland, which has what is described as traditional Shetland construction, in that the centre is commonly knit first and the stitches are picked up to knit a lace border. Once an item of everyday wear in Shetland the shawl has had a bit of a resurgence thanks to designs by Kate Davies, Gudrun Johnson and Brooklyn Tweed. IF you search on Ravelry, there are a number of patterns to choose from – some with the old shale border and some with different lace incorporated into the border.
The KAL will be happening in April and I will be running it for a while (no-one likes tight KAL deadlines). You can knit the hap in any weight or colour; it doesn't have to be British wool (but I will love you forever, if you use some!) and you can knit any form of hap (including a hap cardigan!) There will be small prizes and the only rules are that the pattern you use must be described as a hap in the pattern name or notes on Ravelry. I will also accept patterns which are described as "Shetland traditional construction" – these include contemporary turns on the hap from Shetland Trader – Flukra, Aestlight, Simmer Dim and Loren.
I think you will see that there is something for the traditional and contemporary tastes. I will definitely be knitting a traditional square hap and looking forward to planning colour choices.
If you are interested then you can join in with the chat in the Ravelry group and watch the blog for upcoming posts and pattern suggestions.
Podcast Lounge
I am planning a "Come and Have a Feel" session….of British wool, of course! We will be doing this on the morning of Sat 14th March at the Edinburgh Yarn Festival. You will be able to get to grips with some breed yarns that you may have not encountered before and create some 'tasting notes' reviews. I am really looking forward to this and maybe introducing you to some yarns that you will be inspired to run out and find at EYF. Many of these yarns have been provided by Blacker for your squishing pleasure, but I will have more info on what you can expect to see, nearer the time.
If you have any questions for our Technique agony aunt, Carol Meldrum – who is also teaching at the EYF – then contact me with those. Got gauge issues, not sure how to execute a particular technique, general knitting woes??? get in touch! (apologies for the photo, carol is gorgeous…I am just crap with an iphone!)
You can find all Podcast Lounge details at www.edinyarnfest.com and also by clicking the Podcast lounge tab on the KnitBritish website!
Blasta Comin' At'cha
Blasta podcast is a new monthly audio show from Clare and Dearbhla, who are in Ireland. Listen to their promo – I think you will agree that the craic will be awesome with this pair, as they fix on a crafty theme each month and explore it over a pint! See you at EYF girls!
Knitting Communities
You will have heard me talk about this before and community has been on my mind a lot with organising Podcast Lounge.
We are tied together in numerous different ways with sticks and string. We have our physical craft circles, knit nights, guild meetings and classes and when we go online those communities just expand! Social media, podcasts, blogs and the veritable society that is Raverly – which is made up of numerous communities and groups – We can be in one community, or many and we can be both online and in the real world. Being involved with online communities can share into our RL knitting worlds – we arrange meet ups, KALs, events, etc and membership and interest grows.
There are different ways we come into these communities, but it is all because we share an interest in knitting. It doesn't matter what the skill level is; we are all seeking to do something or be part of something that our craft is centred on. We might be founder or core members or we could be a bit more transient or lurk on the fringes of a community until we see if it is for us, or not. The benefits of being a member of your communities are support, sharing knowledge and skills, affinity, belonging and, if you are lucky, friendship….we don't even know one another's real names at times, but we can form very strong bonds.
Knitting communities are not homogeneous – those sticks and string are not tied into one place. I feel very lucky to be involved in all my knitty worlds and have met people through this that I can call friends. Read some of the member messages in the KnitBritish thread and see how knitting communities are a real life-line for some people. Do let us know about your knitting communities too. Do you feel part of a community or do you see social media, etc as being separate to you and your crafting community?
KnitLocal
I am constantly in awe of those of you outside the UK who want to try and knit with British wool and discover the charm of it for yourself. As well as promoting British wool I do also want you to think about your own local wool industries and local yarns and I would love to hear from you listeners outside of the UK on this topic. What are your local breeds? What is the wool like? Do you prefer it over imported yarns? You can drop me a line via the contact page or you can try leaving a message on KnitBritishPodcast on skype. This is something that I am trialling. You can leave a voice or video message and I may play it (the audio) on the show. Leave a Voicemail for Knit British!
Postbag
Clairette in the ravelry group asks if we have yarn budgets? What are your yarn buying habits?
The postman brought an amazing package from evieandlily on Ravelry, who wanted to give me a podiversary present of British wool. A bulging package of breed yarn came in the post last week – dyed by the Natural Dye Studio and in an array of different breeds – this was a really spectacular treasure from generous evieandlily. Some of this will become a prize for KB readers and listeners, but I will make something really special with some of it, so that I remember the kind gesture from Julie. Thank you so much xxx
Hellos and thanks
The usual love and hellos to my knitting communities on Raverly and the blog and podcast! 
Coming Up
Next episode will be around the 1st March and I will have yarn review of Ginger Twist Luscious worsted, a look at the Bletchley Collection from Eden Cottage Yarn and Joanna Scrace and two superb giveaways!
Don't Forget! 
There are TWO giveaways on the blog until February 20th…TWO pairs of tickets are up for grabs over here.…and you can win a copy of the Penguin Knitting book here
| Information
Music: Jara with Don't Wait available on musicalley.com