While I was sitting at Edinburgh Airport recently I saw this charming book that I just had to buy.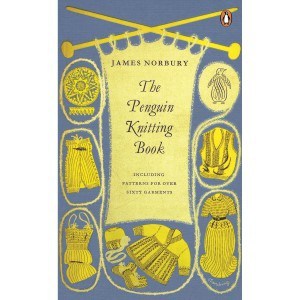 The Penguin Knitting Book was first published in 1957 and was written by James Norbury. Norbury was highly influential in the world of knit – a knitting designer who was chief designer at Patons, post WWII. He was a knitting historian, teacher, author and also had popular knitting shows on the BBC during the 50s and 60s (Why don't we have such a thing now?).
The 2014 re-issue of this classic means that Norbury's inimitable wit and knowledge can be available for a new generation of knitters.
Beginning with a potted history of knitting from early examples to the present day – the "present" meaning the late 50s couture knitwear of Christian Dior and Lola Prussac – Norbury then looks at wool.
Almost any fibre is suitable for knitting. Cotton, silk, the new nylon yarns, rayons and wool all having their right use and proper purpose in the pursuit of the craft.

The right purpose is the important thing. Always buy the right type of wool or fibre recommended on the knitting instructions you are using.
While I heartily agree with selecting the right wool for the right project, I do wonder though, what Mr Norbury would have to say about yarn substitutions that we all do today?
After looking at the importance of wool, needles and notions we are also told how to care for our yarn and that starts with good hand care.
Rough hands and Rubbed Wool
The care of the hands plays an important part in producing perfect knitted fabrics. To-day many women do their own chores. Soap powders and detergents are being widely advertised and used. That is why the hands may get slightly rough, and when you are knitting please do take that little extra care of your hands. Rub a good cream into them occasionally to keep them smooth, or if the fingers seem slightly rough pour a little icing sugar into the palms of your hands and rub it all over the hands themselves. This will act like a very fine sandpaper and smooth off the roughened ends of the fingers.
Getting right down to business there are excellent chapters on casting on, basic stitches and techniques, such as increases and decreases, with accompanying stitch patterns (written) to highlight the new stitches you have learned.
My absolute favourite part of the book is Chapter 6 – It's the Finish that Counts; here Norbury takes us through the process of washing and blocking the pieces of a sweater and truly these skills have not aged – who hasn't grappled with the blocking of a garment at one time or another? This chapter also contains my favourite passage in relation to looking after your knit items.
The way I have seen some women treat their knitteds fills me with dismay. I find myself wondering if women think they can maltreat them as much as they like without harm. I have seen jumpers flung across a chair. I have shuddered at cardigans hanging from an ordinary hook behind a door. The idea seems to be 'oh it's only a woolly so it doesn't matter'.

When you are not wearing your knitted garments fold them neatly and place them in a drawer.
Mr Norbury may well shudder if he were to walk into my kitchen just now, with a jumper flung in the back of my chair and a cardi hanging from a door handle!
This is a novel-sized paperback and, of course, it is a knitting book that is laid out a lot differently from what we are used to today. There are a plethora of patterns in here, from shawls and stoles, to baby items, gloves, sweaters, socks and not forgetting a good stitch directory too.
The instructions have all the brevity of vintage knitting patterns in that there are no schematics and the images are limited to black and white plates which are scattered throughout the book. It would have been wonderful if Penguin had asked a contemporary knit designer to preface the re-issued book and add some helpful hints to knitting these patterns and suggesting modern wool to substitute. The book was originally intended to be used by beginners and experienced knitters, but I fear today's novice knitter might have more of a problem with the patterns than their 1957 counterpart.
Patterns aside, you may not be reaching for the 3ply, but little has changed in terms of our knitting tools, the practice of knitting, preparing the finished item and how to look after our knitted garments and this book is brimming with practical information and Norbury's tips – and often forthright, at that! I get the feeling Mr Norbury definitely saw himself as leading the charge in the right way to go about your knitting!
If you love and appreciate vintage patterns, your knitting history and lot of knitting charm and wit then you will really enjoy this book.
For one lucky winner I have a copy to give-away. Just leave me a comment below and tell me your favourite knitting book in your own library, vintage or otherwise!
This give-away will close on 20th February. This is the same day as the closing date for the Edinburgh Yarn Festival Weekend tickets give-away, which you can enter by following this link.
GOOD LUCK!
This competition is open to entrants from the UK and Ireland only. The prize is donated by myself and there is no alternative available.
Update 01-03-15. Congrats to Katy. Her comment was chosen by Random.Org. That book will be winging its way to you soon!