Join me for episode 21 for all your yarn news, reviews and general woolly love!
UPDATE: Due to space I can no longer host the audio files on the blog, please use your favourite podcatcher or right click the Podgen link below, to listen in a new tab (y'know, so you can also refer to the shownotes whilst you listen!)
You can listen here, on iTunes and now on Podgen 
| Show notes
Edinburgh Yarn Festival [14-15 March] Podcast Lounge news.
Mica put out my sneaky peek post on events coming up in the Podcast Lounge on the EYF website this week.  You can also meet the Podcast Lounge team – my merry band of muckers who are all bringing you something in the lounge sessions. Felix Ford, Jo Milmine, CC & Damaris Almon and Louise Hunt are my dream team and are all bringing a little bit of what you can expect from their shows to the EYF and I can reveal some of those sessions.
Attend the live Sock Surgery with Shiny Bee's Jo Milmine and designer Clare Devine. Arm yourself with your sock WIPs and  put your questions to Clare.
Bring your favourite knitting items and memories to Felicity Ford to record and contribute to a KNITSONIK sound collage
Join us for On the Couch interviews with EYF teachers, exhibitors and VIPs

Come to the Podcast Meet Up event each afternoon and join in with your favourite hosts and fellow listeners for the Podcast panel

Take up the Geeky Girls Knit special EYF Photo challenge
MORE WILL BE REVEALED SOON!
This week Carol Meldrum confirmed to do a Technique Agony Aunt spot on the Saturday. She will be there to answer all your questions on gauge and technical woes. You can email questions for Carol to me louise [at] knitbritish [dot] net, or use the contact form. 
I am also organising something suitably British for another session and do tune in next time to hear more!
I have an AWESOME give-away that you need to keep listening for – TWO pairs of weekend entry tickets for the EYF – courtesy of Jo and Mica….keep listening to this episode for the details!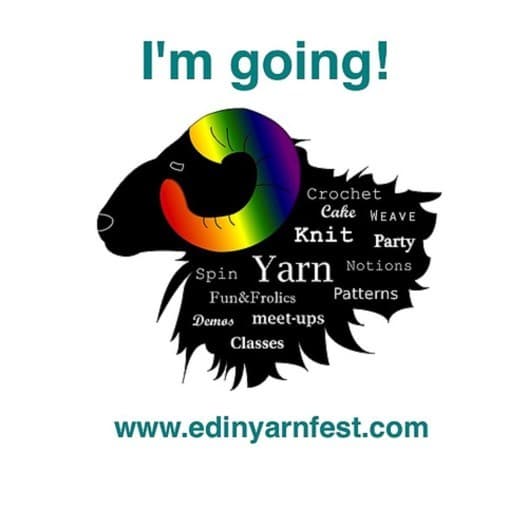 The Woollen / Worsted challenge
In Blacker Yarns January Newsletter they threw down a challenge to try one breed yarn in both the woollen and worsted preparation. I have the Corriedale and Flax DK yarns and I am going to knit socks with them. The flax blend is also available with BFL in 4ply and this is available in both preparations too. You can find the items here. Sue Blacker describes the differences in the processes in this article for Wovember.
If you fancy joining me, I will open a thread in the KnitBritish ravelry group and we can share our findings. It's not really a KAL, but it would be interesting to know what you think. You can also share your thoughts with Blacker in their Rav group. We will revisit the subject after the EYF!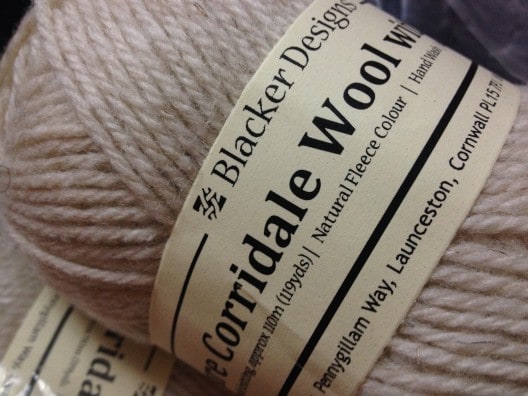 Website to check out: Yarn Stories
I am ashamed to say that Yarn Stories yarn and design collaborations had totally gone under my radar. Yarn Stories are passionate about the Yorkshire spinning and textile industry and create a very fine merino and alpaca blend yarn at their Huddersfield mill. They work with an extensive and really impressive list of designers to create bespoke designs for their yarn (which comes in 20 colours). I will be reviewing their yarn soon and hopefully bringing you an interview, but do check out their website and fall a little in love. For a limited time only, if you sign up to their newsletter you will receive a great colour-work hat pattern.
Cast on / Cast off
Still knitting the Camille Cardigan by Gretchen Ronnevik,  in Debbie Bliss Riva. Also knitting Viewfinder Cowl ,by Tin Can Knits, in this week's reviewed yarn!
Yarn Review: BFL/Alpaca Lace by Laura's Loom
Today, I give you a working review of the new BFL Alpaca worsted-spun 2ply lace weight, produced for weaver Laura Rosenzweig and her company Lauras Loom.
Laura is a real wool champ and really cares about provenance. You can view her map here to see where all the sheep, processing, dyeing, etc is done. This BFL comes from the Yorkshire Dales and the alpaca is from Cumbria's Town End Alpaca. When you team the softest sheep wool with the just-about the softest animal fibre then it is a match made in yarn heaven. Listen in for my verdict.  Mentioning Joji Locatelli's new design, Falling shawl, and Shetland Trader's Haroldswick stole.
You can purchase the yarn in 50g/250m or 100g/500m skeins and they cost £7.50 (correction from podcast) and £14 respectively. Town End Alpaca also have a sport weight in this yarn.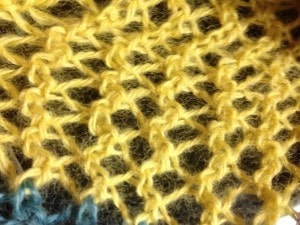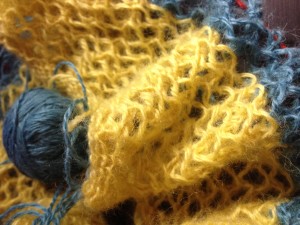 Edinburgh Yarn Festival Weekend Tickets GIVE-AWAY
To be in with a chance of winning one of TWO PAIRS of weekend entry tickets to the Edinburgh Yarn Festival (Ordinarily £12 each) then please enter via the Rafflecopter entry below. Please remember that to be eligible you must enter this way, as posting a comment without doing this will mean you have not been entered. The contest will open at midnight on Saturday, 31st January and close on Friday, 20th February. Good luck!
Thanks so much to Jo and Mica for donating that generous prize. If you feel you can't wait until after 20th to see if you have won, Edinburgh Yarn Festival tickets go on sale on Sunday, 1st February.
Hellos, Thanks and Cheerios
Thanks for listening to the podcast. I will be back in a couple of weeks with more of the same! I close with a song I heard on Radio 4 this week, which had a special week on knitting programmes. The song is by English music hall comedian Arthur Askey. It is from the 30s and so we will forgive the implication of knitting as " A useful occupation for a nice little girl"!
| Information
Opening music: Jazz Hole, Blue Wave Theory. Available on musicalley.com.
Closing music: Knitting Song, Arthur Askey found on the Internet Archive