Happy Christmas to you, lovely people! By the time you read this I will be sitting surrounded by a pile of scraps of gift wrap and sweetie papers, with a large plate of left-overs in front of me!
But there is still one present under the tree and it is for one of you lucky readers!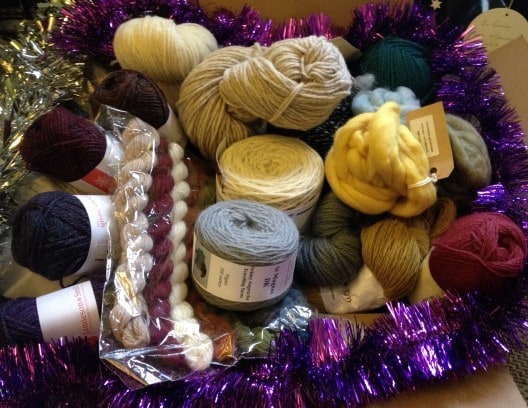 ( I think I need a bigger box!)
The entire goodie box consists of……
100g Portland Manx tweed DK – from flock at National Trust Wimpole Estate
100g Whitefaced Woodland DK – from Orford Ness flock
100g John Arbon Alpaca sock in mustard
50g Excelana 4ply in Ruby Red
50g Laura's Loom Hebridean/Shetland lace*
50g Laura's Loom BFL/Welsh lace*
100g Artesano British Chunky*
50g handspun Zwartbles/BFL DK
from the WoolClip
50g handspun Shetland from the WoolClip
50g Jacob Suffolk Marl DK from Sheepfold
100g Ryeland DK
200g Marriner DK blend in teal
100g Jamieson & Smith jumper weight various mixes
80g Titus mini skein pack from BAA RAM EWE
100g fibre from Shetland Alpaca
50g natural dyed merino tops from Shetland Spindrift Crafts
50g St Magnus Angora DK
50g Shetland Organics CIC Shetland Black laceweight
That is very nearly 1.5 kilogrammes of British Wool!!!!!
There is still time to win the British Wool Stash and you have til Tuesday, 31st December to be in with a chance. Enter here and remember you can earn extra entries too!
I probably won't announce the winner on the 1st ( I love KnitBritish, but it is a holiday!), but I will post the winner's name soon after.
I would like to take the opportunity to wish you lovely lot a very merry day and I hope you have a wonderful festive season. Thanks so much for reading the blog this year. Your love for British wool is totally inspiring.
lots of love xxxx
____________________________________________________________________________________
Final list is non-negotiable. If you don't like or can't use a certain yarn feel free to swap or gift it on.
*yarn donated for giveaway