There is a lot happening this weekend and here is a quick round up for those of you seeking woolly pursuits.
: : Highland Wool & Textile Fair : : 
This event is being held on Saturday at Eden Court in Inverness and is being organised by the same talented bunch who brought the Highland Wool Festival earlier this year. You can find out more at their website and on their Facebook page, but there is a great selection of stall holders, including the lovely Louise and George from Yarn Garden, Strathearn Fleece and Fibre, Shilasdair and Travelling Yarns.
: : Glasgow School of Yarn : : 
With workshops led by Rachel Coopey, Jon Dunn Ballam and Emily Wessel, as well as great mini tutorials, there are going to be lots of skills shared and swapped at this year's Glasgow School of Yarn. Brought to you by the fantastic team from The Yarn Cake there is going to be a bustling market place with vendors such as Abstract Cat, Ginger Twist Studio and P/Hop.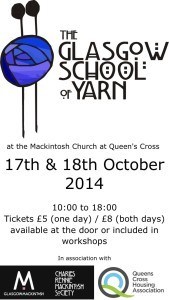 : : Covet

Fashion and Jewellery from the Highlands & Islands : :
Craft Central – 33-35 St John's Square, London. EC1M
In conjunction with Emergent Makers, this exhibition brings makers from the Highlands and Islands of Scotland and gives them a well deserved platform in the capital. This exhibit has been open since Tuesday, but is open from midday – 7pm today and 11am-6pm on Saturday. There is also a meet the makers session on Saturday from 3-5pm. Shetland has two artists at the event.
Jen Deschenes specialises in hand screen printing and embroidery and is also currently showing work a solo exhibition entitled Common Thread at the Bonhoga Gallery in Shetland.  She creates visual narratives in her work and uses haute couture embroidery, traditional embroidery, hand screen-printing, digital printing, silk painting and hand dyeing techniques.
Helen Robertson is also exhibiting at Covet and I was lucky enough to meet her at the weekend. She designs the most exquisite textile inspired jewellery. She makes her pieces in  fine silver and enamelled copper wire and also works in the medium of wool. I recently started following Helen on twitter and at the weekend she was busily knitting a bird skull in silver! Contemporary design with a huge nod to her Shetland heritage, please do visit her stall if you are in London over the weekend.
: : Bakewell Wool Gathering : : 
Held at Agricultural Way, Bakewell, Derbyshire, The Bakewell Wool Gathering is trotting out this weekend for it's second year. There are workshops (with some spaces!) and a huge array of exhibitors for all your woolly needs! Please note that Babylonglegs and LaalBear have recently had to cancel due to unforeseen circumstances. Tickets are available on the day – £3 day ticket or £5 for the weekend and the event is open 10am-4pm both days.
 : : Staying in this weekend? : :
If you are staying in this weekend and looking for something to do then how about some charity knitting?
The Big Issue are holding the 3rd Big Knitathon on November 1st. This year, instead of knitting blanket
squares, Big Issue are asking knitters to create small items to sell for the charity. You can join in with a local Knitathon or spend the weekend organising your own and start gathering sponsorships. Register at www.bigissue.org.uk/event/big-knitathon
: : Staying in & have yarn budget? : : 
Clare Devine has released a print edition of her fantastic e-book Sock Anatomy. A perfect book for those learning socks, heels and construction – the patterns in here are all for little feet, so great for experimenting and also fab to use up small amounts of yarn too.
Clare will also be releasing more up-sized patterns of the Sock Anatomy patterns in due course, for our tootisies. I am so pleased this is now a lovely ink and paper book –  if it is anything like the quality of the Head to Toe printed book, it will be beautifully presented, shiny-covered and silky-paged! It costs £15 from yarnandpointysticks.com and while you may not get it in time for the weekend, you could start planning your sock projects for what is left of Socktober!
Happy Weekending in wool, whatever you get up to!