I meant to add this to the end of my post yesterday, but got so carried away with the wonderfulness of Shetland Wool Week and forgot!
I got a goodie bag from Jamieson's Of Shetland Mill when I took the wool week tour last week. Inside are two balls of the lovely Ultra yarn in the Titanic (151) colourway. This is a very soft laceweight yarn which is 50% grade 1 Shetland wool mixed with lambswool. In addition to the yarn there is a great pattern for a traditional lace scarf.
As I have the luxury of being able to nip to their shop any day I want, I thought it was only fair to share this prize with a lovely reader instead.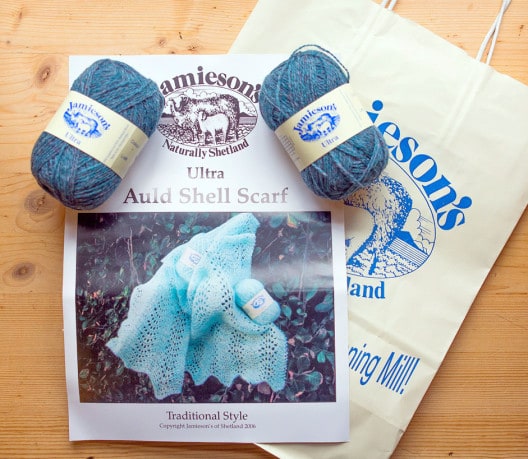 To be in with a chance of winning just leave me a comment here and tell me which is your favourite colour from the shades dyed at the Shetland mill – there are lots to choose from! I might see what other goodies I can find to add in.
If you haven't already entered there is also still time to enter the giveaway to win one of three Next Year In Lerwick pattern, by Tori Seierstedt. I met Tori in Shetland (at the mill!) and she had the sweater with her (apologies for the blurry pic, I was a bit in awe of the lovely sweater. All you need to do is go to the post for Episode 11 and follow the instructions there to enter.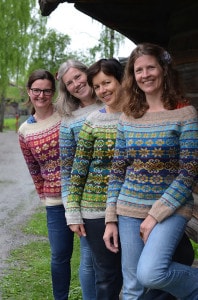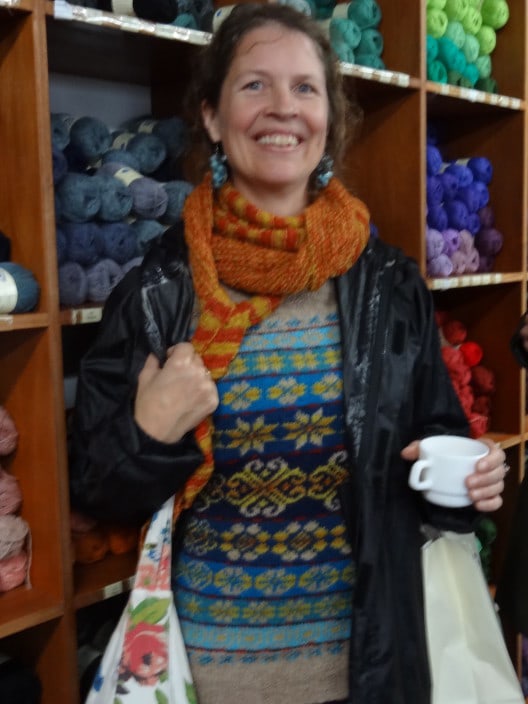 Entries for both these prizes close on Friday 24th October. Good luck!
ENTRIES ARE NOW CLOSED.