: : Monday : : 
My first ever trip to Jamieson's of Shetland Spinning mill (post here) and a fantastic social knit evening at the Lerwick Hotel. I met so many fantastic people there and some old pals…and forgot to take any pictures!
This slideshow requires JavaScript.
I also took a short video on all the fantastic weaving, scouring, carding, spinning, balling noises. If interested in 2 minutes of wool and whirring, then watch away – probably dull otherwise!
: : Tuesday : : 
I took Gudrun Johnson's hap making workshop on Tuesday, at Jamieson & Smith. Born and bred in Shetland I had never attempted a hap shawl. We worked on a mini triangle version and discussed the different types of construction. I'll show you my finished mini-hap once it is blocked.
This slideshow requires JavaScript.
: : Wednesday : : 
Wednesday it was Gudrun's trunk show at Jamieson and Smith, where she had copies of her new book Shetland Trader Book 2. I actually left work early to quick march along the road to the wool brokers and get my copy. The garments in this book are really stunning and I can imagine knitting and wearing each one.  The shop was full and it was great to catch up with new wool week chums on the week's activities and lots of people were picking out their colours for future Shetland Trader projects.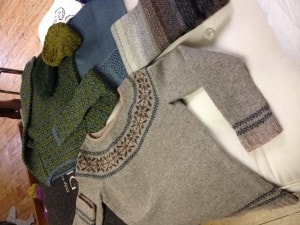 : : Thursday : : 
I went to the Shetland Wool Week lecture at the museum and archive (post here) and really had a thoroughly enjoyable evening. The auditorium was pinned (check out unique woolly seat saving methods) and everyone found Stella Ruhe and Hazel Tindall's talks utterly absorbing…there were examples of their knitwear on display too. I also visited the Gansey display in the museum and admired the exhibit of modern designs inspired by traditional gansey patterns.
This slideshow requires JavaScript.
: : Saturday : : 
Quotidian colour-work knitting with Felix Ford was one workshop that I was looking forward to hugely. Regular readers of the blog will know that I bemoan my abilities at Fair Isle and my wish to get better.  I was keen to back Felix's kickstarter Stranded Colourwork book project, earlier this year, and knew her ideas of creating stranded colour knitting from everyday object inspiration would be something that might connect me to this kind of knitting in a better way. I was not wrong! I chose a Tunnock's teacake wrapper for my inspiration, but there were fantastic inspirations and swatches in this class – utterly fantastic – from photographs, to clothing, to air control towers. I would do this class again in a heartbeat and heartily recommend you do that same, if you are given half a chance!
Felix's book is now ready and she received this first happy copies in Shetland. I cannot wait to get my copy and get gripped further by quotidian knitting. I have never been so buoyed up after a class, actually. My knitting and tensioning skills with colour still suck, but things will change! Big thanks to the lovely Felix for a brilliant class and her creative motivation.
: : Sunday : :
I can't believe the last day of Shetland Wool Week is here! There was no better last hurrah than the Sunday Teas hosted by the Guild of Spinners, Dyers and Weavers at the Whiteness & Weisdale hall. It was truly lovely to see the display of work that the guild members had made, it was really quite breathtaking to see such a wealth of talent in one place – and not just on display, but in action spinning, knitting and weaving. It was also a fantastic opportunity to say hello again to some new Wool Week friends and enjoy their company once more before these fantastic knitters and wool lovers take off for home, suitcases laden with all the wool their bag allowances permit.
This slideshow requires JavaScript.
I cannot tell you how much I have enjoyed this wool week and what a fantastic time it has been meeting new people and catching up with familiar faces. I think the Shetland Wool Week team and patron Hazel have absolutely outdone themselves – the standard of classes, events, talks and sessions has exceeded everyone's expectations. Roll up your sleeves, Shetland Wool Week, next year will be even bigger, I am positive of it.