Last night the Shetland Museum and Archives hosted an evening of talks for Shetland Wool Week featuring Wool Week patron Hazel Tindall and visiting tutor Stella Ruhe. Dr Carol Christiansen, textile curator at the museum, introduced the speakers noting that both Hazel and Stella had a long relationship with knitting; first knitting for a living and then evolving into working in wider aspects of the industry which cultivated a great passion for knitting and knitting heritage. That passion was exceedingly clear to see when Stella took to the lectern and gave her talk on her research into Dutch traditional ganseys.
It was while working as a textile editor for Cantecleer, in the mid 80s,  when she first became interested in traditional fishermen sweaters and oversaw publication of the book Knitting from the Netherlands, by Henriette Van Der Klift-Tellegen. Some decades later she was asked to consider a book on Dutch ganseys and began researching the tradition. Making contact with several archives in the Netherlands and asking if they had evidence of the gansey tradition, Stella was surprised that – in some areas – the gansey was not thought of as traditional clothing and merely seen as working gear. It was quite boggling to learn that those amazing stitch patterns and unique construction methods were not seen as anything worth remembering and it had fallen out of the collective memory. Thanks to wider research though, Stella began to uncover photographic evidence of stunning examples of local gansey patterns, which she had knitters test and recreate for her book, Dutch Traditional Ganseys.
I was wondering how she would approach the old chestnut that you could identify a drowned sailor by the patterns on his gansey. Stella explained that in many of the smaller and more rural fishing communities the stitch patterns may have been kept to a small selection of patterns, which would have been passed on through the generations. Larger communities though were able to access wider patterns and did not stick to a small repertoire, which may have been recognisable as belonging to an area. When you add to this to the fact that many Dutch fisherman bought and traded for (smuggling home) English and Scottish ganseys, when following the herring, and the trend of some fishermen to show their wealth by buying machine-knit sweaters, then the myth falls slightly flat!
It was really interesting to see all the different stitch patterns used – all knit and purl stitches, but used to create something very intricately patterned. The different stitches could represent religion, the weather, the sea, nets and other aspects of life on the boat and, of course, the knitter may have knitted hearts or 'marriage lines' into her garment to show that the wearer was spoken for! Before the talk yesterday I took a wander through  the Moray Firth Gansey exhibition, which is visiting Shetland for Wool Week; the wealth of patterns is indeed stunning as is the construction; 5 ply yarn knitted on thin needles to create a thick, warm fabric – not waterproof – but quick to dry and trapping in body heat to keep the wearer warm.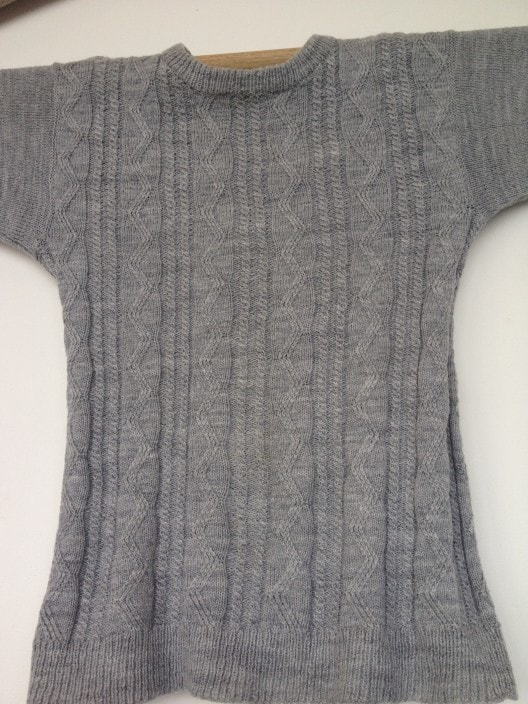 There was a disgusted gasp in the audience when Stella explained that most fishermen worked and slept in the sweaters, which made them dirty and greasy. This grease lended itself to making the gansey even sturdier and impervious to the elements. Many fishermen had two ganseys; a good one for Sundays (probably machine made) and one for work. When the Sunday gansey became less than presentable it became the work gansey. When the work gansey became too worn for fishing it became a deck mop – no wonder there is no memory of ganseys being a traditional garment in some areas of the Netherlands!
This was an excellent insight into the traditions of ganseys and Stella's book is a must for those who love their knitting patterns and their knitting heritage too; it features 60 traditional gansey patterns from 40 Dutch villages and it costs around £17. The good news is that Stella is working on a second book on the subject.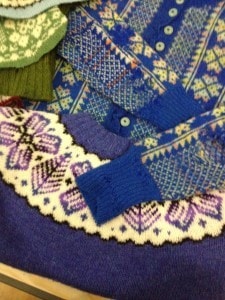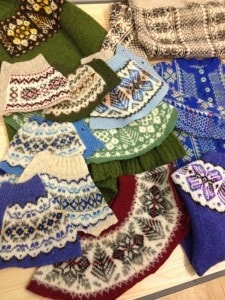 Hazel Tindall's talk was about Shetland knitting in the 1960s looked at through the example of her own mother, Chrissie Sandison. Chrissie was born in 1917, on a very remote croft in Shetland. Chrissie's mother died when she was very young and she was brought by her aunt Ellen, who knitted for a living. Far more interested in reading that knitting, Chrissie was encouraged to "tak her sock" to earn some "klink" and did pick up the needles though, as Hazel noted, it was never a craft that she enjoyed doing. Hard to believe perhaps, when you look at the quality of knitting produced, but this was common amongst so many home knitters at this time  – knitting was work, not pleasure.
Chrissie started keeping a diary in 1961 and this is a very fascinating insight into the Shetland knitwear industry at the time, as well as life in Shetland at that time.
In 1961 Chrissie and her husband, Jeemie, were living in a croft house in Weisdale with 4 children and an extended family. The croft was small with two cows and sheep, but there was a lot of work to do to keep the family and croft going – and without mod-cons such as hot water, inside toilets and telephones! With her husband at sea, Chrissie had to knit to supplement the household income and her diary entries show how difficult it was to get items made in time to bring to the merchant, especially the scrutiny they were under; one example shows that she had to take knitted jackets home when they weren't the right colour.
In 1963 a knitting machine came to the croft, but Hazel said it was more hassle than it was worth, noting that some efforts were less than desirable. Knitting for Chrissie, and also Hazel and her sisters, was mainly hand knitting yokes and attaching these to machine knit bodies; inserting the collar and grafting on cuffs. The buyer could dictate which colours and patterns were more saleable and Hazel said this really took the creativity out of the process.
Knitting was truly a subsistence job and Chrissie was knitting to keep her head above water much of the time.
"Got all lumbers sold at 45 shillings each. Not much cash left, but it's good to know I have no debts"
45 shillings is about £35 in today's money – not much for all the time, effort and kempin (striving) to create a garment. Hazel said that making a living this way was often very depressing though this could be countered by the achievement of finishing and selling an item. Encouragement to knit for those low prices must have been hard to muster – I wonder if Chrissie was reminded of her aunty, knitting for "klink"?
As the 1960s wore on more mod-cons made their way into the croft, including an indoor toilet, television and telephone and Dr Christiansen said she was tickled that they had got a television before indoor sanitation!
Hazel ended her presentation talking about her mam in her later years and how Chrissie had wished she had started keeping a diary long before 1961. This culminated in her writing a book, Slyde in the Right Direction, which is sadly out of print (though Hazel said we should ask The Shetland Times to reprint it, if we'd like to read it!), and documents other parts of her life, work and family.
I asked Hazel afterwards what her mam would have thought about wool week and the interest in knitting now, and she said she would have shook her head and smiled.
Both these talks were utterly absorbing and a fascinating insight into knitting heritage and history, with all it's fond nostalgia and also those difficult times.
Bravo, Shetland Wool Week. This was one of my favourite events (so far!)
: : Further Information : :
Traditional Dutch Ganseys, by Stella Ruhe is available on Amazon
Hazel's new DVD, The Fine Art of Fair Isle, is available from her website.