As the podcast is now monthly and there are only so many wool reviews that can feasibly be fit into one episode, I will be bringing more on the blog.
I heard about Sylvan Tiger's custom yarn, School of Flock, just ahead of Leeds Wool Festival last year and knew that I had to visit Katie's stall there and try some.
It is a blend of 70% Lleyn, from Shropshire and 30% grey Shetland, from Somerset. Lleyn is a Welsh breed, which is a good meat sheep, but which also has a bouncy, kemp-free fleece. Its not a breed you will see on lots of yarn labels, but its creamy deliciousness deserves to be knit more!
This is from Katie's website.
"The bulk of the fleeces come from my friend's flock of Lleyn sheep which roams the rolling Shropshire hills along with Texel and Suffolk sheep.  I wanted to use the Lleyn as it's not one of the usual British breeds used for yarn, such as BFL or Shetland.  But, there's no reason for it not to be and I'd like to help expand the palette of British Breed yarns out there. It's not BFL soft, nor is it Herdwick coarse, it's got a similar hand to Shetland and it's produced a wonderful bouncy, lofty, sheepy yarn with great character.

The Natural Fibre Company suggested we add the Shetland yarn to soften the Lleyn slightly and give a good bounce.  We decided to add the grey Shetland to give the yarn a bit of extra character and depth for dyeing.   The yarn is worsted spun to 4ply weight and is constructed of 2 plies, it's lofty and light and wonderfully warm."
Katie has dyed six incredible shades with a natural which shows the great variations in the blend.
I don't always review every yarn I buy (a gentle reminder to the woman I bought yarn from who emailed me asking – not so politely – when the review may be out: what I do with yarn I buy is up to me (and to answer her question, you've no chance now!)) and I haven't knit with this yet – it is destined to be in a hap, which is a Good Intention for later in the year, but I felt that you needed to know more about this yarn, and so called upon some KB listeners to try it out for us.
Lindsey and Alessandra took up the exploration of School of Flock!
Yarn: The School of Flock, Sylvan Tiger
Fibre Content: 70% Lleyn, 30% Shetland.
Details: 4ply / Worsted spun / 50g / 175 m
Cost: £9 (£8 natural)
Initial Observances:
Lindsey:
Loose ply, soft but grippy, so would be good for colourwork. I made 2 swatches on 3mm needles, both were short wrisites, both had the same number of stitches one with garter tab, stocking stitch and moss stitch. The other used the lace pattern Estonian Lace Wrist Warmers by Evelyn A. Clark. Nice drape but sturdy enough to hold its pattern.
Alessandra:
Cast on 40 sts using No. 9 (3.75mm) needle and a 3.5mm crochet hook. Patterns used: 1×1 rib, stocking stitch, horseshoe lace, garter stitch, fishnet lace, moss stitch, double crochet.
The skein was soft to the touch and airy and bouncy. It felt very warm. I just wanted to keep squishing it. It has a subtle sheepy smell. The yarn was lovely and soft to use and felt warm whilst knitting.
Observances of unwashed swatch: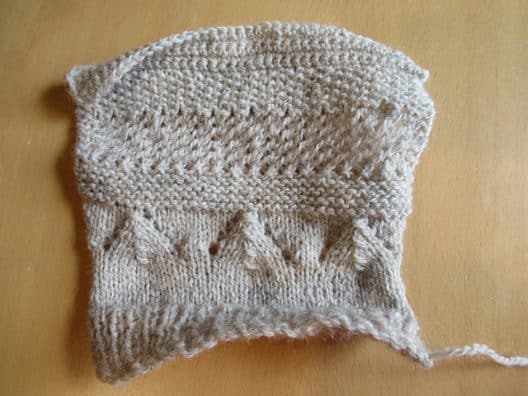 Alessandra:
The yarn felt softer in the skein than the knitted swatch. It was quite curly at the corners. It measured 18.5cm at crochet end and 15cm at rib end and was 17.5cm long.
Wash, Block, Wear Test 1:
Lindsey:
After casting off I soaked them in Eucalan for 15 minutes and blocked with pins on the blocking mat.  I wore the wristies over a long sleeved t-shirt whilst at work, so they would simulate the cuffs of a cardigan. There was no pilling but at the end of the day the lace stitch was less defined than the garter and stockinette stitches.  At home I wore the wristie against my skin and there was a slight prickle, but it was unnoticeable and I would be happy to wear this against my neck in a jumper/cowl/shawl.
Alessandra:
Swatch was soaked in lukewarm water and blocked to 22x22cm on a blocking board using blocking pins. The swatch easily blocked to these dimensions but bounced back to 20x22cm when unpinned. The swatch laid flat once blocked. It had a lovely bloom and shows both texture and pattern with lovely definition. It has a lovely even drape as well.
I wore the swatch underneath clothing next to the skin. For the first time of testing yarn and knitting with wool, I can say that I couldn't feel it whilst wearing and forgot all about it. I did notice it when slipped lower down from my shoulder and touched more sensitive skin, but there was no irritation.
Wash, Block and Wear Test 2:
Lindsey:
I put both wristies in washing machine on 20 degrees, on a 20 min cycle with a bunch of clothes and washing detergent. There was no ill effects the wool or the stitches.  I dried and blocked them on the radiator, after drying the garter and stockinette wristie had a bit of shrinkage but not too much. The stitch definition softened slightly and blocking would have brought it back out.  I rubbed both swatches together after they were dry to see if they would pill and I also wore them for a day as toe warmers in my slippers and was amazed that they didn't pill,  they just lost a bit of stitch definition.
Alessandra:
I washed the swatch as if I was handwashing a knitted garment, lukewarm water with liquid detergent, followed by lukewarm water and conditioner and finally a rinse though. Lightly handled with a bit of agitation and kneading.  I laid it flat to dry on a towel.
It feels slightly softer, but has become a little fuzzier and some patterns are less distinct. There's no pilling but it has reduced in size to 17 x 17cm.
Final Assessment:
Lindsey:
I was amazed at how sturdy this yarn is, but also so soft. It held its stitches wonderfully and I think cables would look amazing in this wool. What wouldn't I recommend it for?!  It seems from my test – and i wasn't gentle with it – that it would be a workhorse of a yarn; garments, gloves, hats, cowls, shawls. Maybe even socks as well, as I think the wool may be sturdy enough to take a light wear sock, certainly house socks. I will definitely be using this again and i would be interested in a coloured version to see how the colour holds.
Alessandra:
I would definitely use this yarn again in a hat, a shawl or even a jumper. I think it would be great for colourwork and texture, but possibly not complex lace or cables.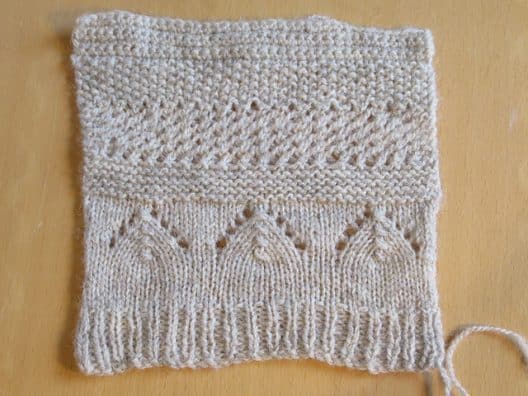 Look at how beautifully and softly defined the stitches in these swatches are. The bloom and and softness from wash/wear is quite evident. I can imagine that a shawl like Melody Hoffman's Selkie would look great in this yarn, using the natural and dyed shades together. I look forward to when my School of Flock turns up for my Good Intentions club!
Why not hop on over to the Sylvan Tiger blog and etsy shop to find out more. Thank you to Aless and Lindsey for the time they took to review and test drive these yarns for us.
: : : :
If you would like to review yarn for KnitBritish you need to join the thread over in the KnitBritish group. Each reviewer is picked at random and there may be second chances to review, once everyone has been offered a shot.
There are a few rules in exchange for the yarn: You must be able to commit to review by the deadline given (which is usually generous). You need to follow each step of the Wool Exploration Fieldnotes, so that each review is as comprehensive as the next. You need to provide a couple of good & clear images of your swatch and upload the review as a ravelry project, then let me know.
We have had some incredible yarns to review over the years, often reviewers are the first to get their hands on some of these yarns. So while you may be a little bit interested in the free yarn prospect, the opportunity to be the first to review and to describe these wools for others to learn about is really important. Please only sign up if you can really commit to doing this. 
| Important Information
I bought this yarn myself and sent it to Alessandra and Lindsey who received it for free, in exchange for a review. Images are copyright to those in the caption, or the accompanying information, otherwise are mine (header)