If you heard episode 102 you would have heard me give a little preview of the newest Blacker Yarn, which is launching at Edinburgh Yarn Fest this week. I promised to bring you some woolly mucker reviews this week and I do my very best to keep my promises (even during the busiest week of the year!).
I've been waiting a very long time to bring you these reviews. Sonja sent me samples for woolly muckers back in October and I sent them to some of our listener sponsors – Maz, Barb and Lesley. The fact that this yarn was pushed to be the star yarn for EYF was a blessing for our mucker Barb, as the yarn took over a month to get to her in Canada! So pleased I can bring you these great reviews today.
If you are coming to Edinburgh Yarn Fest, please do have a read of these comprehensive reviews. If you can't come to EYF, these yarns will be available online after the event and you will be primed and ready for purchasing! And if you are taking part in Wool Exploration this month, or thinking about it, this is a great place to pique your interest further!
Our reviewers Maz, Barb and Lesley were testing this yarn blind. I didn't tell them what the breed wool was, though I did say it was all 100% single breed. There are four colour "collections", there are the four natural colours (Which our reviewers had), then these naturals were dyed in purple, green and blue dye baths to create 12 shades, each set of 4 with a beautiful natural colour transition. We were knitting with the DK, but the yarn is available in naturals in DK & 4ply; purple gradient in both and the greens and blues in 4ply.
Barb said, 
I was excited to be able to test a new yarn for Louise and after a VERY long wait courtesy of Canada Post, the yarn arrived. There were four small balls of different natural coloured yarn. Two solid colours in a natural white and a dark grey and two very exciting marled yarns. The yarn is two-ply and the first marled yarn has one ply of the white and one ply of the dark grey. The second has one ply of the white and one of a medium brown. These were gorgeous.
My first impressions of the yarn were that it reminded me a bit of Jamieson and Smith jumperweight – it has a similar airy two-ply structure. On closer inspection though, it's a bit more rustic in its construction. The single plies are spun tighter in some areas than others leading to a bit more inconsistent look.
The yarn feels soft against the skin, but with a crispness. It also feels "sticky", like it would work beautifully for colourwork. It has a lovely sheepy smell! Because it reminded me of J&S jumperweight, I decided to knit two swatches – the first a stockinette/garter stitch swatch and I chose 2.75 mm needles. The second swatch was a simple lace pattern using 3.75mm needles.
The stockinette swatch (7.5 stitches/inch) was denser than I expected, so I would guess the yarn is a heavier weight than jumper weight. The marled colours give the swatch a lovely depth and the inconsistently spun plies give a slightly rustic look (not smooth, consistent stitches). The yarn has some longer fibres and has a bit of a haze after knitting. After blocking, the swatch bloomed quite a bit and felt slightly softer. While knitting, the yarn felt softer going through my hands than it had felt in the initial squish. I wore this swatch against my shoulder in my bra strap for an entire day and didn't even notice it was there. I'd rate this yarn excellent for next-to-the-skin garments. The lace swatch was simple columns of stacked yarnovers. Just off the needles, the pattern was indistinct and lumpy – not unexpected. I didn't block it aggressively –just let it dry on a towel. The lace pattern didn't open up much and the haze of the yarn obscured the pattern quite a bit. It was hard to photograph the swatch and get the lace pattern to show up at all. My yarn choice (the light/dark marl) didn't help. I decided he yarn had too much potential for lace to let my poor choices prevent it from shining, so I blocked the swatch again – pinning it out this time. The swatch behaved beautifully and the lace pattern became quite a bit more evident. After unpinning, the lace stayed open and drapey.
Overall, I'm very impressed with the yarn and would love to work with it in a project. I don't know enough about breed specific yarn to be able to guess the type of wool it contains – from the softness and the hairiness, could it have a bit of alpaca? I guessed given the density of my first swatch that it's heavier than jumperweight, so about DK?
I would say it's a great choice for garments. I can see a basic cardigan with a textured stitch being a garment I would wear all the time. It would make a warm lace shawl that is soft enough to wear next to the skin, and a hat or fingerless gloves would also be spectacular in this yarn. Thank you Louise for letting me review this yarn! I can hardly wait to find out what
it is.
Lesley said, 
First impressions were – Is there enough here to do anything?!!! – about 7g of each colour (of course there was, more fool me!). Magnificent colour gradient – so many opportunities – this could make some classy pieces. Bouncy but sturdy, crunchy next to my ear – like fresh snow under foot. First thoughts of projects were gradient haps, Find your Fade, Lucy Hague cables, and subtle colour work.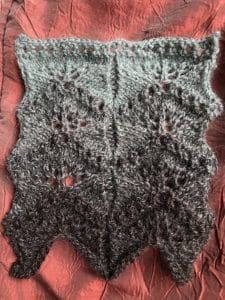 I used 3.5mm wooden interchangeable needles and cast on the Ginkgo pattern from laceknittingstitches.com. I thought this pattern would be perfect to show off the gradient. It is beautiful. But I wasn't sure that it shows the full beauty of the yarn – it felt quite rough while I was knitting it (I think this came from the K2Tog). On blocking (soaking in water, pinning out and drying), it softened and the texture is beautiful. The stitch definition is very good. And I love the effect of the gradient.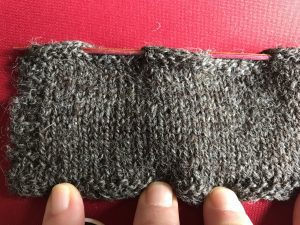 I had yarn left over from the first swatch, so knitted a simple stocking stitch swatch in the darkest grey. It completely surprised me. After feeling that the first swatch was rougher than I'd hoped, this blocked to a wonderfully strong, but delightfully soft oblong of stocking stitch.
Before blocking – 6.5 x 15cm, after blocking 6 x 14.5cm. After blocking, I wore it next to my skin and didn't notice it at all – to the point of realising it had been peeping out of the top of my shirt while we had visitors (they were too polite to comment!). After this experience, I would love to make a jersey out of this yarn – it looks as if it would stand up to some wear but not aggravate if worn next to the skin. I can't vouch for sensitive users, but I don't think I'm especially yarn tolerant (having lived for the last 25 years in a country where the climate doesn't really require woollens for most of the year).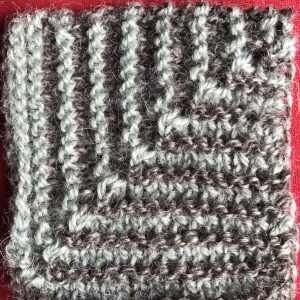 This is the start of Karpen by Marianne Isager. I love the way that two of the gradients give light and shadow. I think this could be truly spectacular in this yarn – endless possibilities of light and shade.
I really have no idea what this breed could be – but wonder if it might be Shetland. I'd love to get my hands on some when it becomes available, so I hope it's not a limited edition. This is terrific yarn – I think I could use it for just about anything.
Mazzy said, 
This is a quite loosely twisted yarn with a mixture of both woolly softness and a silky smoothness that's not really like anything I've knitted with before. There are four different mini-balls in different shades of marled grey, each consisting of two distinct shades twisted together.
Although this felt like a fingering weight wool to me I decided to cast it on a DK weight pattern, just going down a needle size to 3.75mm because I'm generally quite a slack knitter. I also chose to use it to knit a gradient, rather than stranded colourwork since I felt that the mixed colours would make it difficult to get a good contrast in a traditional colourwork pattern.
A pleasingly characterful yarn to knit. The emerging swatch was stretchy and drapey. Although I had deliberately chosen to make something loose-knit the yarn didn't feel 'mean' and thin knitted like this, just 'relaxed'.
Observances of unwashed swatch were that it was a tiny bit crisp and crunchy before washing. The surface of the fabric has both a slight shine and also some halo and loose fibres. Really liked the gradient effect of the three darker greys. The lightest grey, though, does seem much lighter and rather stands out when used in this way. I felt as though the sequence could have done with one more bridging colourway to complete the effect.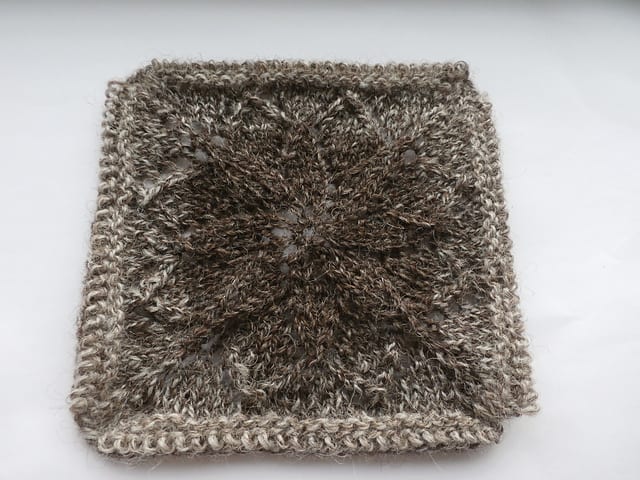 A nice rustic effect without feeling coarse or scratchy. This feels as though it would be perfect for jumpers, cardigans and probably a whole range of warm but lightweight accessories. I don't think I'd risk knitting socks with it because I'm not sure how well it would stand up to really hard wear. I think it could even be used for lacework in a pattern which called for a combination of both the delicate and the rustic.
If I had a garment-quantity of this yarn then I would love to make Gudrun Johnston's Burrafirth. I think the grey gradient would also be wonderful for a pattern like Louise Tilbrook's Contours shawl,  setting the three darker greys against a background of the lightest one.
I can also imagine using this yarn on smaller needles to knit stranded colourwork and make a much denser fabric. If I did so I would look for a pattern that made use of the gradient colours to slip from one colour to another, or perhaps produce a tweedy effect, rather than one that required strong contrasting colours.

Yarn: Blacker Yarns Jacob
Details: 2ply worsted spun /  50g  / DK -110 m / 4ply – 175 m
Hand-Squish-Grab: Bouncy, sturdy, mixture of both woolly softness and a silky smoothness. Soft against the skin, but with a crispness.
Feel of swatch: A nice rustic effect without feeling coarse or scratchy. The yarn has some longer fibres and has a bit of a haze after knitting. After blocking, the swatch bloomed quite a bit and felt slightly softer. On blocking it softened and the texture is beautiful.  It looks as if it would stand up to some wear but not aggravate if worn next to the skin. Feels similar to Shetland.
Best suited to: haps, colour-work, lace, cables, sweaters, accessories, socks.
Price: TBA
Thanks so much to Mazzy, Lesley and Barb for their really amazing reviews and to Blacker for sending the wool. I will be talking about my experience of the yarn when we discuss the Jacobs Wool Exploration.
If you are heading to Edinburgh Yarn Fest make a beeline for this great yarn!